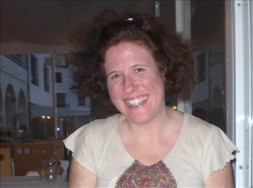 Debra Kirschner
Writer/Director
Kirschearian Productions
---
Full Bio
Debra Kirschner is a film, television and web series writer and director. She specializes in telling honest stories about believable, funny, flawed characters in both realistic and extraordinary circumstances.br

br

Currently her web series THE HAPPY MOMMY HUSTLE can be seen on the dedicated YouTube channel youtube.com/thehappymommyhustle The series follows two sisters with very different parenting styles, as they grapple with their choices, their limitations and the unsolicited opinions of strangers.br

br

She is best known for writing, directing and independently producing the feature film THE TOLLBOOTH, which stars Marla Sokoloff, Rob McElhenney, Idina Menzel and Tovah Feldshuh. THE TOLLBOOTH has played at numerous festivals and art-house theaters, and had a DVD release in 2008 and has played on American and Canadian television. br

br

Ms. Kirschner has a few original pilot scripts in development, FROG KISSERS, a dramedy about single women who live in Staten Island who are determined to prove the adage
---
Professional Credits

Creator/Writer/Director: The Happy Mommy Hustle (Brick Houz) 2013, Writer/Director: Frog Kissers (Kirschearian Productions) 2012,

Writer/Director/Producer: The Tollbooth (Peace Arch DVD distributor) 2008, Writer: Pickled (AFI), 2005, Writer/Director/Producer/Editor: Changing Clothes (Shakti Productions) 1999
Industry Awards

Nominated - Hamptons Film Festival Golden Starfish

Won - Philadelphia First Glance Film Festival - Best Feature
Writer's Group works

The Happy Mommy Hustle

TV Movie (Comedy, Teleplay (TV script), Web series)

Log Line:
A web series about mothers who struggle with the juggle.

Synopsis:
The show follows two sisters - Sophie, a stay-at-home mom and Lisa, a working mom - as they grapple with their choices, their limitations and the unsolicited opinions of strangers.

The Tollbooth

Screenplay (Coming of age)

Log Line:
The Tollbooth comically explores a Jewish family from Brooklyn through the eyes of Sarabeth Cohen – a struggling painter in her first year out of art school.

Synopsis:
Sarabeth and her older sisters Becky and Raquel come of age and question the values of their traditional parents. Though Sarabeth would like to rebel, she is forced instead to learn the people around her. This honest and funny story follows the characters through one poignant and pivotal year as the family learns, rebels, fights and finally embraces their differences in this highly entertaining ensemble film.

Frog Kissers

Screenplay (Comedy, Romance)

Log Line:
Five single women in Staten Island test the theory that "you have to kiss a lot of frogs before you find your Prince."

Synopsis:
This original pilot and series follows the Frog Kissers as they challenge themselves to work together to meet and kiss a combined total of ninety-nine men in a year; tallying their triumphs and disasters through an interactive blog. The act of frog kissing winds up having transformative effects on every aspect of their lives.

In Transit

Screenplay (Action, Suspense)

Log Line:
Technologically savvy homeland security agents team up with street-smart NYPD transit cops to combat a new threat – "techno-terrorists" – a growing movement that uses youtube, facebook and twitter to spread fear and galvanize jihadists – and is singularly focused on destroying the New York City subway.

Synopsis:
This pilot and original series follows the Task Force as it is formed as a first line of defense for the subways. The Team's primary job is to keep the rails safe and they are instructed to leave the investigating to the FBI. But the Homeland Security Agents and Transit Officers are quickly able to merge their divergent abilities to uncover vital information about the mysterious "techno-terrorists." Their work directly leads to the arrest of a major operative. Suddenly this Task Force is taken seriously as its assignments change to reflect the changing times.