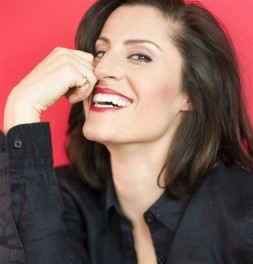 Phone

Office: 845 901-4427

IMDB Link
Cecilia Copeland
(She/Her)
Chief Creative Officer—President. Writer, Director, Producer.
NYMAD Productions
---
Cecilia Copeland is the Chief Creative Officer—President of NYMAD Productions and a writer, director and producer.
---
Full Bio
Cecilia Copeland is a writer, director and producer. Member of New York Women in Film and Television, the League of Professional Theatre Women, an inductee into the Indie Theater Hall of Fame, National New Play Network Featured Writer, recipient of the Lennis J. Holm Scholarship at the Writers Workshop and Screenplay Special Effects Grant from MetroScreen Australia. Her sci-fi TV Pilot TALTRIX (based on her book Surviving the Gauntlet) was presented by New York Women in Film and Television (NYWIFT) as the Winner of the New Works Lab with a reading starring Golden Globe Winner Regina Taylor. It also won Best TV Pilot Screenplay at LA Femme International Film Festival. TALTRIX honors include Finalist for LA INDIE FILM FESTIVAL, Semi-Finalist MADE IN NY WRITERS ROOM and NextTV Writing & Pitch Competition, Quarter-Finalist ScreenCraft Screenwriting Fellowship and Creative World Awards.

Copeland's most recent screenplay 13TH ST SCARE was just named Winner Best Screenwriter Toronto Int. Women Film Festival, Offi
---
Professional Credits

13th ST SCARE, THE COPELAND CASE, TALTRIX, WHITE GIRL LATINA/LATINA GRINGA,
Industry Awards

Best Dramatic Screenplay Winner Female Eye Film Festival, LA Femme Film Festival Winner Best TV Pilot, Winner Best Screenplay Queen Palm Film Festival, Semifinalist MADE IN NY FELLOWSHIP, Kilroy's List Nominee and Honorable Mention, among others.

The O'Neill Playwrights Conference Semi-Finalist.

Lennis J Holm Scholarship Writers Workshop.

Indie Theatre Hall of Fame

Best of Plays and Playwrights Indie Theatre 2014

Special Effects Grant Metro Screen Australia
Writer's Group works

WOMG

Screenplay (Comedy, Teleplay (TV script))

Log Line:
WOMG is GIRLS meets WKRP in Cincinnati. At City College on WOMGfm student radio, freshman Lena (all serious) and Allie (all sarcasm) are forced to team up to host a show together. Despite their instant dislike of one another, and the rules, their ratings couldn't be higher.

Synopsis:
Allie Garfunkel and Lena Cruz get a notice that their old radio show time slot has been changed. When they show up along with their booth sidekicks Savone and Brad, all four of them realize they have to share the new hour. They disagree the whole way through, but the show is the most listened to ever in the history of the school. All of them get called into the Dean's office to field complaints about lewd content and they lose the show. As Garfunkel and Cruz are left to sadly contemplate life without a show, there appears to be a final hour save! THINX, the period panties and subject of the show they hosted, called the school and offered to be a sponsor for Garfunkel and Cruz. With a second chance ahead of them the girls agree to team up and give Cruz the Funk their best.

TALATRICS

Screenplay, TV Movie (Teleplay (TV script))

Log Line:
In 5515, on a massive spaceship, a young woman and her older brother try to escape The Prophecy that tore apart their world by learning to harness their powers as students enrolled at TALATRICS the College of the Art in Science aka Magick.

Synopsis:
On the first day of class RT manages to make a lot of enemies and perhaps a couple of friends while discovering that somebody has it in for her. On top of that, she needs to pick a study partner who she'll have for the next year, but it seems like the best partners are also the most dangerous.