NYWIFT members, do you have an upcoming screening, event, campaign or other news to share? Tell us! Contact communications@nywift.org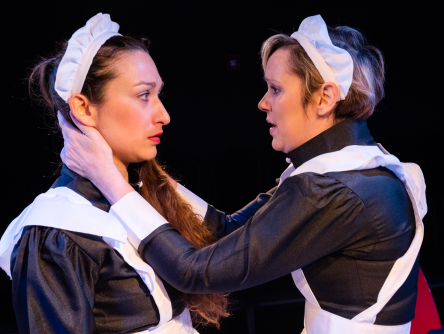 Read NYWIFT member Frances McGarry's latest piece It's All a Game: Exploring Process with Eric Cronican, Exe Artistic Director, The Seeing Place Theater in the Women in Theatre Journal. McGarry writes on The Maid, an absurdist play written by Jean Genet and starring NYWIFT member Gaia Visnar. Read more.
---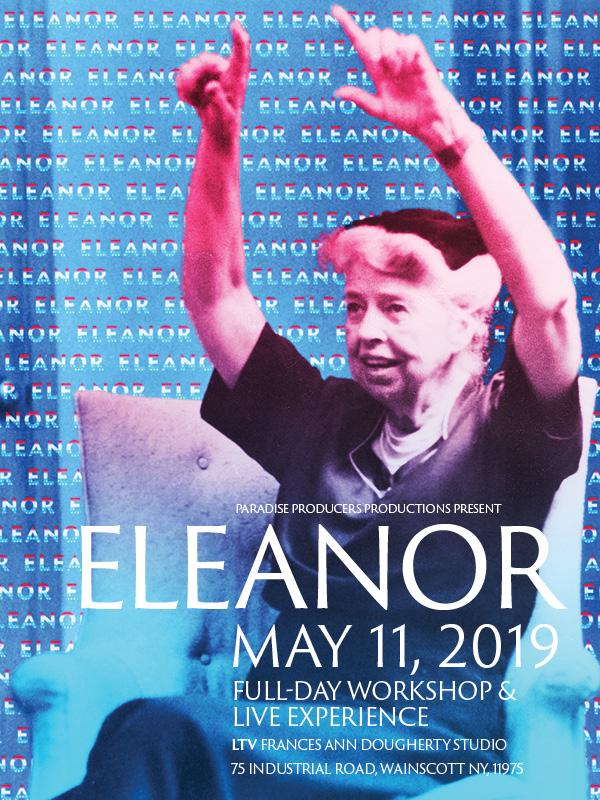 Paradise Producers Productions and NYWIFT member Martha Williams' BugHouse Media presents the launch of the educational arm of ELEANOR, a non-profit that utilizes Eleanor Roosevelt's powerful legacy to deliver national education programs, live experiences, and video content that inspires dialogue in a time when division is paramount. This inaugural event is an all-day coming together, multi-generational experience and social change workshop with roundtable discussion and creative workshop. Come and be inspired! The event will take place May 11 in East Hampton. The event is FREE to attend. Register now.
---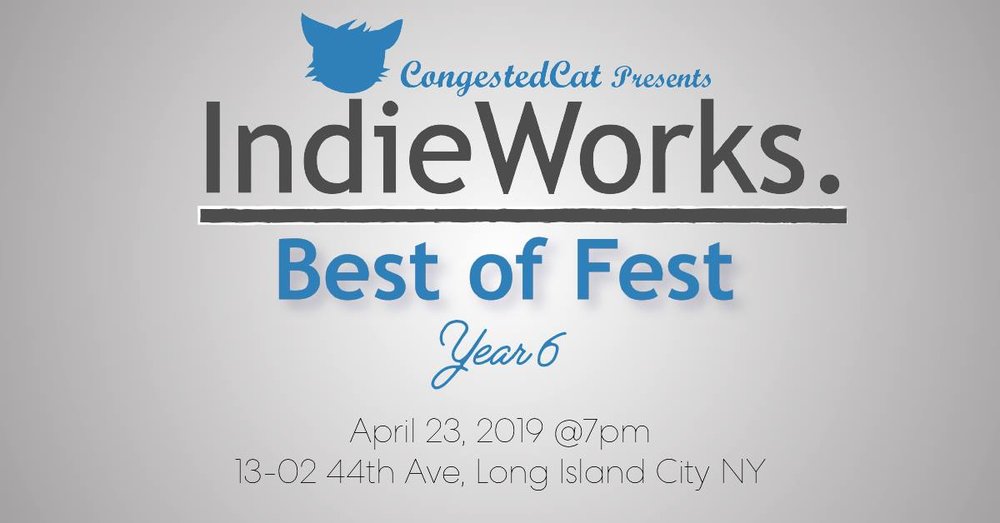 ADULT, directed by NYWIFT member Cynthia Silver, will screen on Apr 23 at the Indieworks 6th Annual Best of Fest event. The series centers around two unlikely friends with a ten-year age gap, Clementine and Allison, who face problems from the harsh, judgmental world, and find solace in their weird but loving friendship. The event is FREE to attend. Get more info. Silver's short film Chemistry was recently named a finalist at the USA Film Festival's Short Film Competition.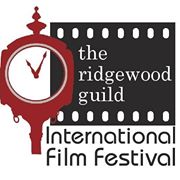 NYWIFT member Suzanne Ordas Curry, producer and owner of WIPublicRelations, is the PR director for the Ridgewood Guild International Film Festival in Ridgewood, New Jersey. The Festival is in its 9th year and boasts 88 films over 9 days from is PR director for the Ridgewood Guild International Film Festival in Ridgewood, NJ. This festival in its 9th year boasts 88 films over 9 days. The festival will kick off on April 25 with the premiere of Hollywould starring Academy Award and Golden Globe-nominated actor Eric Roberts who will be present at the screening and afterparty. Also premiering opening night is the trailer for Suzanne's new film A Case of Blue for which she was the co-producer and media consultant. A Case of Blue stars Stephen Schnetzer and Annapurn Srirum. Buy tickets to RGIFF.
---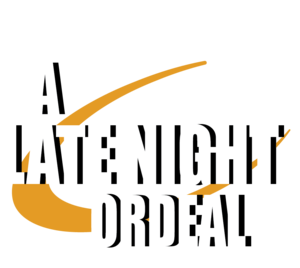 A Late Night Ordeal, an original play by Alex Gonzalez starring NYWIFT member Cynia Barnwell, will play for two showings on April 27. The play centers around four late night hosts, all tied together through controversy and betrayal, who must survive the night when a showbiz ghost starts to haunt them. Get tickets.
---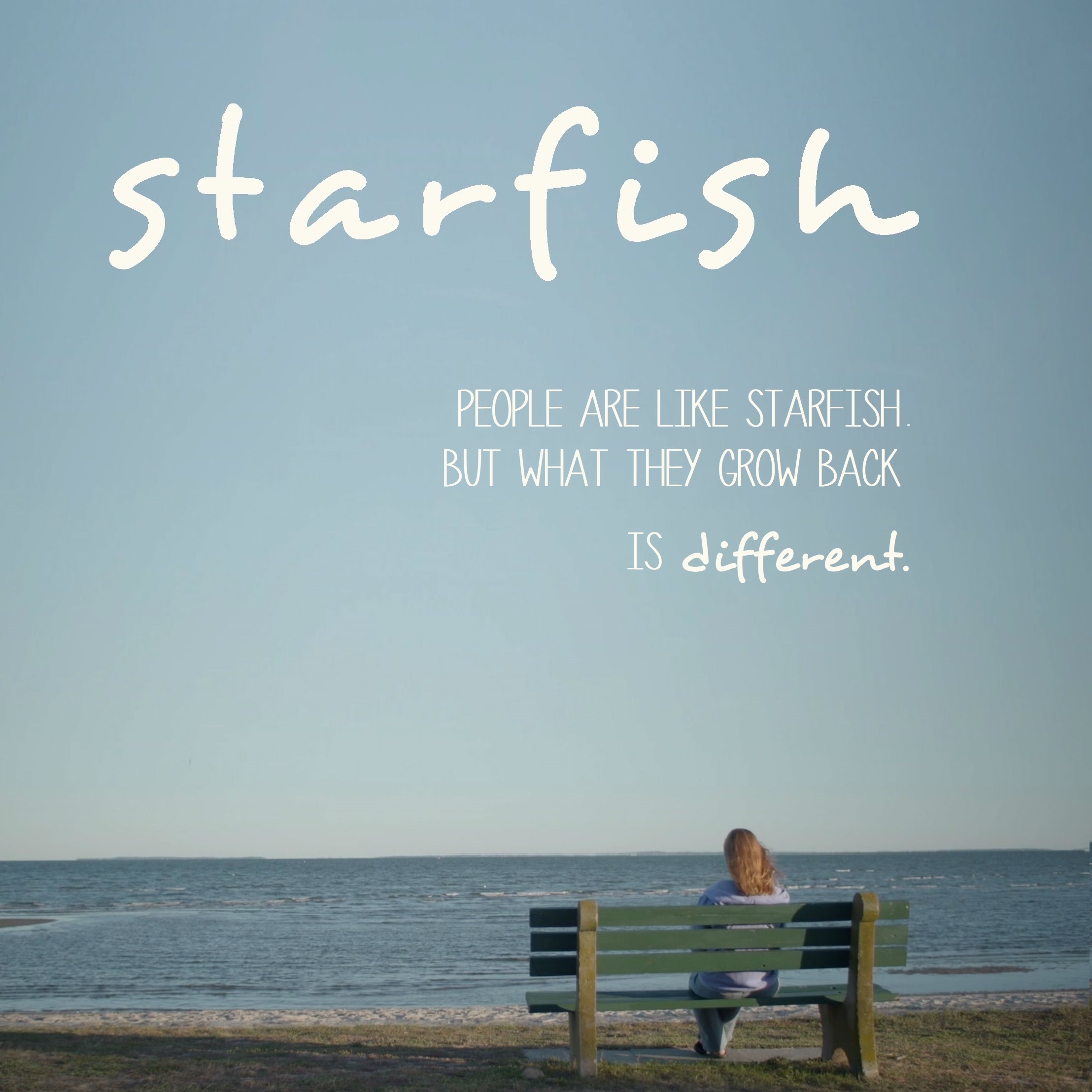 Starfish, the first feature by NYWIFT member Shira Levin, is available now to stream on IndieFlix. Viewers can start a free trial to watch the film. Starfish, an Audience Choice Award winner, is a female driven story about grief, healing, family, friendship, and the strong bond between dogs and humans. Watch now.
---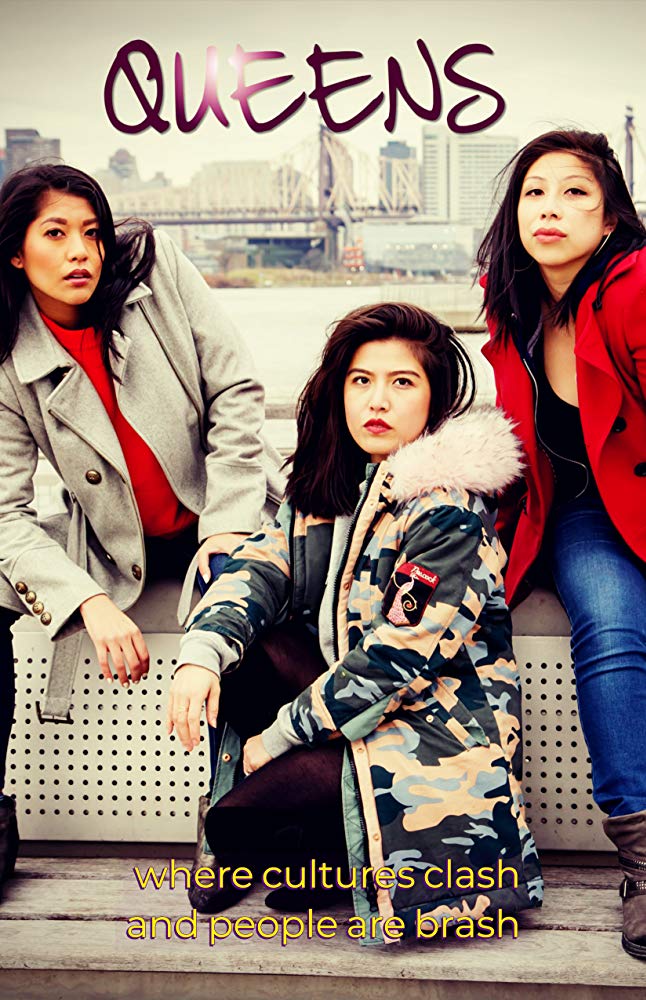 Queens, a series written by NYWIFT member Cindy Chu and directed and produced by NYWIFT member Nicole Gomez, is set to premiere at the Omni Cultural TV Fest in Los Angeles on May 1. Queens is a brash comedy that follows the friendship of three Asian American Queens natives as they struggle to accept adulting isn't what their immigrant parents taught them it'd be. Best friends, Sarah (Cindy Chu), Kim (Spring Inés Peña) and Gia (Carolina Do) learn that relationship goals and career achievements don't necessarily equate to success and experience the complicated intersection of being first and second generation Asian Americans. Watch the trailer.
---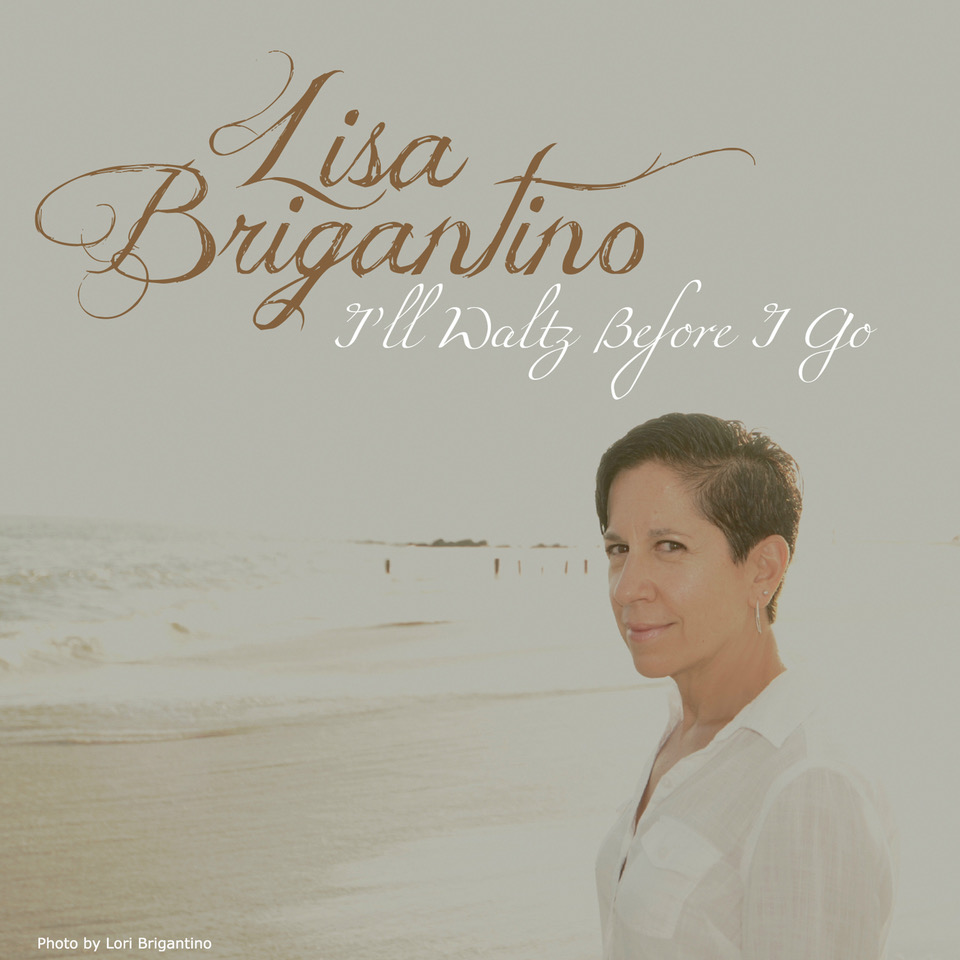 Singer, songwriter, multi-instrumentalist and NYWIFT member Lisa Brigantino announces a special show at The Cutting Room on May 18 to celebrate her third album I'll Waltz Before I Go, released this past October. The show will run the gamut from solo voice and guitar tunes to fully arranged songs featuring special guests Thomas Millioto, Lori Brigantino, Susan Haefner, Morgan 'Gus' Buttolph, Terre Roche, Claudia Glaser-Mussen and Mike Fornatale. I'll Waltz Before I Go, recorded, mixed and co-produced with husband Thomas Millioto, is an eclectic collection of Brigantino's original songs. A composer with a master of music degree in music composition and theory, Brigantino writes music for film, television, advertising and more.  She has also worked in the business side of the industry for years as a music supervisor and rights clearance specialist serving filmmakers, broadcasters and producers of all kinds via her company Hidden Pond Productions, Inc. Get Tickets.
---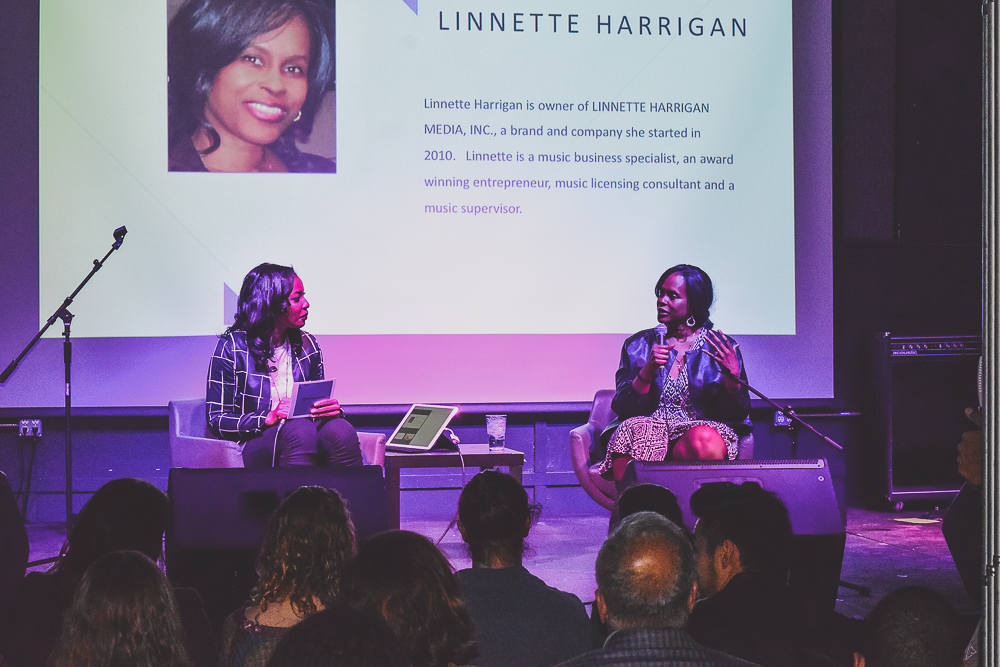 NYWIFT member Linnette Harrigan was a guest speaker/music supervisor for the April 4th " Pitch My Song "event in New Haven Connecticut as part of the Yale University Community. Linnette spoke on the topic of music in film and television and  provided feedback to  New Haven singer/songwriters who performed live their original songs. The event was featured in The New Haven Independent Newspaper and can be seen online. Read more. Linnette Harrigan is now accepting new projects as a Music Supervisor, Speaker, etc.  Contact Linnette at info@LinnetteHarriganmedia.com  for further information. 
---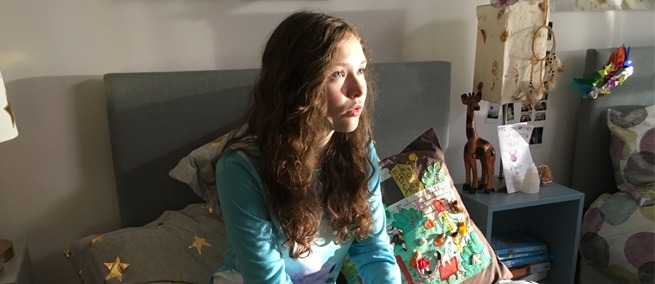 Lucy in the Sky, written by NYWIFT member Jen Rudin, has various screenings coming up in Los Angeles. On April 28, the film will screen at the Newport Beach Film Festival. Get tickets. On May 6, the film will screen at the Los Angeles Asian Pacific Film Festival. Get tickets. The film centers around fourteen-year-old Lucy Katz, a teenager with autism adjusting to mainstream high school. Lucy and her identical twin sister are faced with cataclysmic change when they become subject to a genetic research study that could forever change Lucy.
---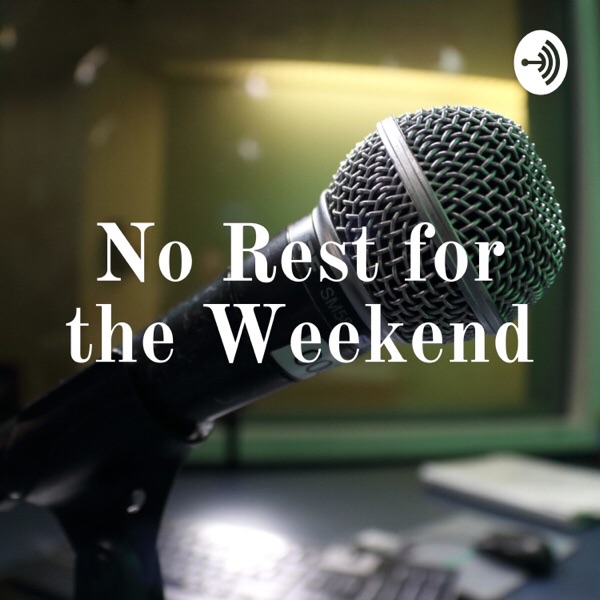 On the most recent episode of No Rest for the Weekend, NYWIFT Community Engagement Director Katie Chambers talks about the rise of women in media and how NYWIFT helps its members achieve their goals for over 40 years. Listen on Apple Podcasts, Stitcher, Spotify and more, or watch a video of the interview on Facebook or YouTube. No Rest for the Weekend, hosted by Jason Godbey, is a podcast dedicated to indie filmmakers and content creators. It's a must see/must listen for everyone from the film professional looking to move up in the industry to the weekend warrior/DIY filmmaker. Learn more at www.behindtherabbitproductions.com/.
---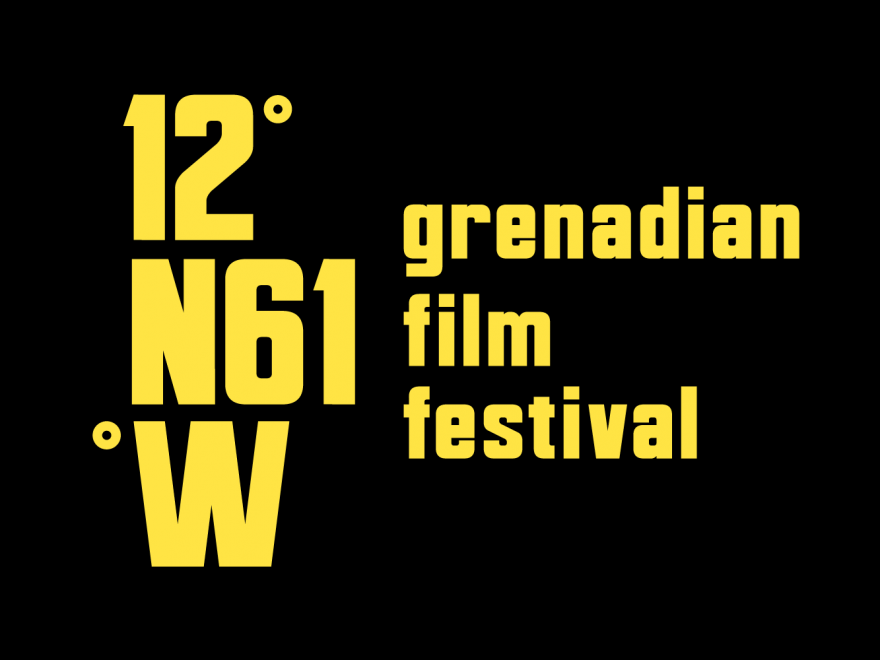 The 12°N61°W Grenadian Film Festival, presented Mprojekts Creative Group, brings filmmakers and diverse audiences together to celebrate black voices in cinema. Rooted in independent film, 1261GFF is a platform for creative expression and immersive entertainment. The festival champions emerging and established award-winning filmmakers and creators; curates innovative experiences; and introduces exhibitions, workshops, talks, and live performances. The Festival was founded by Grenadian-American filmmaker and NYWIFT member Meschida Philip in 2018 as a destination to spur cinematic experiences in Grenada. The inaugural edition will take place May 3 – May 5 at various locations in Grenada including Lavo Lanes, Movie Palace-Excel Plaza, and Deluxe Cinemas, and will feature a staggering lineup of 47 films from around the world that draw attention to black experiences and culture. Find out more.
---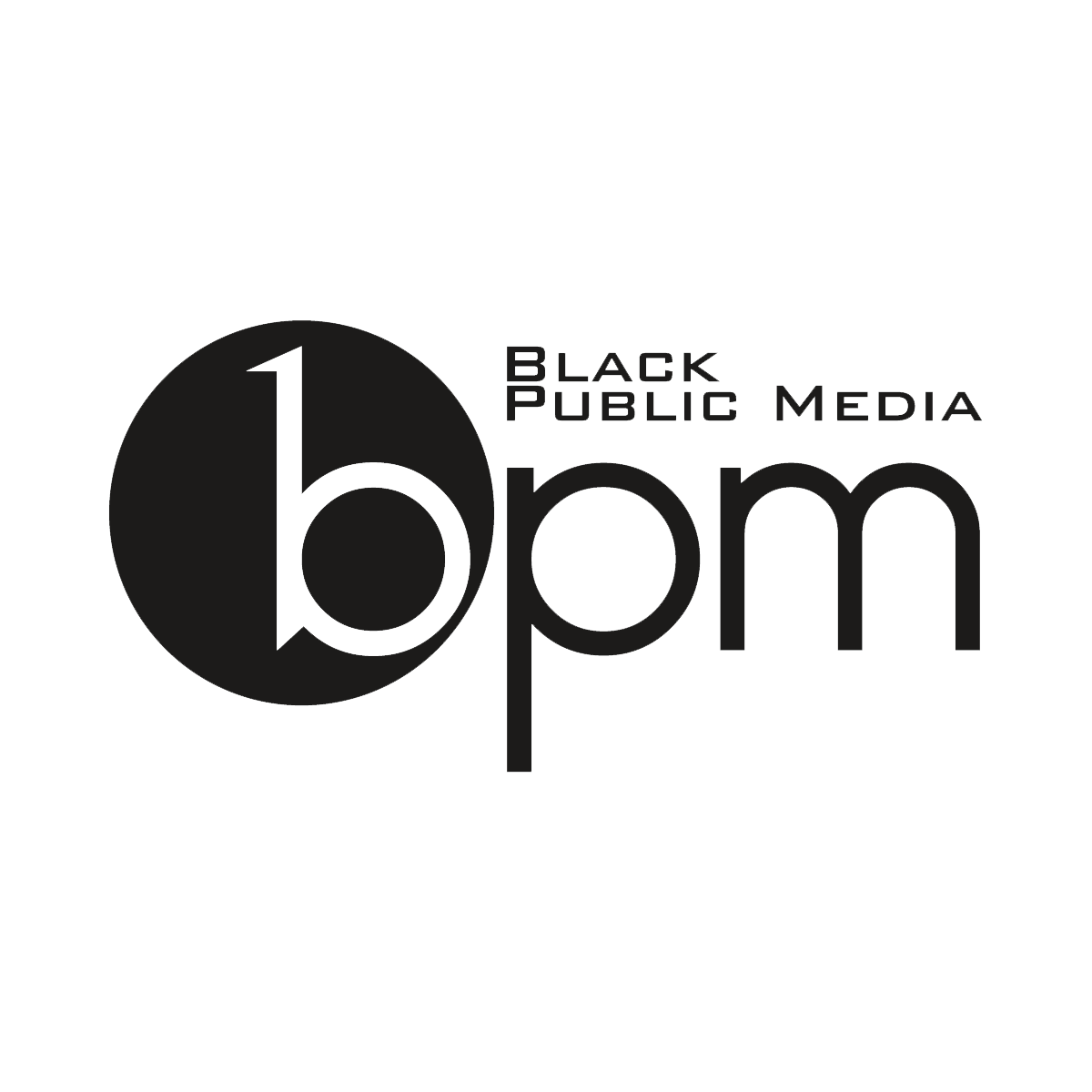 Black Public Media's PitchBLACK pitching forum, designed to fill the thirst of viewers for quality Black content, took place last Thursday, April 11, in New York City. The winning projects The 3,000 Project  and Commuted were announced at an awards ceremony on Friday, April 12, where veteran filmmakers Michèle Stephenson and Joe Brewster were also honored with the Trailblazer Awards.
A total of 10 projects, six of them led by women, vyed for up to $150,000 for their television broadcast programs/series, web series and VR projects. All the creatives have been working with mentors since January 2019 as part of Black Public Media's 360 Incubator+ talent development program. Even non-winning projects had a chance to secure money and distribution, with representatives from the Corporation for Public Broadcasting, Ford Foundation, Foundation for a Just Society, MacArthur Foundation, Sundance Institute, Tribeca Film Institute, Women Make Movies in attendance.
Black Public Media's executive director Leslie Fields-Cruz, who is a board member at NYWIFT, says "Each and every one of the projects deserves to be made and seen. The jury is going to have a tough time deciding which projects to support. Anyone interested in funding or distributing authentic content about the black experience should be sure to attend PitchBLACK."
Please find more info on the projects here: 360 Incubator+ Projects. 
---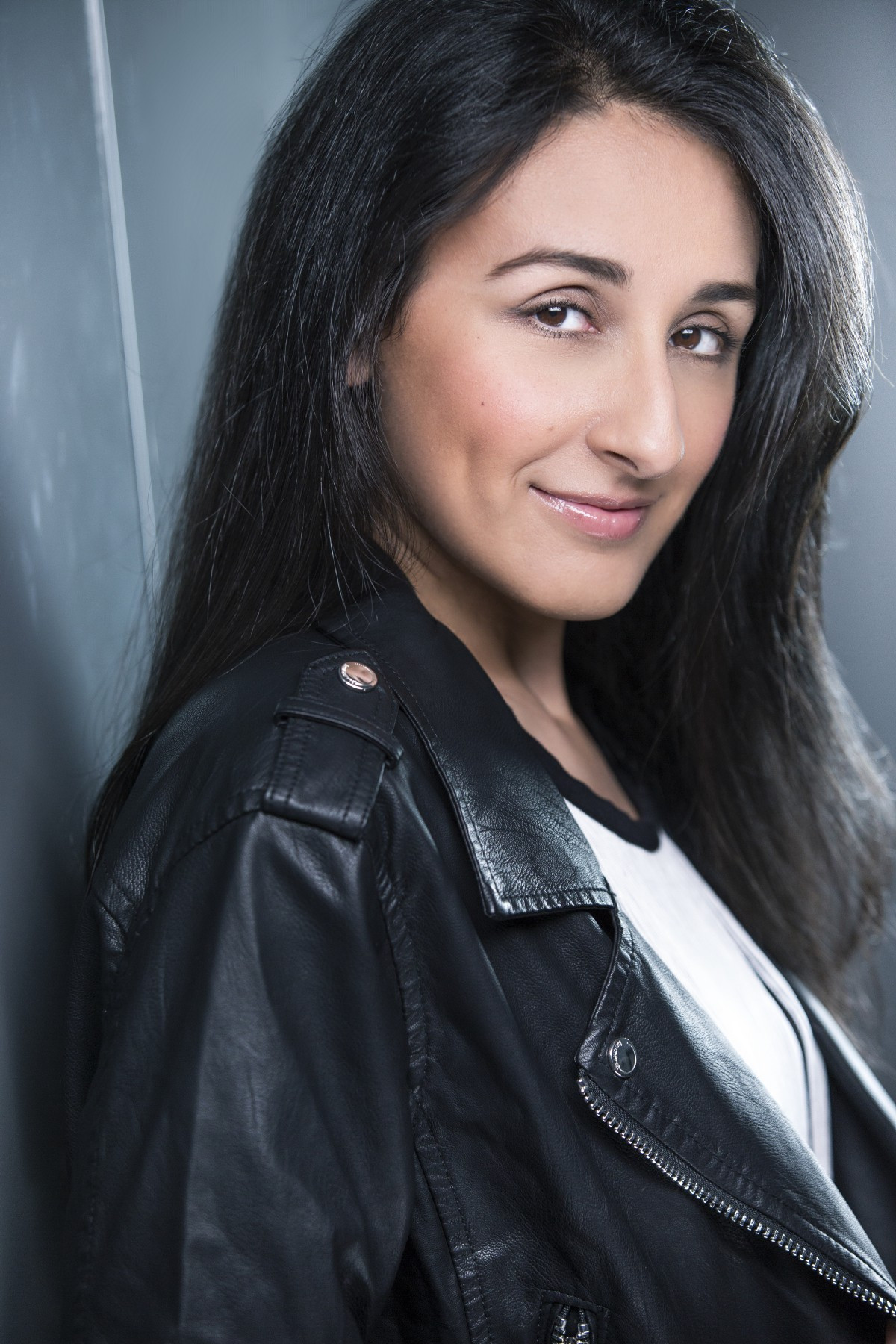 NYWIFT member Andrea Cordaro was featured in Thrive Global. She shared about her journey as a producer and actress, inspirations and role models, past mistakes and lessons learned, as well as advice she'd like to share with emerging filmmakers. "Don't wait for someone to give you an opportunity — create your own" — Andrea Cordaro. Read more.
---
NYWIFT Member Dawn Young stars in The Garden Left Behind, a narrative feature film that has just won the audience award at the SXSW Film Festival. Dawn plays the speech pathologist to the lead character Tina, played by Carlie Guevara in her debut acting role. The Garden Left Behind tells the story of a young trans woman and her grandmother during their struggles navigating life in NYC as undocumented immigrants from Mexico and Tina's personal challenges encountered while facing her transition. Find out more.
---
Have you ever wondered what really happens inside the four walls of a BDSM dungeon and what it truly means to work as a dominatrix?  NYWIFT member Stavroula Toska infiltrated Manhattan's most elite BDSM dungeon and worked as an undercover dominatrix for close to six years!  Decades of irresponsible storytelling by Hollywood's patriarchal system have told us a very different story about what truly takes place in the BDSM world.  SWITCH , created by Toska, serves as a treatise and an exploration of power exchange between the two sexes — what it means to be a dominant woman in today's world and what it means to be a man who lives with secrets, trauma, toxic masculinity…Available now on Digital VOD, Toska's multi-award-winning series takes viewers on a journey to the riveting world of BDSM, from a deeply benevolent, unorthodox and cerebral POV, by following Stella (Stavroula Toska) and the main characters as they navigate leading a double life, the struggle for power, identity, ambition, love and family. SWITCH also stars Academy Award winner Olympia Dukakis, Emmy winner Cady McClain, Emmy nominee Jon Lindstrom, India Ennenga, Mark Borkowski,  Bobby Daniel Rodriguez and NYWIFT members Catherine Eaton, Eleni Yiovas, Katie Maguire, Catherine Chadwick, Lucia Grillo and more! Series directed by credits include Laurie Weltz, Cady McClain, Katie Maguire and Stavroula Toska.
---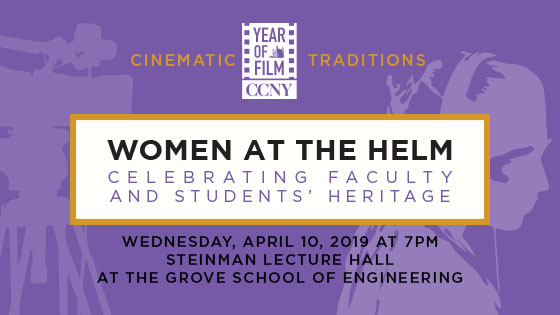 As part of The City College of New York's "Year of Film" celebration, four female filmmakers with CCNY links will screen their work at the Women at the Helm: Celebrating Faculty and Students' Heritage on April 10.  Films by Ayoka Chenzira, Julie Dash, NYWIFT member Greta Schiller and Andrea Weiss will all be shown. NYWIFT member Deirdre Fishel, associate professor and program director of the BFA Film and Video program, will moderate a post-screening Q&A with some of the filmmakers. The event is free and open to the public. Get more info.
---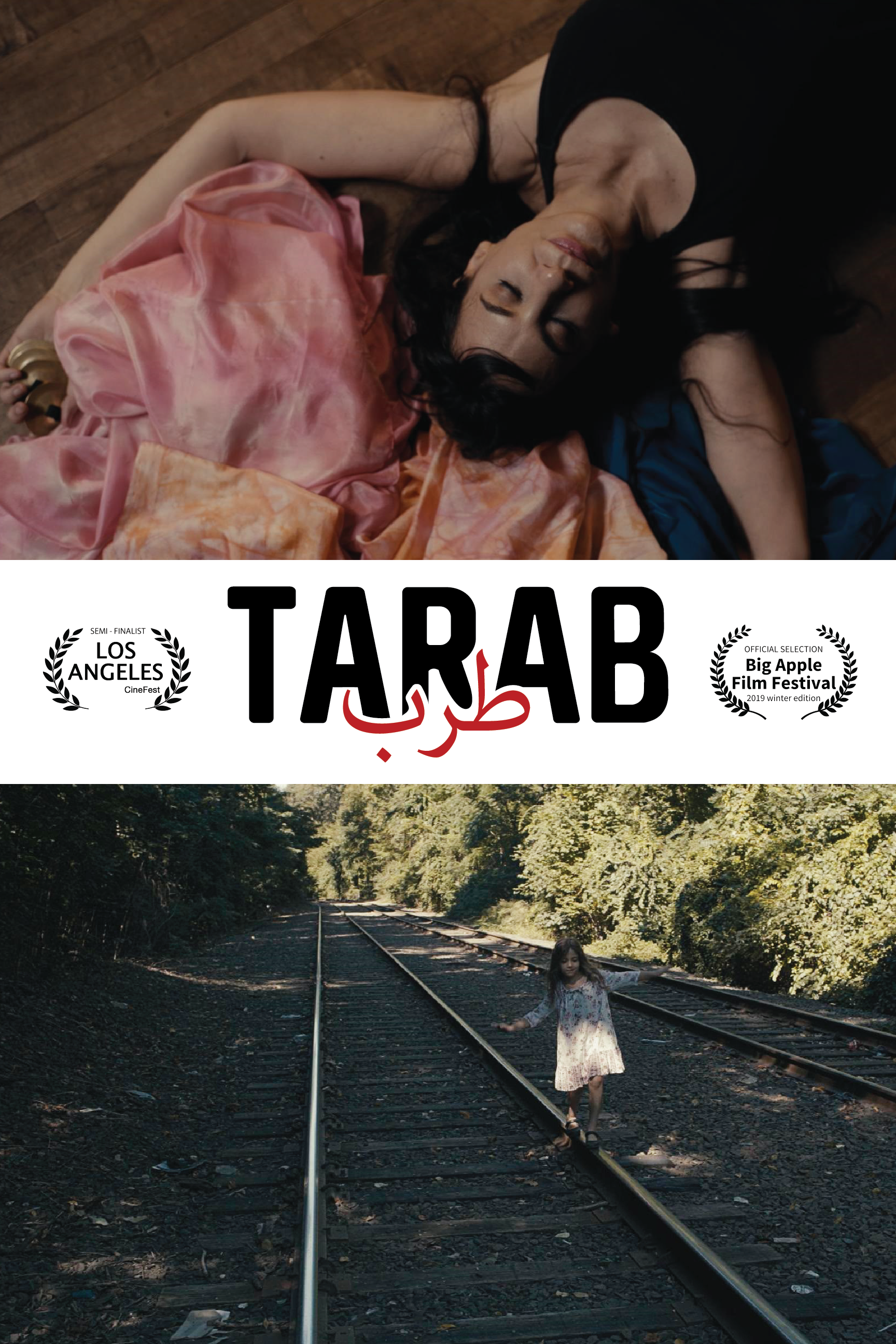 Tarab is a NYFA and Puffin Foundation-sponsored dramedy about a Lebanese-American who risks losing her law career and family's respect by pursuing her secret passion to perform as a bellydancer. Executive produced and written by NYWIFT member Maria Michaels Moussa and directed and produced by NYWIFT member Jennifer Hanley, the film will screen at the Bowery Film Festival on April 13 along with two shorts also directed by women: Animate Object, directed by Annie Hope and Chronicles of a Bleep Year Old Woman, directed by Angela Atwood. Get tickets.
---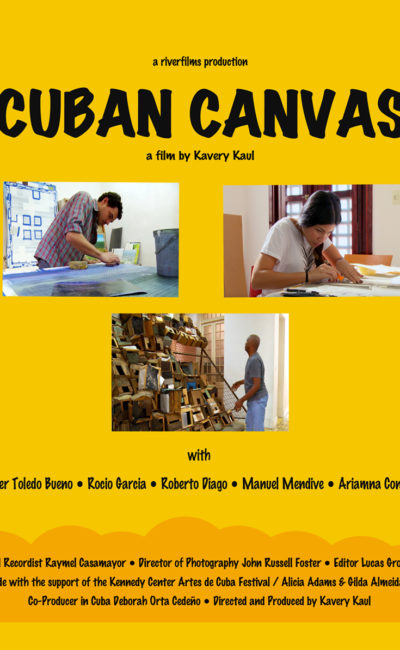 Cuban Canvas, directed by NYWIFT member Kavery Kaul, screens at the Havana Film Festival New York. The inter-generational story opens a rare window on rich experimentation with form and content as it connects the lines between art and life. In Havana, a leading artist of the new generation, Roger Toledo Bueno mines the past through the masters who started their careers before him — Rocio Garcia, Manuel Mendive, and Roberto Diago. With his contemporary Ariamna Contino, Roger looks to the future. The film screens April 13. Get tickets.
---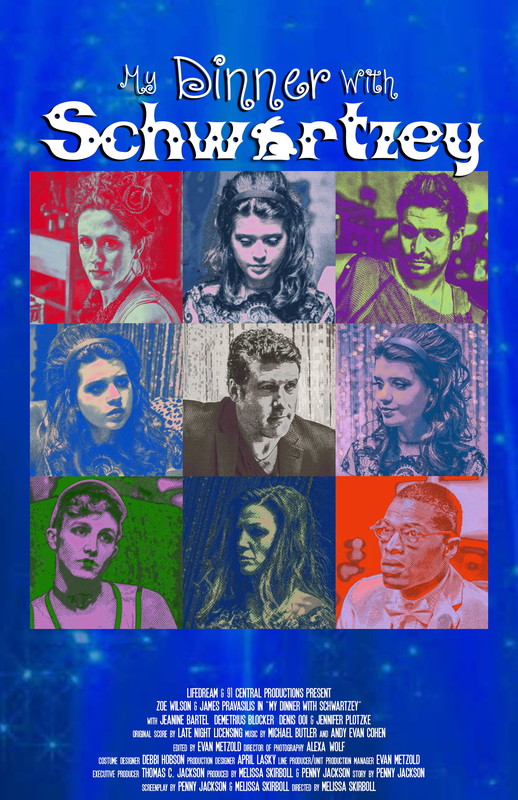 My Dinner with Schwartzey will make its US and NY premiere at the Manhattan Film Festival on April 28. The short film was produced and written by NYWIFT members Penny Jackson and Melissa Skirboll and was directed by Skirboll. My Dinner with Schwartzey made its world premiere at the Bermuda International Film Festival and has subsequently screened at the Beeston Film Festival. NYWIFT served as the fiscal sponsor for the film. When a starry-eyed 16-year-old is introduced to the outrageous downtown NYC art/rock scene by a powerful music producer with a penchant for teens, she is tempted by the glitzy lifestyle until a mystery woman provides a glimpse into her possible future. Buy tickets.
---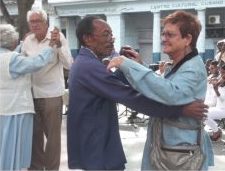 Between a Tango and a Danzon, directed by NYWIFT member Marta Bautis, will be screening at the Havana Film Festival New York on Apr 14. Between a Tango and a Danzón explores the cultural and historical influences of these two musical genres in Cuba's society today. Filmed in the cities of Havana, Matanzas and Gibara, this documentary includes scenes with dancers, singers and musicians in the neighborhoods of Peñas and Milongas. Archival footage of legendary danzón and tango artists, such as Barbarito Diez, Carlos Gardel or Libertad Lamarque, add a nostalgic feeling. The film reveals the efforts to revitalize the danzón, Cuban national dance, and to attract the youth to this genre by mixing it with different rhythms, including jazz. Buy tickets.
---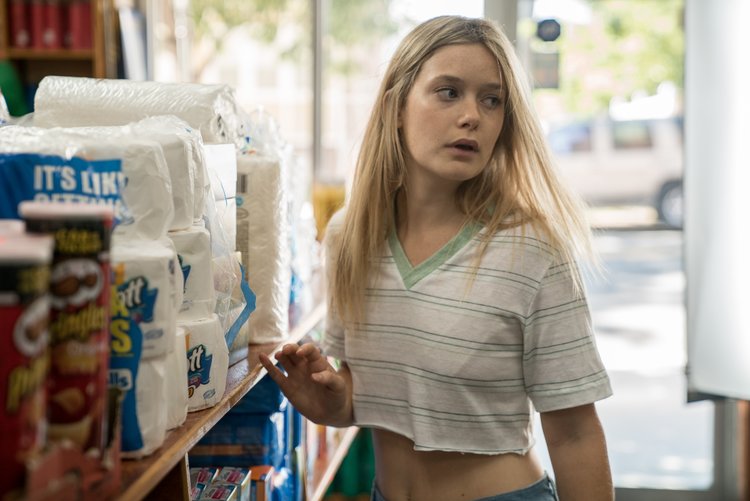 Write When You Get Work is now streaming on Amazon Prime, iTunes, Google Play, Fandango Now, VUDU, and Xbox. The film premiered last year at the SXSW Film Festival and is written and directed by NYWIFT member Stacy Cochran and stars Emily Mortimer, Finn Wittrock, Rachel Keller, Scott Cohen, Jessica Hecht, and is shot by Oscar-winning cinematographer Robert Elswit. Write When You Get Work is a thorny romantic comedy set in New York City at a private school for girls and in the world outside its exclusive walls. Watch the film.
---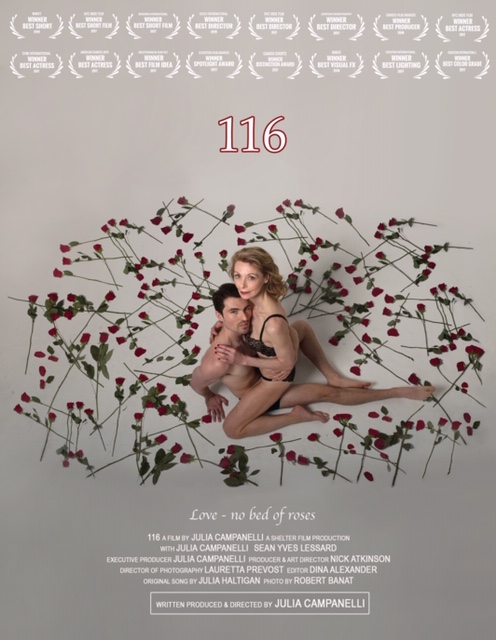 116, written by, directed by, and starring NYWIFT Member Julia Campanelli, will screen on April 4 as part of the CineKink Film Festival. The short centers around a woman who wakes up in a hotel room with a younger man. When she insists he leave, he resists and the struggle begins. Is it the power of love or the love of power that brings them together, repeating the same, bizarre, obsessive ritual over and over again? The answer can only be found in Room 116. Buy tickets.
---
Pioneering filmmaker Madeline Anderson is often credited as the first Black woman to produce and direct a televised documentary, the first to produce and direct a syndicated TV show, the first black employee at WNET, and one of the first black women to join the film editor's union. As part of the Made in Harlem: Class of '68 series, in celebration of Women's History Month, join the Documentary Forum at CCNY, Third World Newsreel, and Maysles Cinema for three screenings of Madeline Anderson's films and a Q&A with Madeline Anderson, moderated by NYWIFT board member Tracy Daniels. The event is FREE to attend and will take place March 28. Register online.
---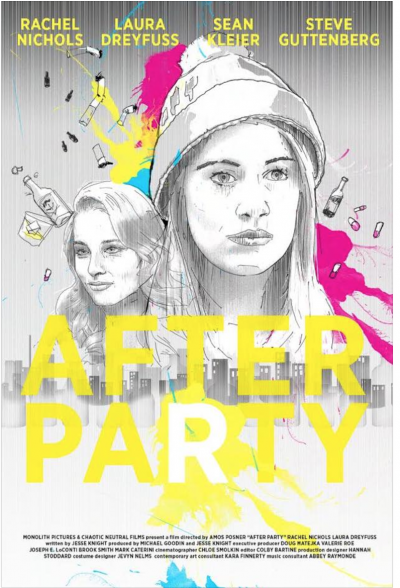 After Party, a feature film starring Rachel Nicols, Laura Dreyfuss, and Steven Guttenberg, costume designed by NYWIFT member Jevyn Nelms, is now streaming on iTunes, Amazon, and most cable on demand services. The film centers around young, up-and-coming photographer Lana, who begrudgingly attends the party of a pretentious and cool gallery owner in the hopes of meeting a respected dealer who may hold the key to her success. She quickly finds that the attendees of the party are more style than substances, and her friend, the host, isn't at all what she seems. After Party is the winner of the 2017 Best Comedy Feature Award at the Madrid International Film Festival. Watch the film.
---

The Seeing Place Theater presents The Maids by Jean Genet, starring NYWIFT member Gaia Visnar in the role of Claire. Performances run March 29 – April 14. In this notorious classic, two sisters, maids to a wealthy society woman, act out fantasies of class, love, and revenge while the lady of the house is out on a romantic rendezvous. Their games intensify and the incipient violence escalates as they await Madame's return. Buy tickets.
---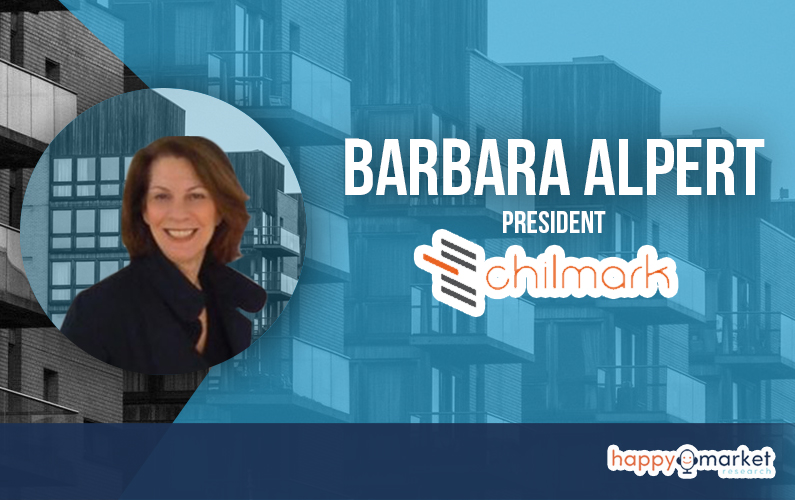 NYWIFT member and past board member Barbara (Bobbi) Alpert was recently interviewed on the Happy Market Research podcast. President and co-founder of Chilmark Digital, Bobbi talks about her company's metamorphosis from a television production company to a media technology company, their [ReSync] media insights platform and some thoughts on how to define a startup. Listen to the podcast. Barbara can be reached at balpert@chilmarkdigital.com.
---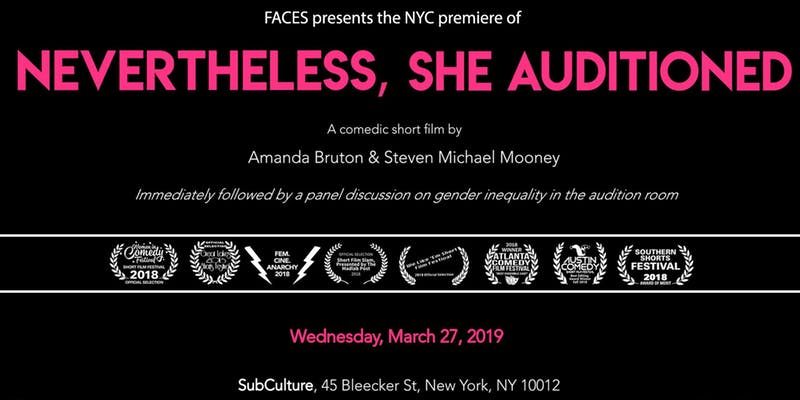 NYWIFT member Brittany Rostron and her nonprofit FACES are hosting a FREE event on March 27 to honor Women's History Month, and the upcoming SWAN Day. The night will start off with the NYC premiere of the award-winning comedy Nevertheless, She Auditioned, a short film inspired by true stories of unequal treatment and perception of women in front of the camera. Following the five-minute screening, there will be a panel discussion featuring a diverse group of fierce women, including Amanda Bruton (Actor & Filmmaker), Erica Jensen (Casting Director & Co-Founder of She-Collective), Sheri Sanders (Actor & Creator of Rock the Audition), and Elaine Del Valle (Actor, Filmmaker, Casting Director). The interactive Q&A will further explore the ongoing challenges that served as inspiration for the film. Free Tickets can be reserved here: NSA Screening & Panel Tix. For more info on how FACES helps women break into and develop their careers in the entertainment industry, visit https://femaleaces.org/, FACES LinkedIn, and @FemaleACES.
---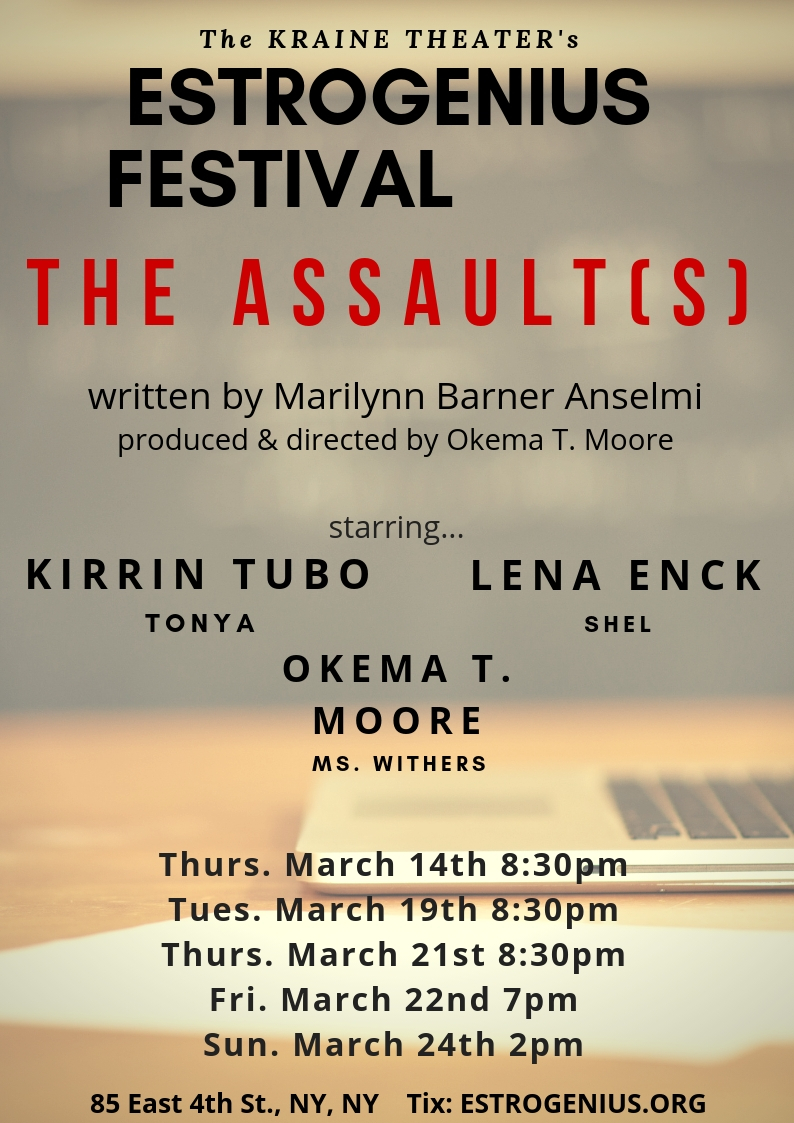 NYWIFT member Okema T. Moore produced, directed and stars in the one-act play The Assault(s) as part of this year's Estrogenius Festival. The play is about a campus sexual assault incident by a very unlikely suspect and the impact it has on everyone involved when the truth comes out. The show runs through March 24. Buy tickets.
---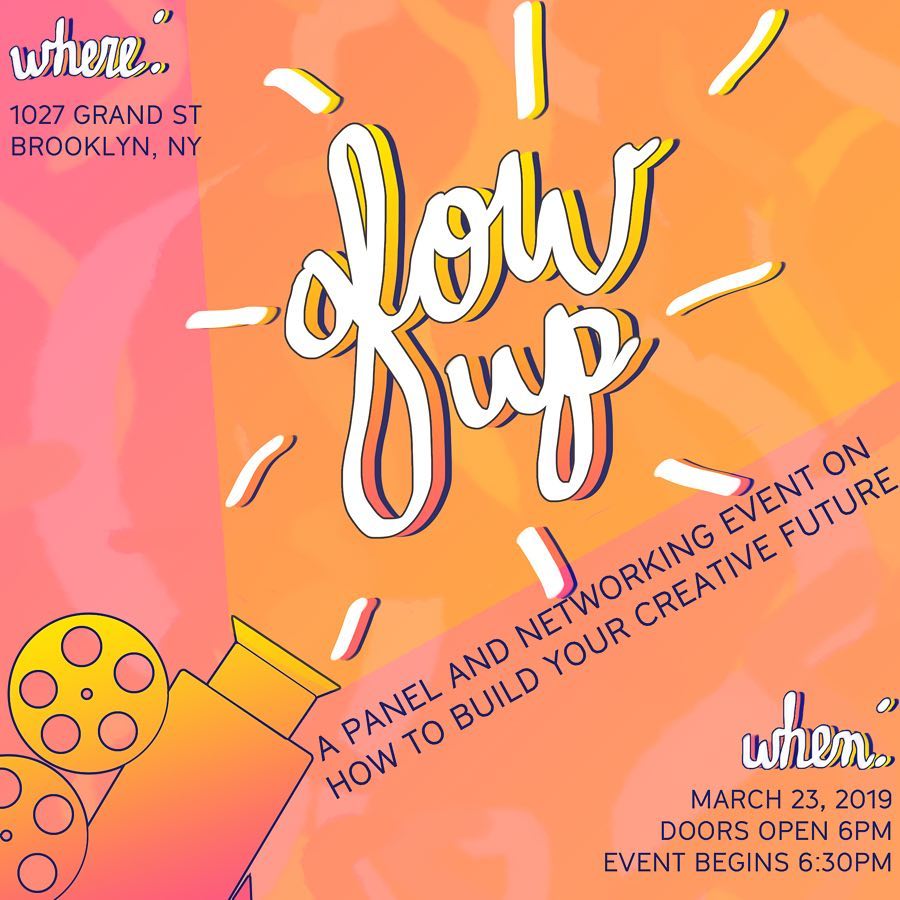 Join NYWIFT member Kimberly Hoyos' The Light Leaks for an empowering night of networking, conversation, and building your creative "glow up". Glow Up aims to make networking easy, approachable, and inclusive for all as we listen to the words of inspiring female creators and gain insight into their career growth via a panel and networking power hour. Panelists include director Amanda Cowper, Emmy Award-winning video producer and VP of Digital Media at Seaberry Design Adya Beasley, illustrator, artist and multidisciplinary designer at Nickelodeon Jazzmyn Coker, and photographer and video producer Chelsea Pineda. The panel will be moderated by Kim Hoyos, founder of the Light Leaks and current digital strategy coordinator at MTV Social Impact. The event will take place March 23. Get tickets.
---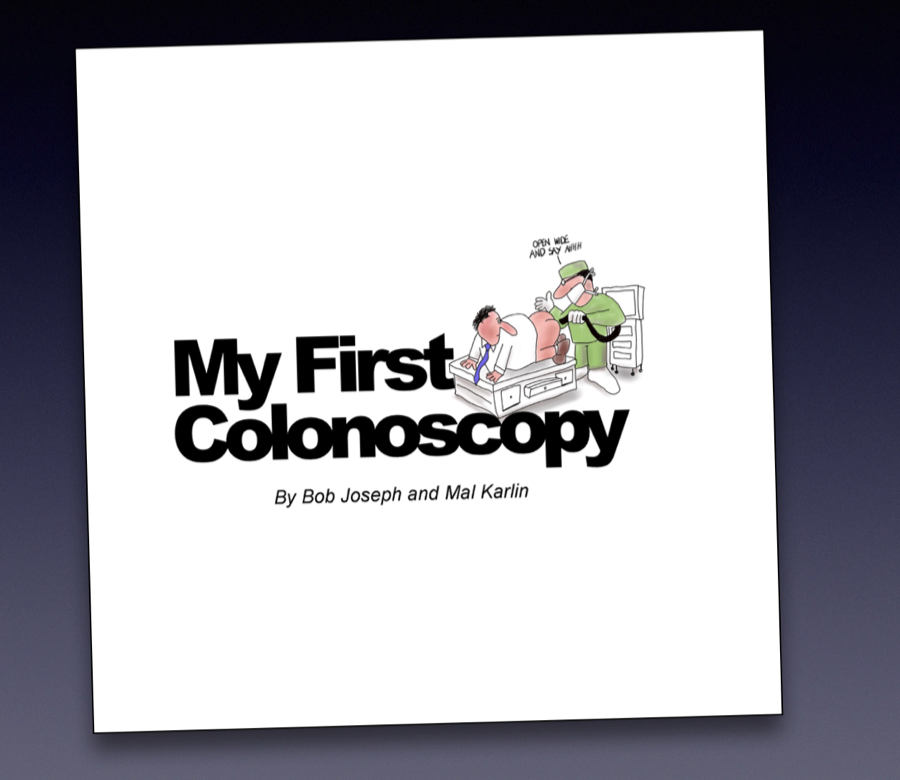 It is said that laughter is the best medicine. My First Colonoscopy will make you feel good twice. Produced by NYWIFT member Valerie Light, My First Colonoscopy is a great gift for anyone turning 45, 50, 55 who wants to turn 90, 95, 100. With humorous cartoons and rhyming verse, Bob Joseph and Mal Karlin take readers on a hilarious journey through this very significant rite of passage. Buy now.
---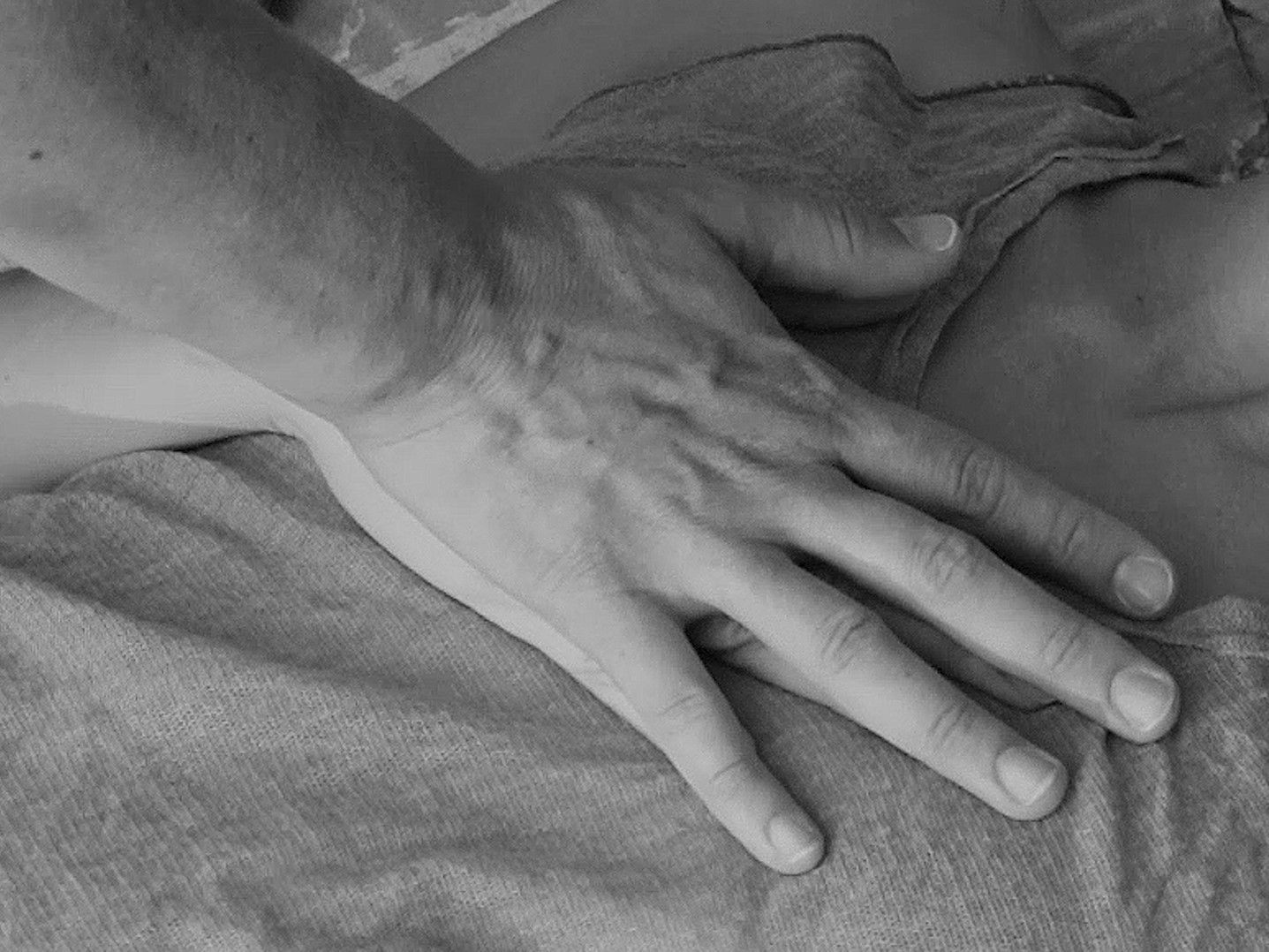 NYWIFT member Nancy Allison's Marmo will screen in the International Short Films competition at the 37th Festival International du Film sur L'art (FIFA) on March 20 in Montreal. Perched high on the ledge of a marble quarry, a sculpture waits to emerge from the rough walls that imprison it. Flesh and stone, sculptor and sculpture – the question arises: who is creating whom? See the schedule and buy tickets.
---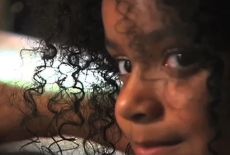 Celebrate Women's History Month with NYC Parks for Movies Under the Stars: Women in Film, an evening of short films and conversation with award-winning women filmmakers. The panel will be moderated by Black TV & Film Collective immediately after the screening. The lineup includes Little Courage by NYWIFT member Veronica Caicedo, First of Many by NYWIFT member Pamela Guest, Paris Blues in Harlem by NYWIFT member Nadhege Ptah, and Scratch This by Jody Lauren Miller. The screening takes place March 22 and is free to attend. See more details.
---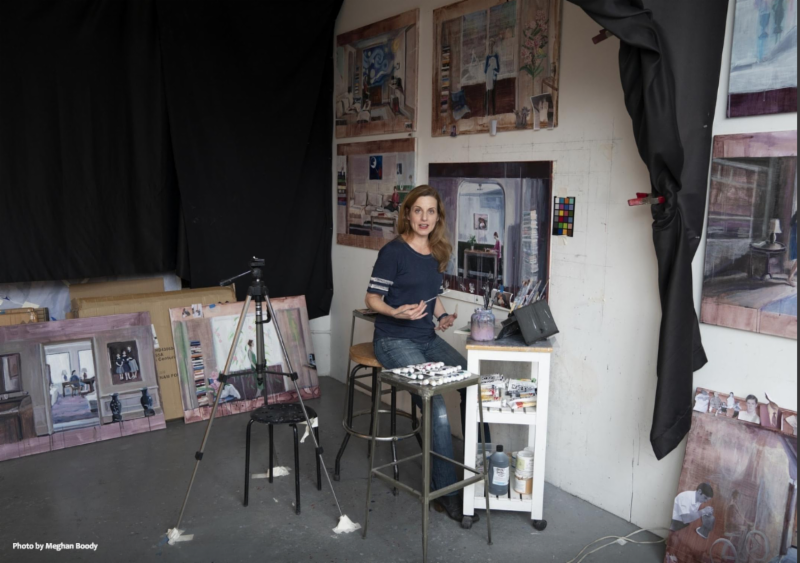 NYWIFT member Viviane Silvera featured in Art Habens Art Review. The piece is the first to explore in-depth Viviane's new hand-painted animation strategies that she is developing for her feature length film in production, Feel Memory. A 6-minute video made out of selections from the 10,000 painting stills that Viviane created for her short film See Memory will be installed at the Bill and Melinda Gates Foundation in Seattle April – December 2019. 
---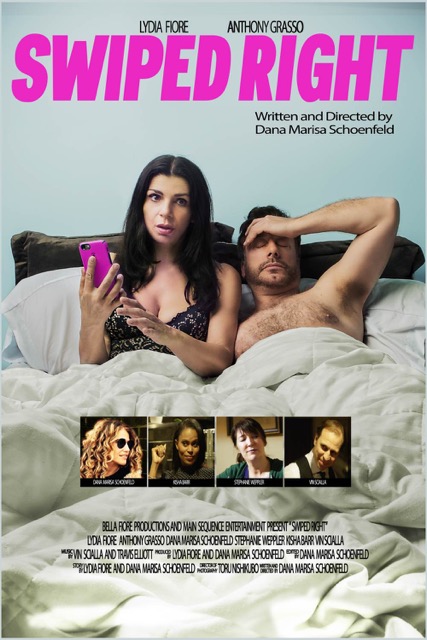 NYWIFT Members Dana Marisa Schoenfeld and Lydia Fiore's Swiped Right to Screen at The Pasadena International Film Festival. When Ava, a single, high-powered fashion executive, decides to go on an online dating website to have some fun, she meets Angelo, a heartbroken misogynist who misrepresents his talents in bed. After an embarrassing and disappointing night, they silently vow never to see each other again, until an unexpected connection surprises them both. The film will screen as part of Shorts Block 24 – Love at Last Sight on March 30. Buy tickets.
---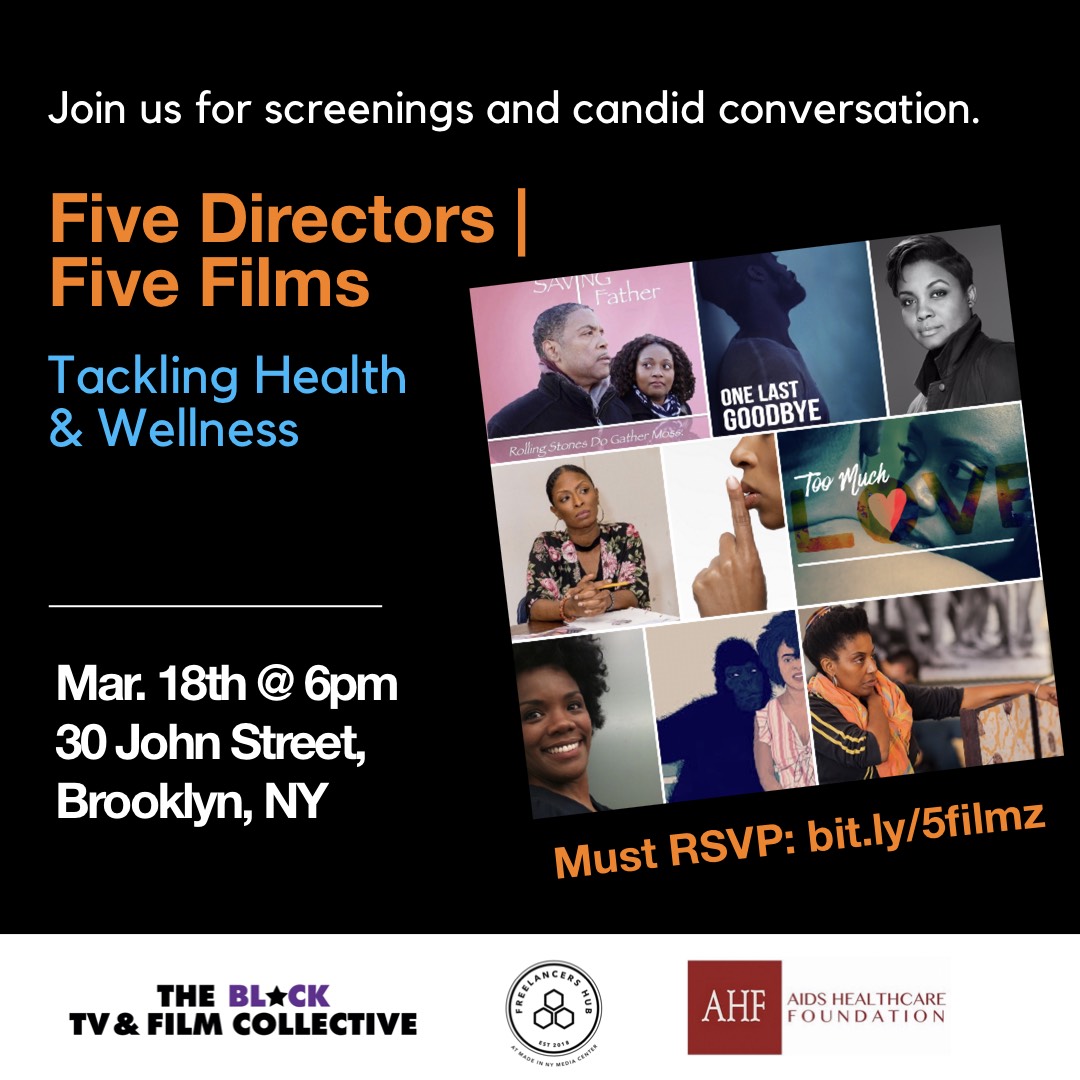 The Black TV & Film Collective, in partnership with AIDS Healthcare Foundation and the Freelancers Hub, hosts 5 Films | 5 Directors: Tackling Health and Wellness on March 18. 5 Films | 5 Directors: Tackling Health and Wellness is an evening of film screenings with a networking cocktail hour, and a panel discussion all centered around health and wellness. Included in the screening is Too Much Love, a short film written, directed, and produced by NYWIFT member Tonya McCornell and associate produced by NYWIFT member Joanna White-Oldham, to be used as a PSA about HIV Awareness. Also included in the screening is The 800 Pound Gorilla, a comedic take on dealing with anxiety, directed by NYWIFT member Dana Verde. The event is FREE to attend, but RSVP is mandatory. RSVP online. 
---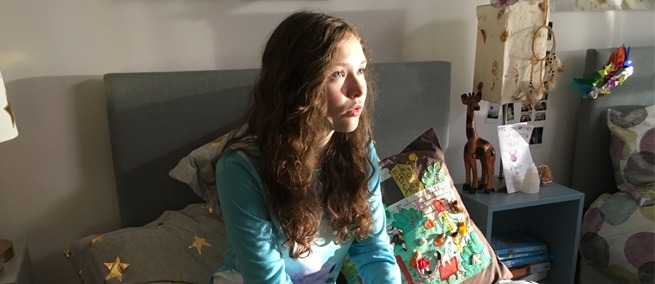 Lucy in the Sky, written by NYWIFT member Jen Rudin, enjoyed a packed screening at the Sedona International Film Festival. It will go on to screen at the Annapolis Film Festival on March 22 – 23. The film centers around fourteen-year-old Lucy Katz, a teenager with autism adjusting to mainstream high school. Lucy and her identical twin sister are faced with cataclysmic change when they become subject of a genetic research study that could forever change Lucy. Buy tickets.
---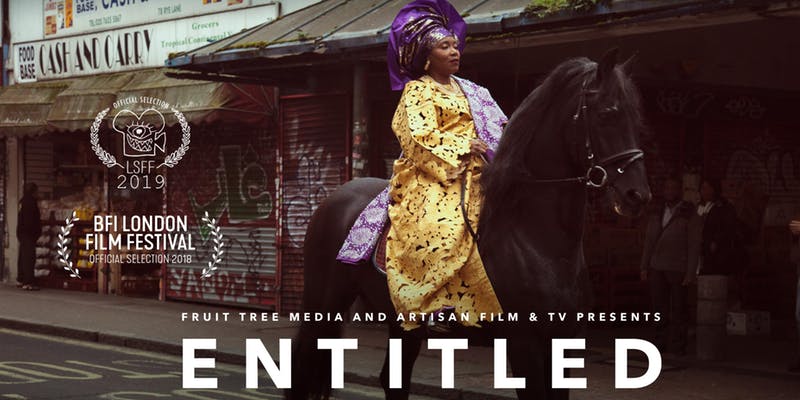 ImageNation and featured artist and NYWIFT member Dana Verde host Venus Rising: A Black Herstory Month Celebration on March 21, a program exploring the objectification and empowerment of Black women through the ages of Sara Baartman to Cardi B. Venus Rising features short films Entitled by Adeyemi Michael and 800 Pound Gorilla by Dana Verde. The program also includes Gibson and Reblacka of BlackIssuesIssues and American Candy comedian Hollie Harper, followed by a discussion with filmmakers Dana Verde and Adeyemi Michael. The event will also align with the crowdfunding launch of Dana Verde's new project Saartjie. The event is FREE to attend. Reserve tickets.
---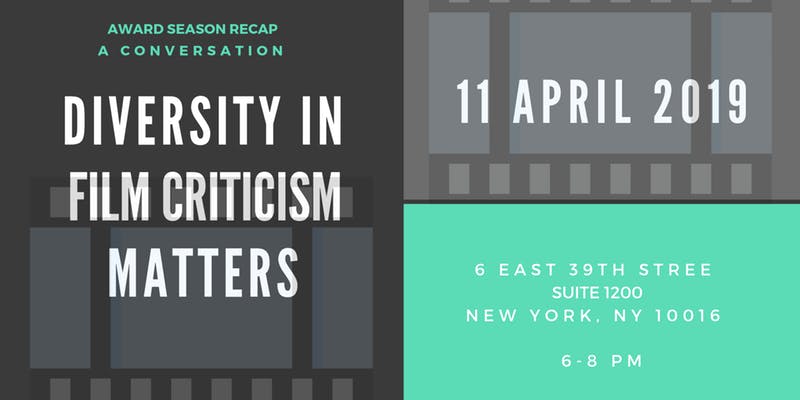 NYWIFT member Joanna White-Oldham, producer and founder of JWO Media, will be moderating a panel Awards Season Recap – Why Diversity in Film Criticism Matters on April 11. In light of the recent Academy Awards, panelists Candice Frederick, Kathia Woods, and Joanna White-Oldham get together to discuss what efforts are truly being made to ensure fair representation across the board in film criticism and what consumers and professionals can do to make informed decisions about which films to support. The event is FREE to attend. Donations are encouraged. Reserve tickets.
---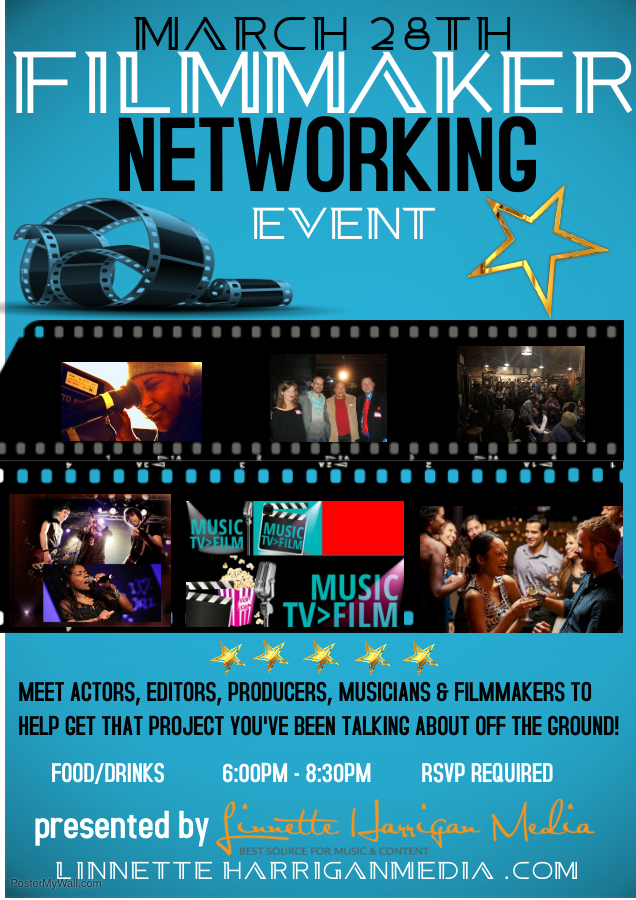 NYC Filmmaker Networking Events were started in NYC by NYWIFT member Linnette Harrigan, a 20-year veteran of the entertainment industry. The next event, held on March 28, provides filmmakers a great way to connect with writers, producers, sound designers, musicians, composers, and other filmmakers to get their projects off the ground. The event will include great food, drinks, and performances. Buy tickets.
---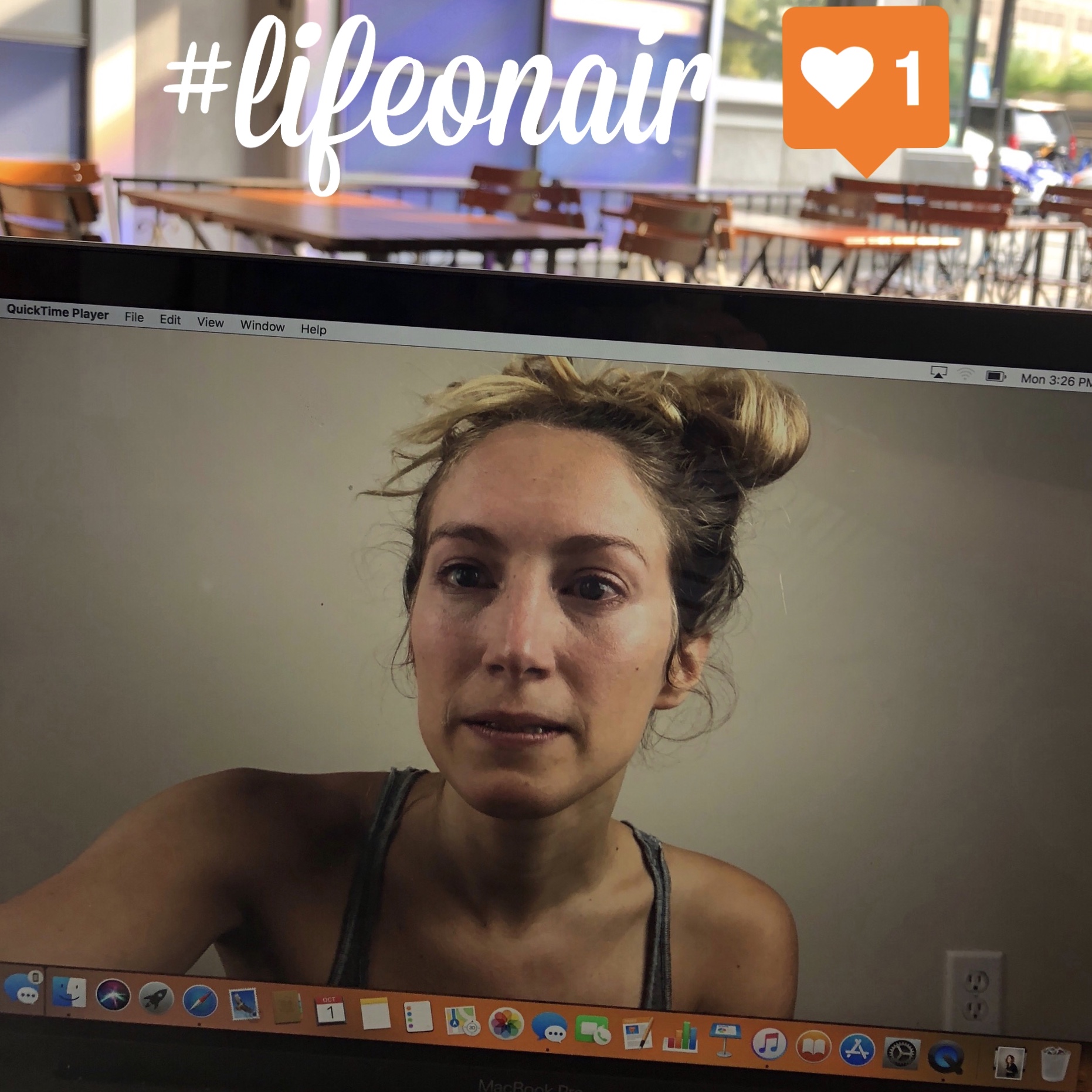 NYWIFT member Cleo Handler launches #LifeOnAir, a new interactive, experimental mystery series about an insecure, aspiring influencer who falls apart on the internet. The series is available to watch in entirety on Instagram. Follow @life0nair on Instagram to watch the series.
---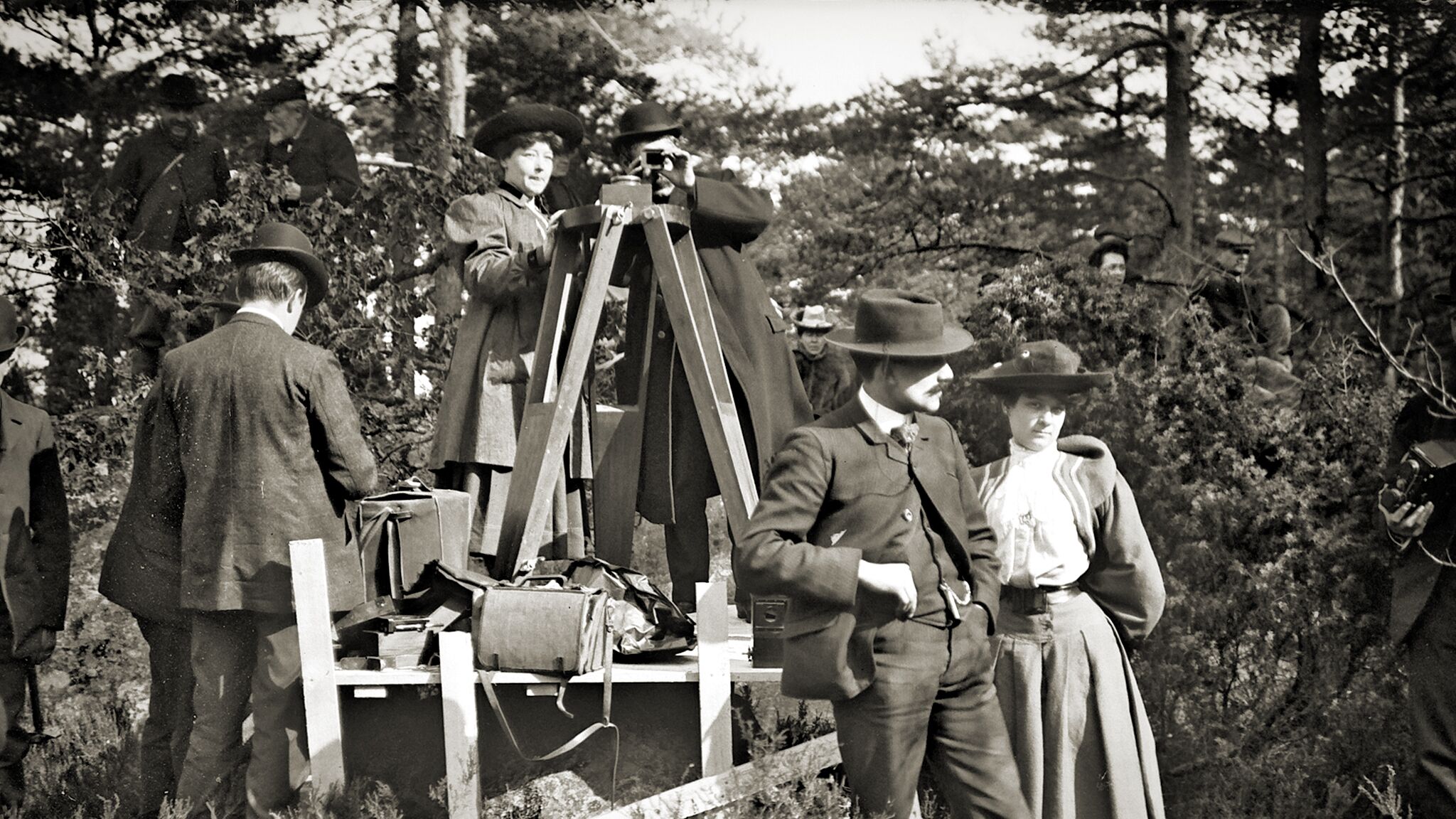 NYWIFT is proud to co-present a special screening of Be Natural: The Untold Story of Alice Guy-Blaché at the Smithsonian National Museum of American History in Washington, DC, on March 9 at 3:50 PM in honor of Women's History Month. Be Natural: The Untold Story of Alice Guy-Blaché is a 2018 documentary about the first female filmmaker Alice Guy-Blaché, directed by NYWIFT member Pamela B. Green and narrated by Academy Award winner (and NYWIFT Muse honoree) Jodie Foster. The film was executive produced by NYWIFT Muse honoree Regina K. Scully and associate produced by NYWIFT Muse honoree Abigail Disney.The documentary features clips from several Guy-Blaché films preserved by the NYWIFT Women's Film Preservation Fund, including A Fool and His Money, Matrimonial Speed Limit and Mixed Pets. The screening will be followed by a brief Q&A about the future of women in the film industry with Melissa Houghton (Executive Director, Women in Film and Video DC) and Kim Tomadjoglou (historian and curator), moderated by Katie Chambers (Community Engagement Director, New York Women in Film & Television). Learn more.
---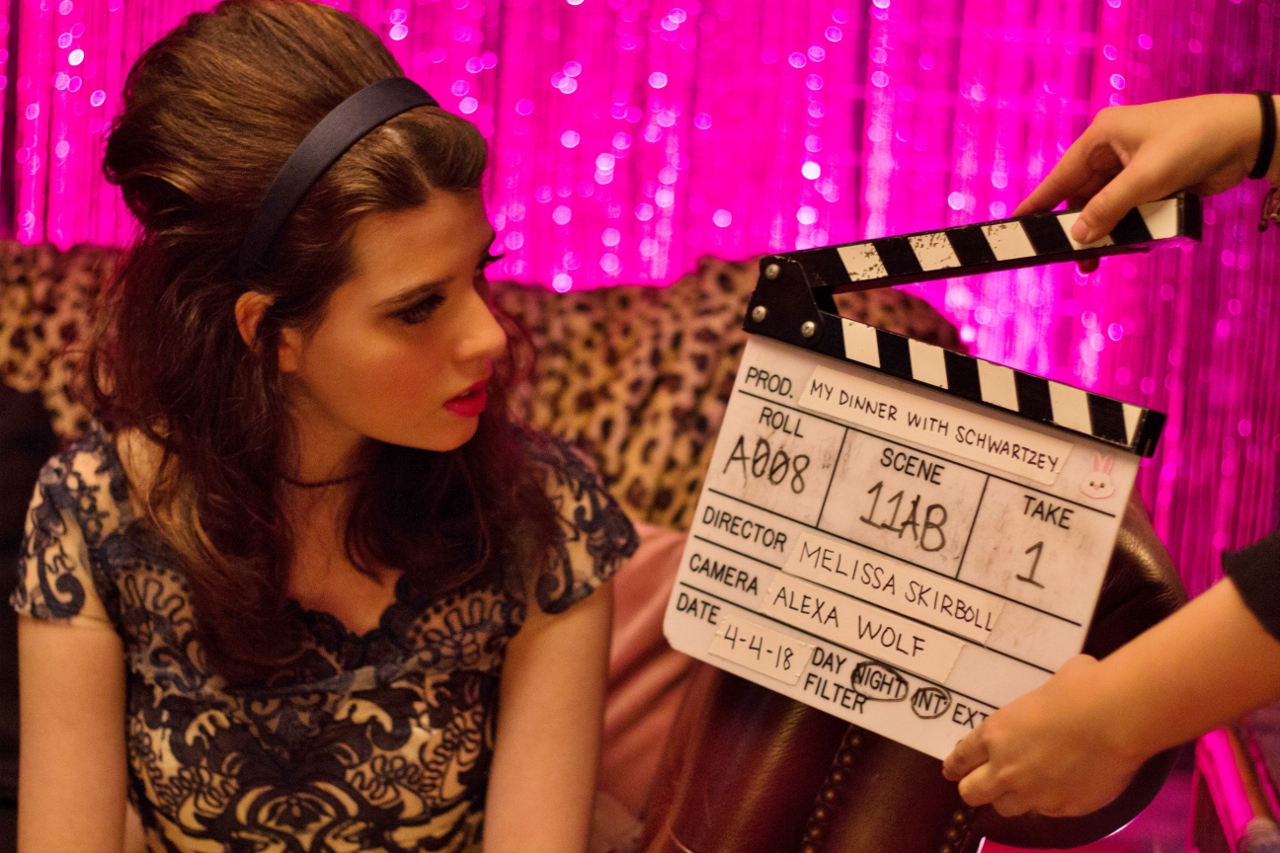 Penny Jackson of 91 Central Productions and Melissa Skirboll of LifeDreams Productions are proud to announce the world premiere of the NYWIFT fiscally sponsored short film My Dinner with Schwartzey at The Bermuda International Film Festival on March 12. The Bermuda International Film Festival is an Oscar qualifying film festival and we are thrilled to be included. For more information about our film, please follow www.mydinnerwithschwartzey.com. Tickets at http://www.biff.bm.
---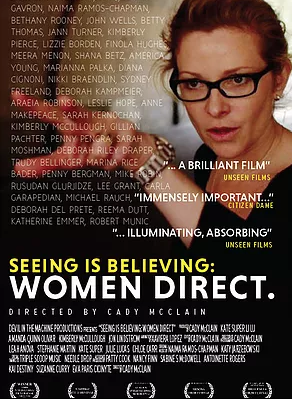 NYWIFT member Cady McClain's feature documentary Seeing is Believing: Women Direct will screen at the Socially Relevant Film Festival on March 17. The film is anintimate conversation with female directors who are using their voices to tell stories that matter to them. The film strives to encourage, inspire, and provide mentorship for those who are looking to find and use their own unique voice. Watch the trailer.See showtimes.  Buy Tickets.
---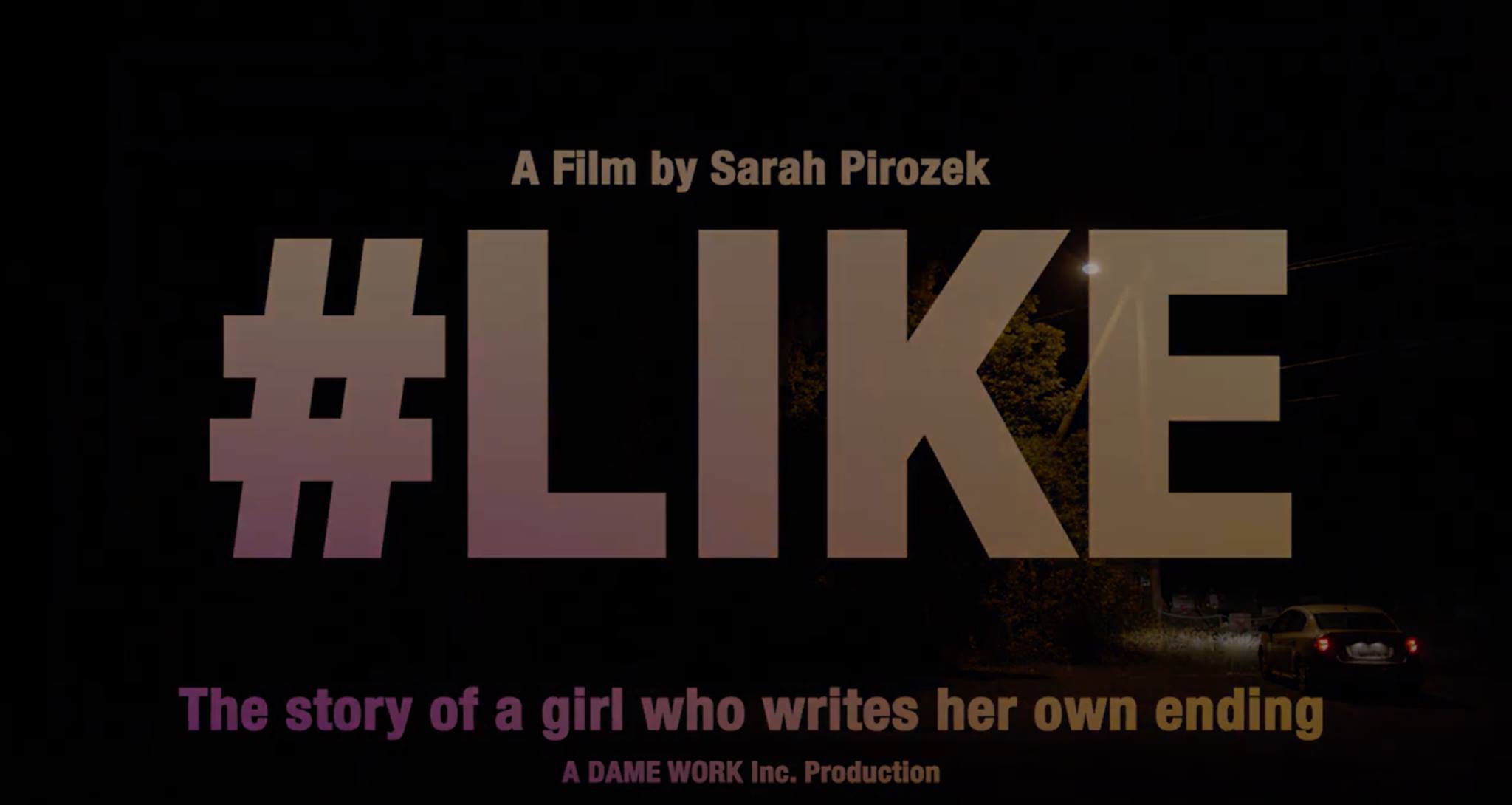 # LIKE  A feminist noir, Directed by NYWIFT member Sarah Pirozek will premiere at 'CineQuest Film Festival' in San Jose CA, at The Hammer Theatre March 9 at 6:00 pm through March 15. Watch the  TRAILER. See showtimes and buy tickets. Part thriller, part psychological study, # LIKE is a taut observation of teen sexuality and paranoia, at the intersection of #MeToo and the un-policed borders of cyber life, starring and Marc Menchaca (Ozark/The Sinner) and introducing a stellar, break-out performance by Sarah Rich under the steely eye of Sarah Pirozek's deftly chilling directorial debut. Follow on:  Twitter & Facebook
---

Naked Angels First Mondays is a monthly reading series of new full-length plays developed through Tuesdays@9 New York. On March 4, there will be a reading of NYWIFT member Michele Remsen's script Space Junk featuring Kate Walsh, Patrick Breen, Grace Choi, Nicolas diPierro, Asa James, Eric Kirchberger, and Audrey Rapoport. The event is FREE to attend but reservations are required as space is limited. RSVP Online.
---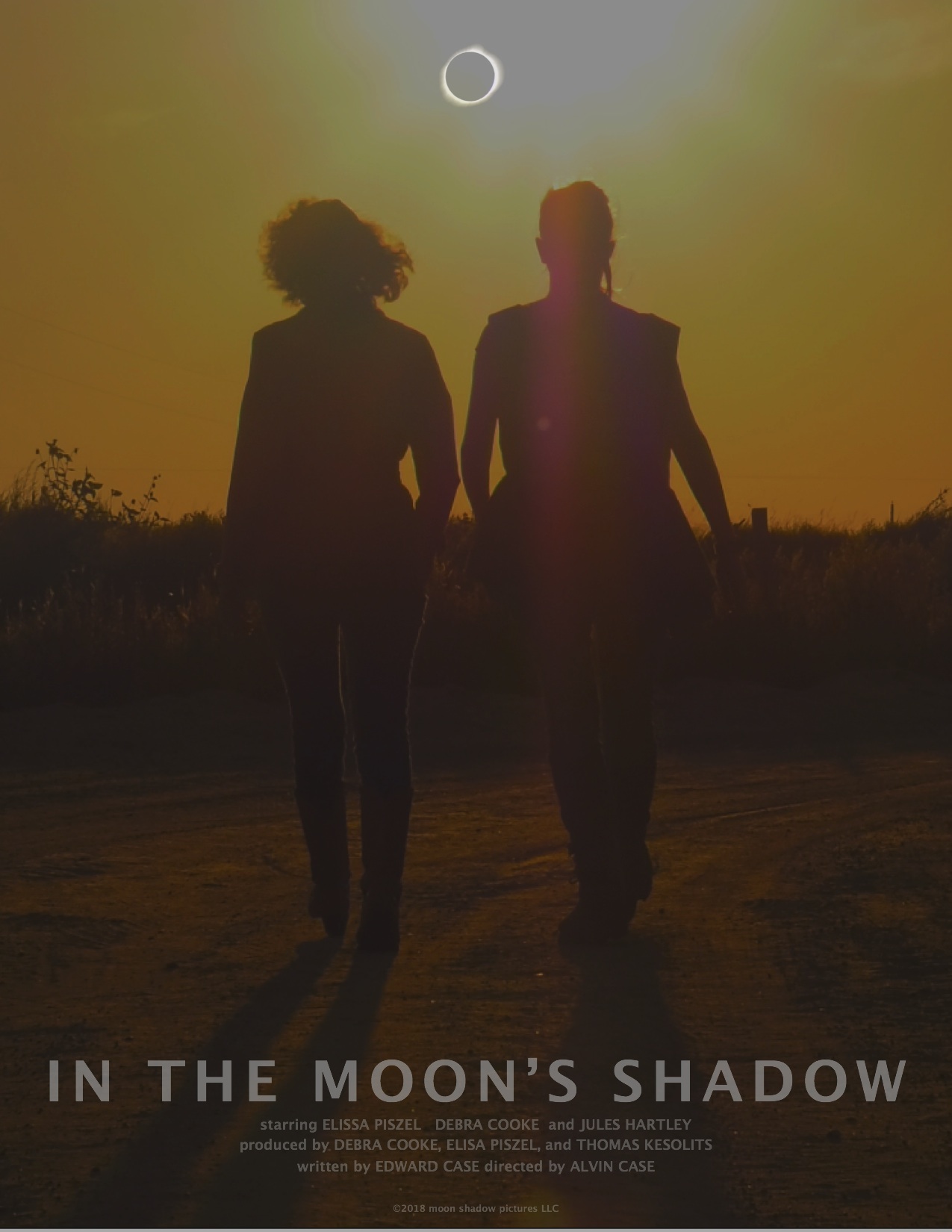 NYWIFT members Debra Cooke and Thomas Kesolits invite NYWIFT to attend In the Moon's Shadow Celebration/Fundraising Event for an evening of networking, entertainment, and surprises. The event will take place March 4 at Grotta Azzurra's Private Wine Cellar on 177 Mulberry St. There will be a happy hour, as well as a showcase of clips, production stills, and a Q&A with the filmmakers. Admission is free but donations are greatly appreciated. Email moonshadowfeature@gmail.com to RSVP. In the Moon's Shadow is fiscally sponsored by NYWIFT.  The film is directed by Alvin Case and scored by Lady Lamb.  
---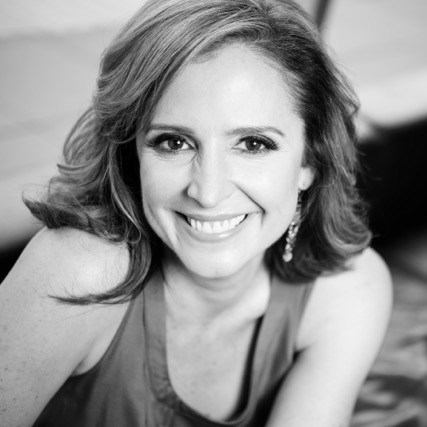 NYWIFT member Tricia Brouk, an award winning Director, Writer, Filmmaker, TEDx Producer and the Executive Producer of Speakers Who Dare, was just recently selected as Top Director of the Year by the International Association of Top Professionals (IAOTP) for her outstanding leadership and commitment to the profession. "As a talented dynamic, results-driven leader, Tricia has demonstrated success not only as a director but has also applied her expertise to the art of public speaking and…" Read more. Find out more about Tricia. Find out more about IAOTP.
---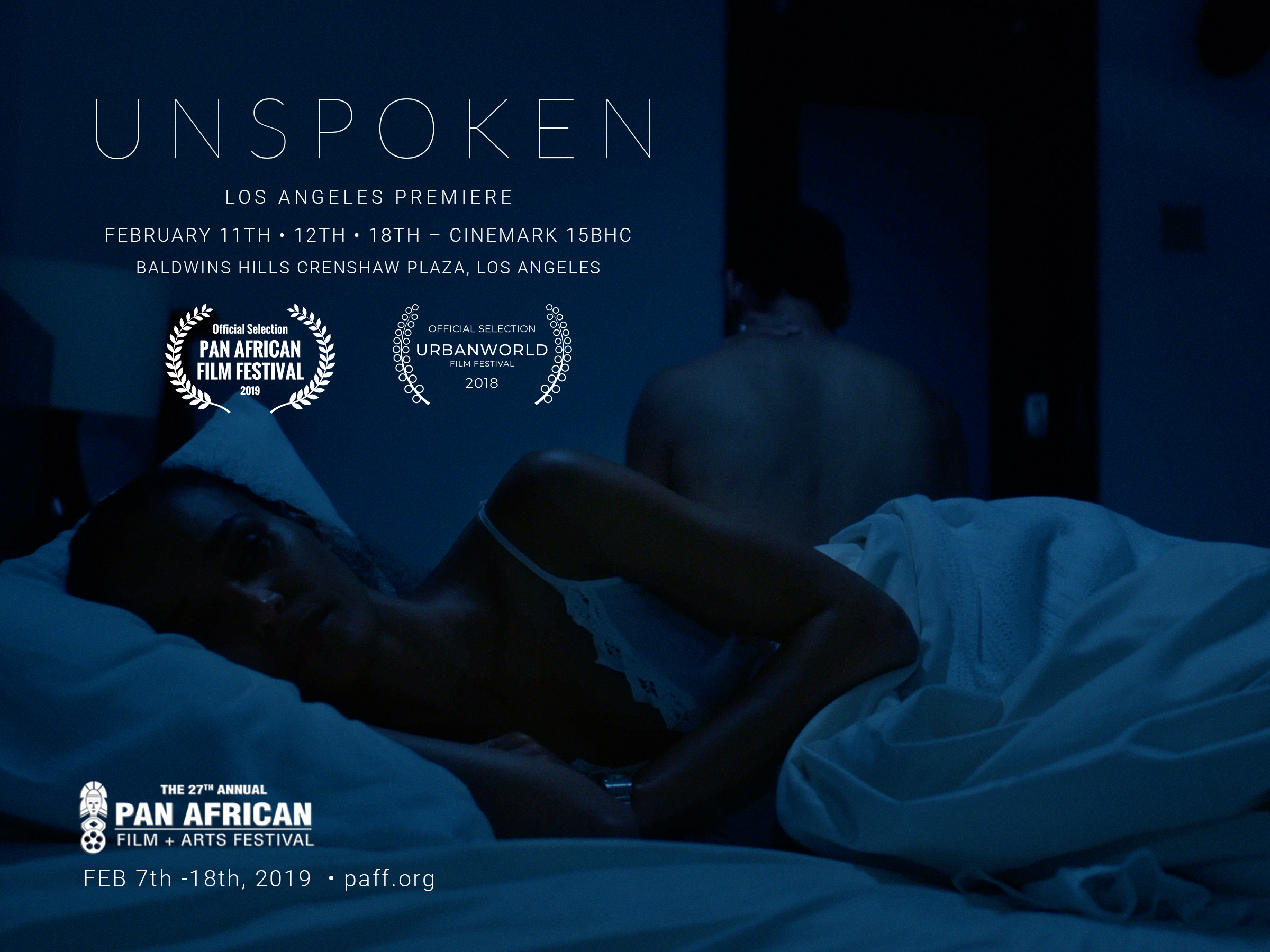 Unspoken, directed by NYWIFT member Danae Grandison, will screen at the 27th Annual Pan African Film & Arts Festival, taking place Feb 7-18 at Cinemark Rave 15 in Los Angeles. Unspoken explores the lives of characters Caroline and Icy who are bound by duty. Shot in Kingston, Jamaica, Unspoken explores the unsaid truths of power, class, and money within a society at large. Watch the trailer. See screening times and buy tickets.
---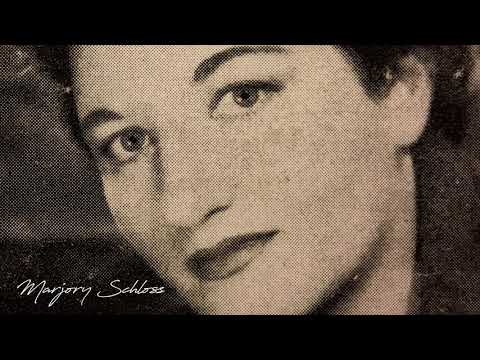 The Bachelors of Broken Hill Farm, written and directed by NYWIFT member Erika Yeomans, will screen at the New Filmmakers NY Festival. The film is a feature-length documentary about the true-life soap opera of Frank Provo and John Pickard. Actors, writers, and gentleman farmers, their greatest success would not be found on the boards of Broadway or the hills of Hollywood but in a closeted relationship that spanned four decades. This is their love story. The screening will take place Feb 27 at Anthology Film Archivesat 8PM. Watch the trailer.
---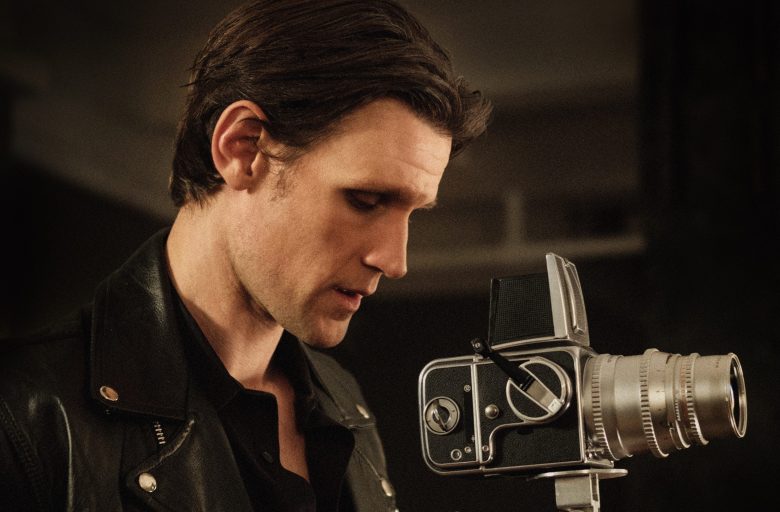 NYWIFT member Ondi Timoner's Mapplethorpe will release theatrically in New York on Feb 14 and elsewhere starting March 1. The film is a chronicle of the career of photographer Robert Mapplethorpe, from his rise to fame in the 1970s to his death in 1989 at the age of 42.Watch the trailer. Buy tickets.
---
In February, NYWIFT Women Crush Wednesdays podcast host Margarita Cortes is joined by NYWIFT member Janine McGoldrick as her guest co-host to chat about awards season and the lack of recognition – yet again – for women. They offer insight on why they think it's happening and when you get two PR gals talking, well not much is left unsaid. Plus Community Engagement Director Katie Chambers, chats it up with Alysia Reiner (Orange is the New Black) to talk about her latest indie film Egg and the stigmatism of women beings moms. Also, will she give us any scoop on OITNB…? Listen on iTunes ,Spotify and Podomatic.
---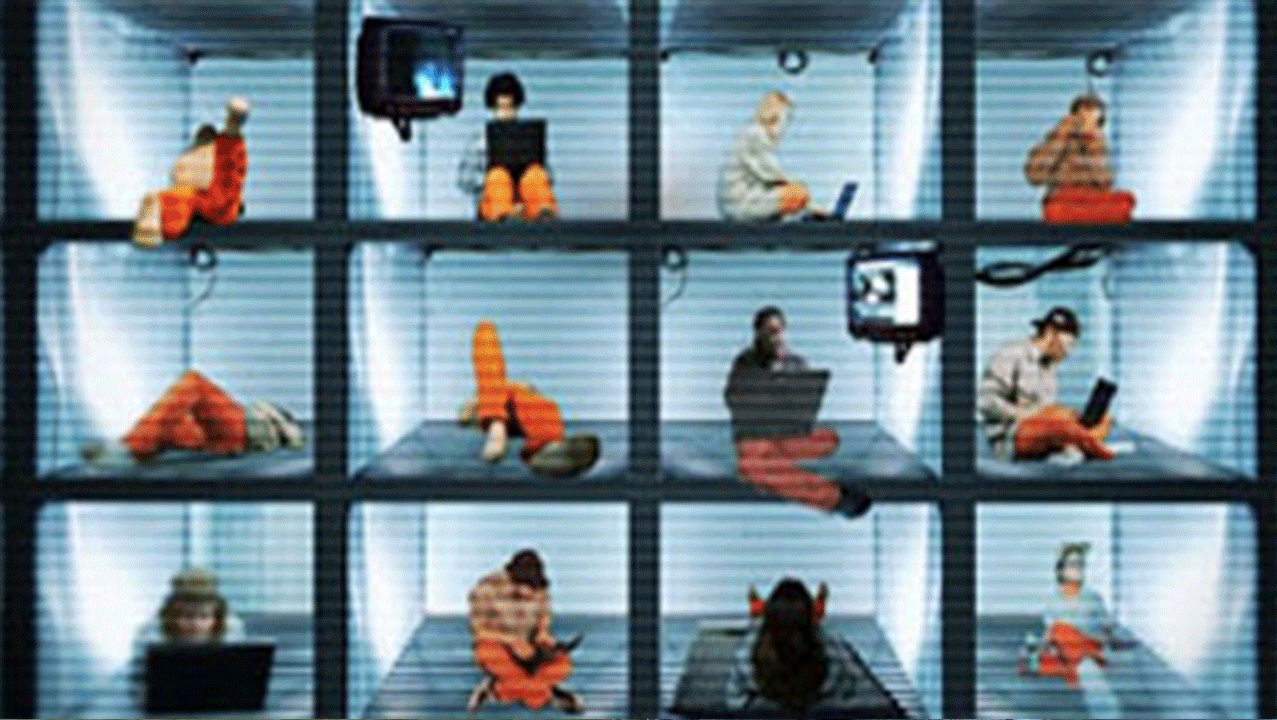 In 2009, We Live in Public won the Sundance Grand Jury Prize. The film, directed by NYWIFT member Ondi Timoner, is a riveting and cautionary tale of what to expect as the virtual world takes control of our lives. 10 years in the making and culled from 5,000 hours of footage, We Live in Public reveals the effects the web will have on our society through a series of startling social experiments funded by "the greatest Internet pioneer you've never heard of" – former Internet mogul, artist, and visionary, Josh Harris. Celebrate the film's10-year anniversarywith a screening at Roxy Cinema Tribeca on Feb. 13, followed by Q&Awith director Ondi Timoner and Melissa Gira Grant, Senior Reporter at The Appeal. Buy tickets.