NYWIFT members, do you have an upcoming screening, event, campaign or other news to share? Tell us! Contact communications@nywift.org.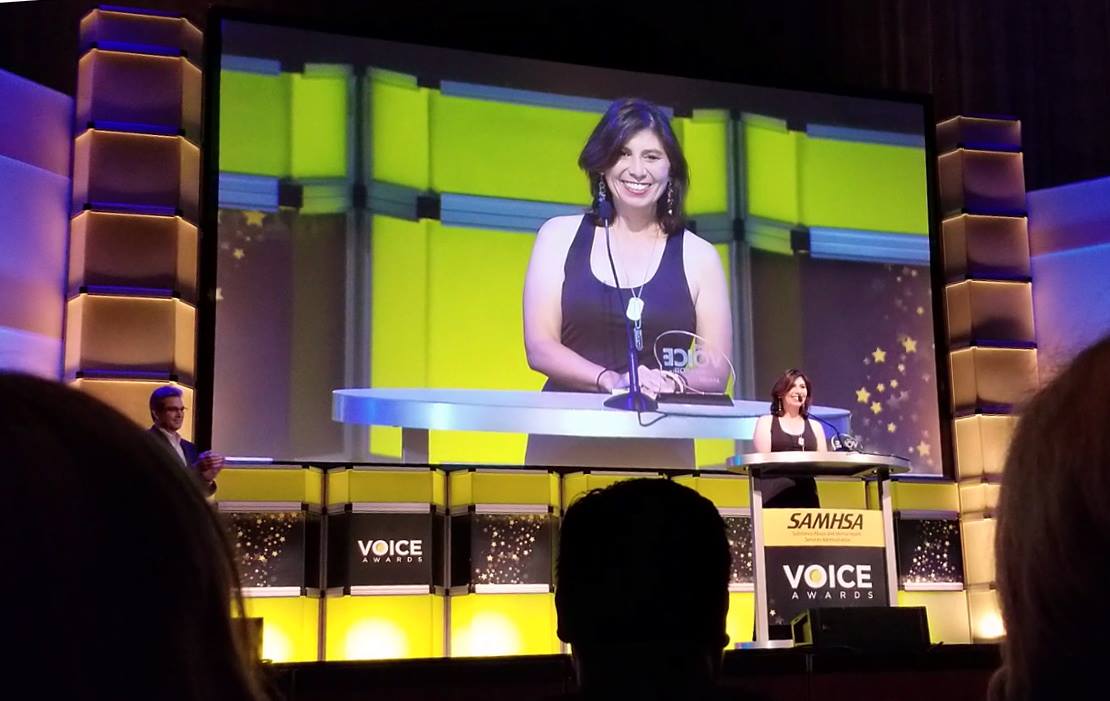 Battlefield: Home — Breaking the Silence wins the 2018 Voice Awards awarded by Substance Abuse and Mental Health Administration (SAMHSA) for documentary productions that elevate awareness about mental health and addiction treatment, support, and recovery. NYWIFT Members Anita Sugimura Holsapple (Director) and Patricia Lee Stotter (Composer) worked on the film, and Anita Sugimura Holsapple was honored at the awards ceremony. The film is inspired by Holsapple's own experiences as a military child during the Vietnam War, and documents the continued trauma that veterans and their families endure across generations.
---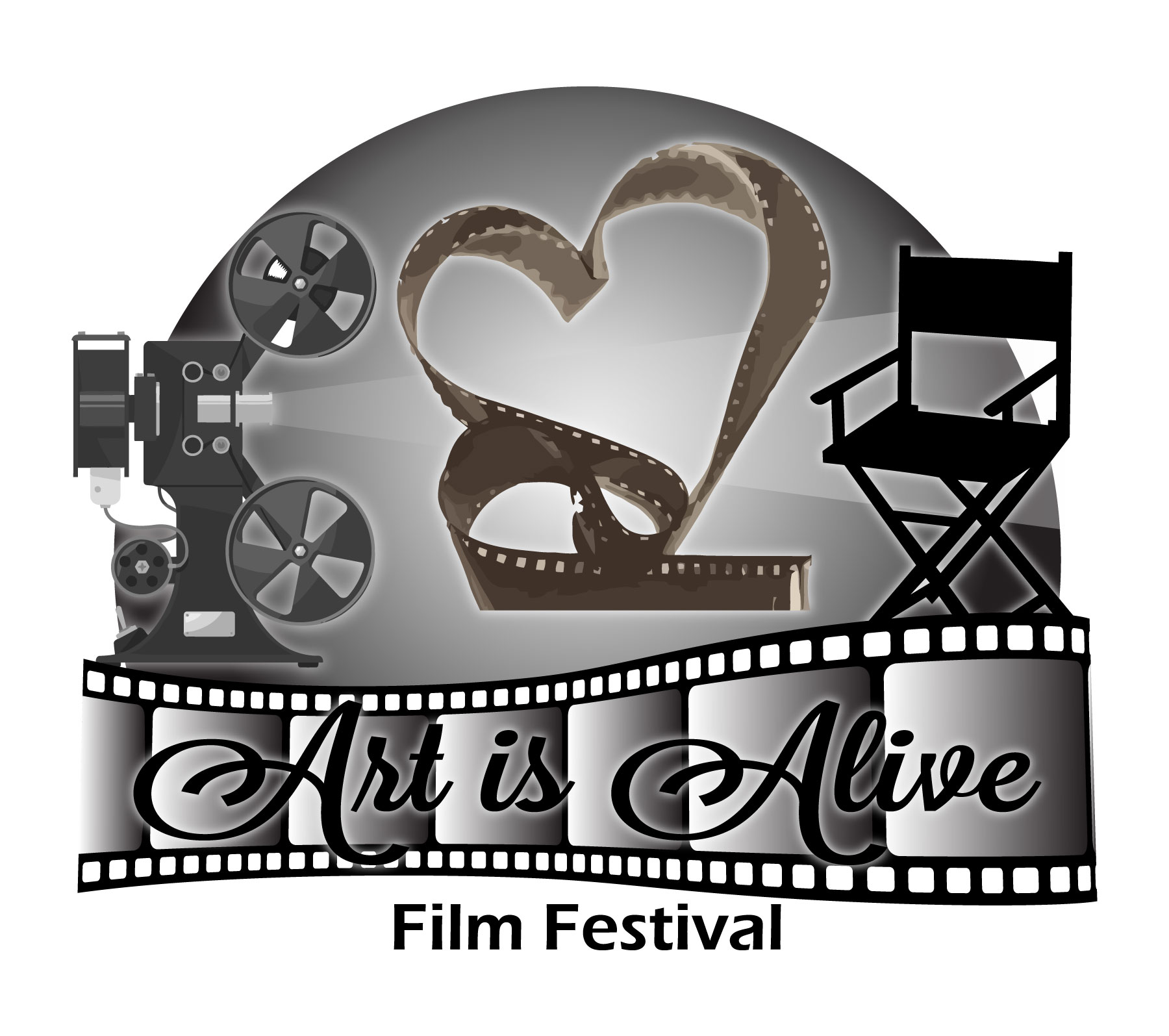 NYWIFT Member Eve Austin plays Diane Diamond in the feature film, American Fango, which will screen at the Art is Alive Festival on August 18 in Little Italy. The festival runs from August 16 – August 19. See the schedule and purchase tickets online.
---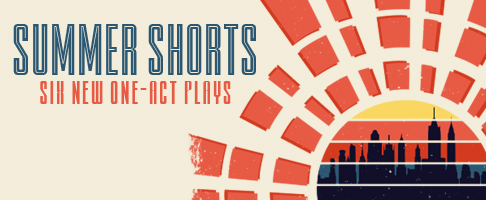 NYWIFT Member Sarah Cronk is the associate producer of Summer Shorts, an annual event where audiences can get reacquainted with some of their favorite American playwrights, and discover new talent. The festival consisting of 6 new one-act plays that run in repertory at 59e59e Theaters and is currently playing unti September 1. Tickets are available online.
---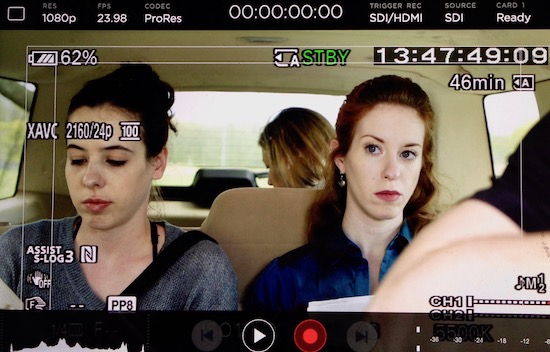 NYWIFT Member Pamela Harris' short film En Route is an official selection of Chain Film Fest. The short film, written and directed by Harris, is about two estranged sisters who must face each other for the first time in a year—on a car ride to their deceased brother's memorial. Read more about the making of the film on Harris' blog. The screening will take place August 15 at 8:30PM. Tickest are available online.
---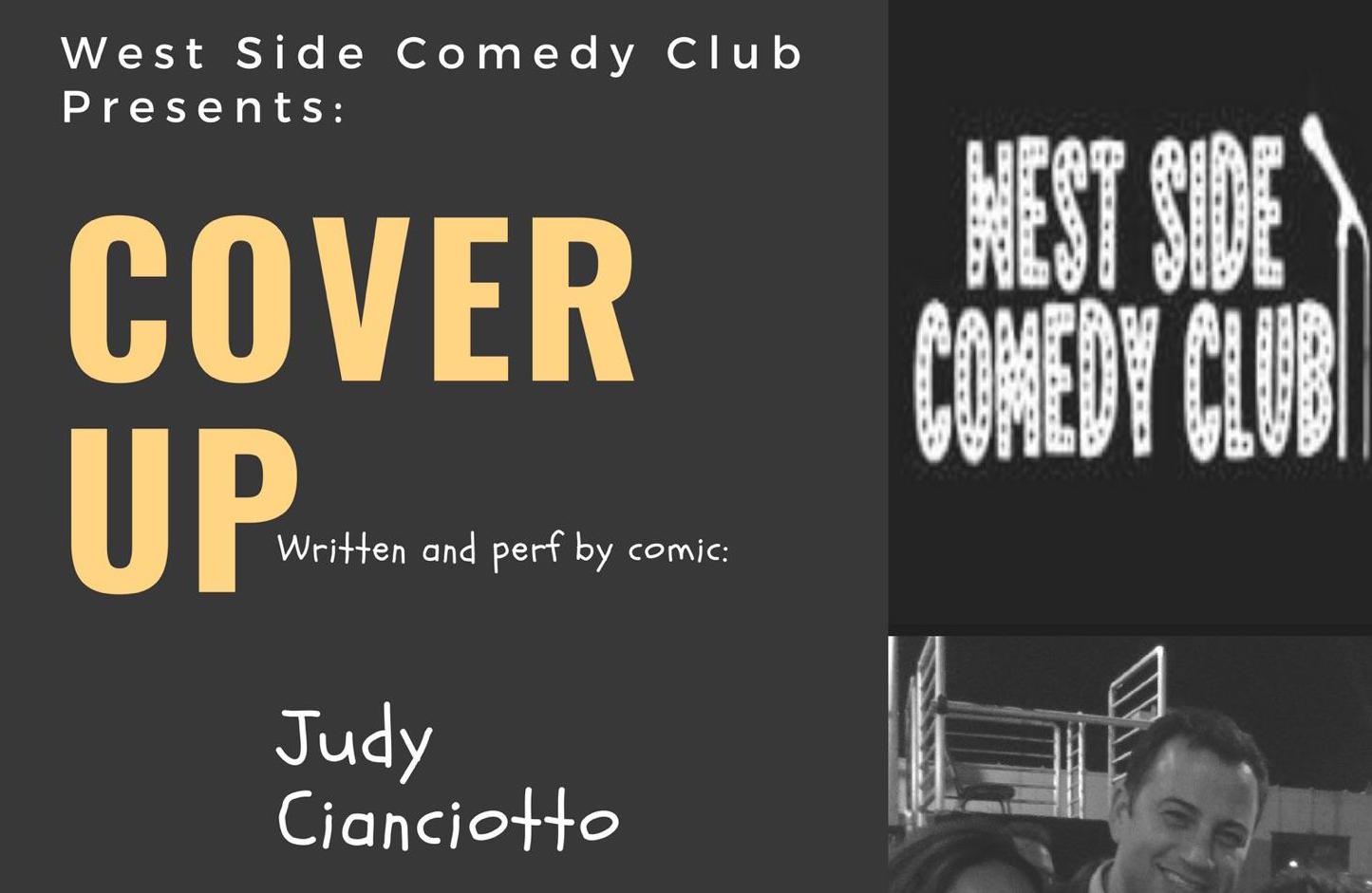 West Side Comedy Club presents Cover Up, a comedy show written and performed by NYWIFT member Judy Cianciotto, and featuring NYWIFT member Pat Ceasar. The show will take place August 19, 9PM at 201 Amsterdam Ave. Tickets are $10 at the door. Call 626-973-1300 for more info.
---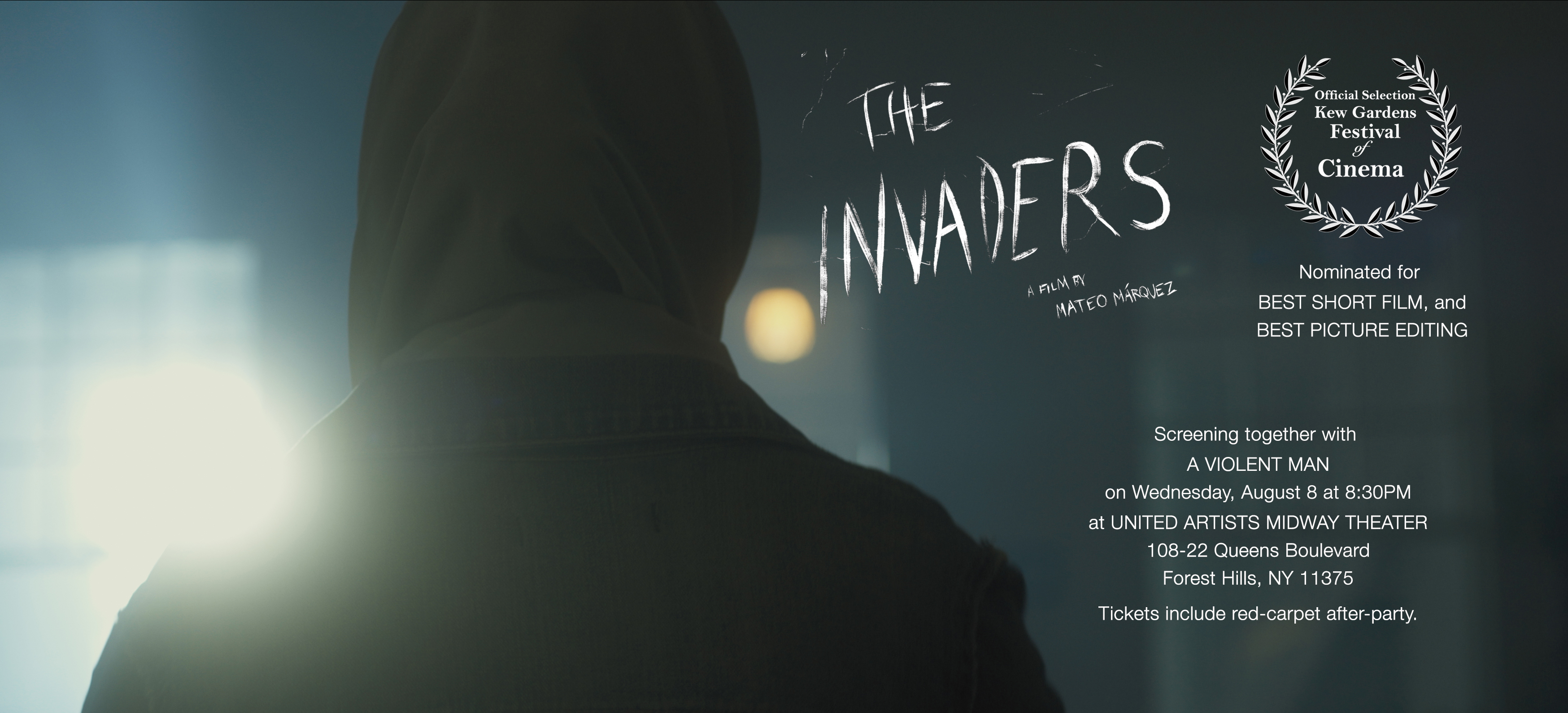 Written and directed by Mateo Márquez and produced by NYWIFT members Carrie Radigan and Claudia Murdoch, the horror short film The Invaders has been included in the Official Selection of Kew Gardens Festival of Cinema and has been nominated for Best Short Film and Best Picture Editing. Tickets to the film's New York premiere screening, together with the feature film A Violent Man, on Aug. 8 at 8:30 PM at United Artists Midway Theater in Forest Hills include access to the red-carpet after party and are available online.
---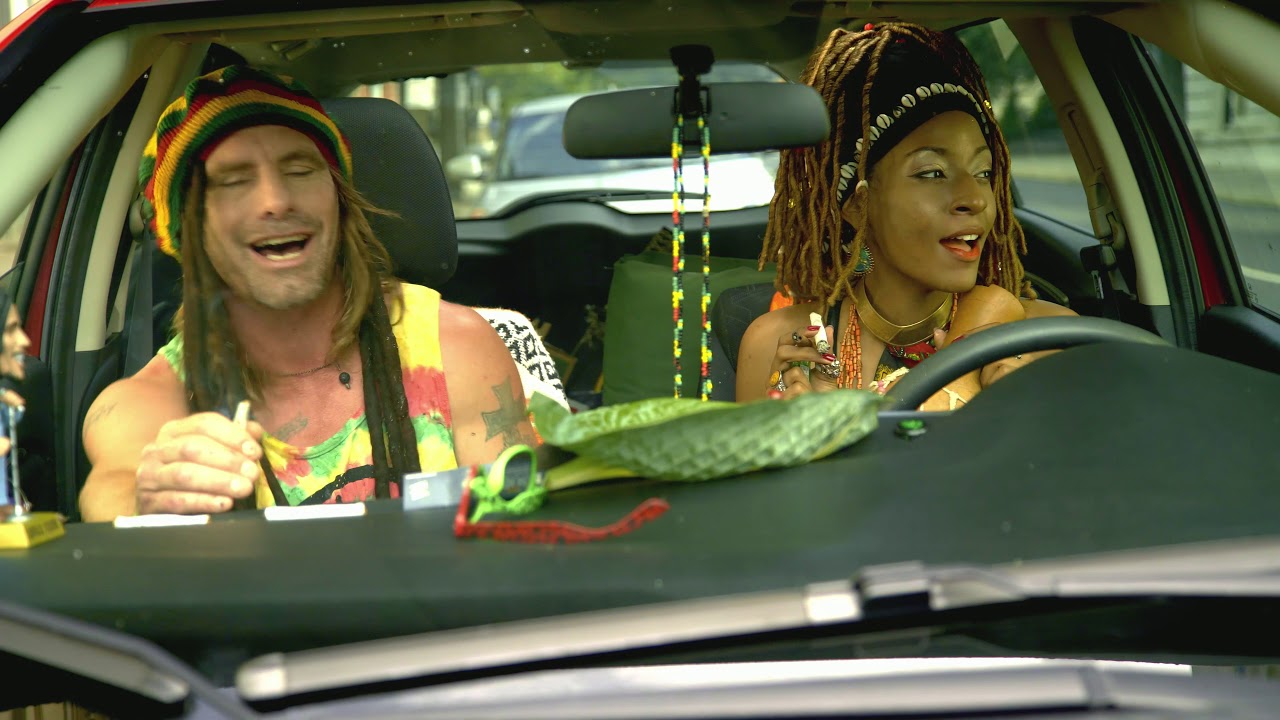 NYWIFT member Sue Lange's short film, Traffic Opera, will screen at the Jersey Shore Film Festival on Aug. 8-9. Traffic Opera is a short opera on film that takes place in the middle of traffic. When a tractor trailer stalls in a busy intersection, road rage erupts into violence. The occupants of the trapped vehicles must quickly work together to defuse the situation, all while singing opera. Tickets are available online.
---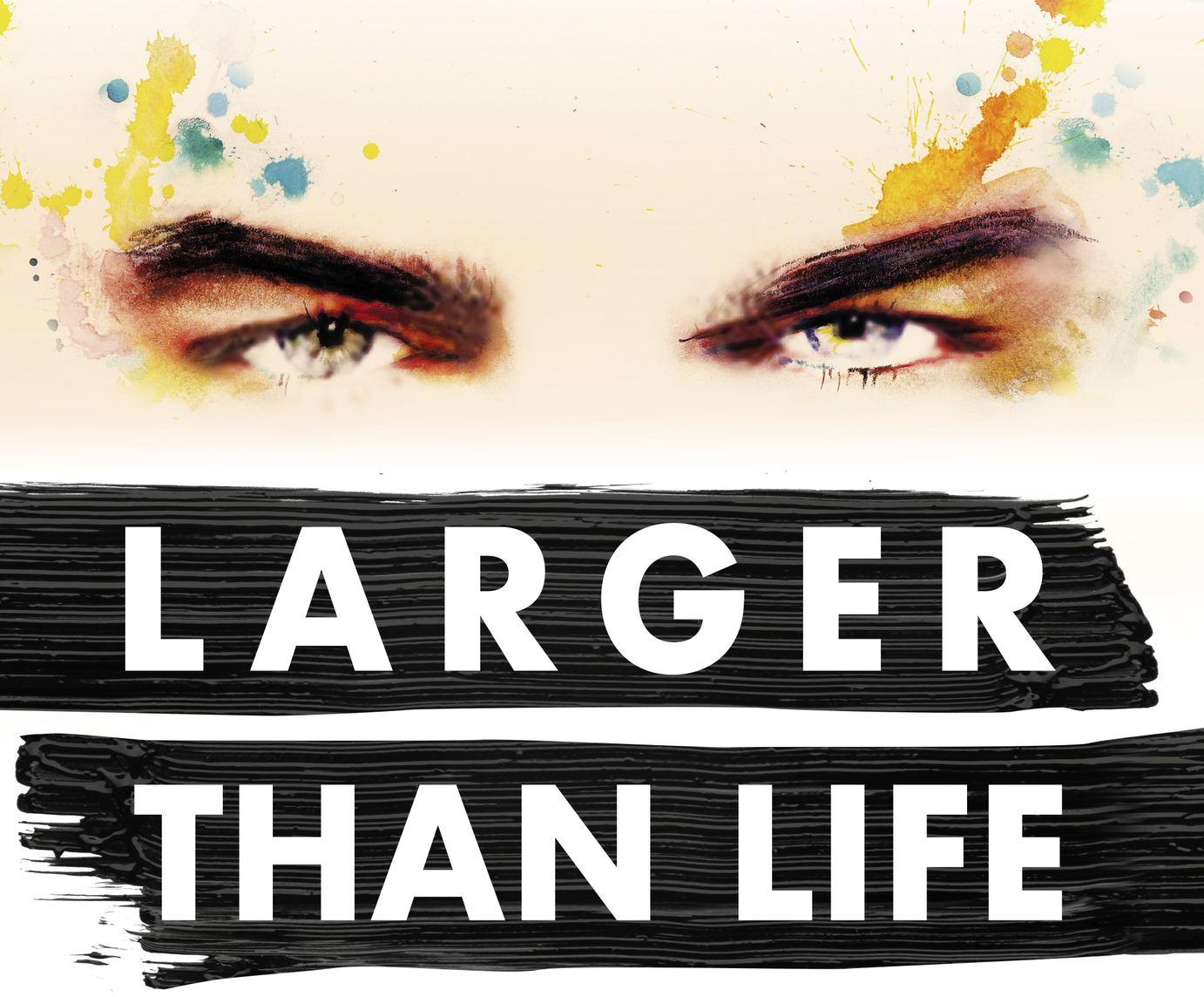 NYWIFT member Tiffany Bartok makes her directorial debut with the documentary film Larger Than Life: The Kevyn Aucoin Story. The film retraces the legendary life, career, and death of makeup artist Kevyn Aucoin. A pioneer of contour techniques, Kevyn Aucoin experienced a meteoric rise to fame in the 80's and 90's until his mysterious death at the height of his career in 2002. Bartok retraces his life through iconic clients, friends, and family of the esteemed makeup artist. The film will be available on demand on iTunes beginning July 31. Watch the trailer.
---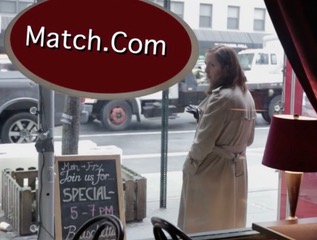 NYWIFT member Jaclyn S. Powell's short film, Match.com, will screen at the JARS Film Festival. Match.com is a film about a young woman on a Tinder date that doesn't go quite as expected. The festival will take place on July 26 at Gamba Artist's Compound in Brooklyn. Tickets are available online.
---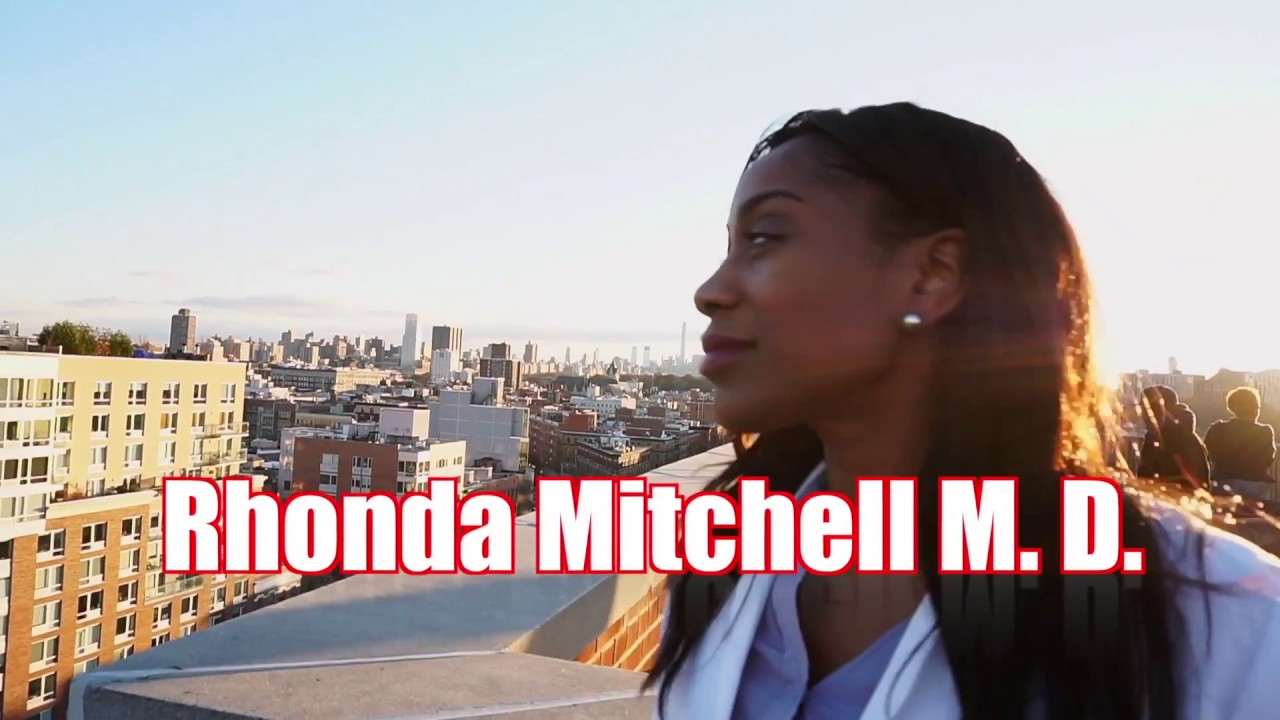 NYWIFT member Carolyn Pierre-Outlar's web series, Rhonda Mitchell M.D., will screen during the Urban Web Summit at the Hip Hop Film Festival. The Urban Web Summit takes place Aug. 3. Tickets are available online. For 25% off one-day passes, use code HARLEM. For 20% off block tickets, use code DAHOOKUP. For 50% off VIP passes, use code SWEETBACK. Watch episodes of Rhonda Mitchell M.D. on DUBO or Youtube.
---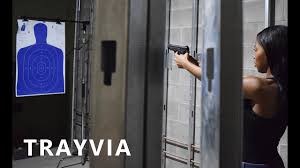 Check out the short film Trayvia, now available on The Black TV & Film Collective YouTube page. It is written and directed by NYWIFT member Tonya McCornell, produced by member Ismyrne Geffrard, and features members Latasha Kennedy and Kira Seale. Member Lia Fietz was script supervisor. When the system fails her family, #Trayvia seeks her own form of justice. This film tackles the tough subject of police brutality. Watch now.
---
 NYWIFT Member Ondi Timoner's biopic starring Matt Smith as Robert Mapplethrope, Mapplethrope, has been picked up by Samuel Goldwyn Films. Writer, director, producer, and editor, Ondi Timoner, explains her goals for the film, "I have been working to tell the story of Robert Mapplethorpe for the last 12 years in order to create an anthem for artists — to be visionary, to take on the impossible, to be uncompromising. He documented the gay sub-culture of the 1970s & 80s and turned that which society deemed obscene into fine art, while making photography a collectible art form and immortalizing a generation ravaged by AIDS with erotic portraiture." The company is eyeing a late fall release date.

---
NYWIFT member Dana Offenbach directs playwright Brenda Kienan's beautiful short screenplay titled Before It Was True, starring Joan Juliet-Buck and Nicole Ansari Cox. The story touches on a woman's decent into dementia. Cast by Lina Todd, who also plays the psychiatrist, the film just completed principle photography in Montclair, New Jersey. 

---
 NYWIFT member Grace Hannoy's film When We Grow Up will make its NYC at the Asian American International Film Festival on July 27 at 5:30 PM at Village East Cinema. Grace is the producer, writer, and an actor in the film which was created by an entirely female crew and creative team! They even found some of our team members through the NYWIFT job board. When We Grow Up is a feature length dramatic comedy with a spin on the traditional "coming-of-age" narrative. The death of the family dog sends the matriarch of the Barnes family into a tailspin of grief causing her to call on her three adult children for comfort. When Elijah, Maris, and Louise arrive home for the funeral weekend, they simultaneously slip back into the childhood roles they filled growing up, while also struggling to keep up with the reality of their adult circumstances. This film dares to explore social challenges not often discussed in mainstream media: racial adoption issues, the redefining of the American family unit, sexual intimacy among a mature generation, and the process of growing up at different stages of adulthood. Buy tickets.
---
The Black List is promoting Wonder Drug by NYWIFT member Caitlin McCarthy as a "Featured Script" on its website. The poster's blurb reads: "This script would be perfect for awards season, and with the right casting, it's easy to see it finding success at the box office." The Black List will also be sending out an email blast to the industry about Wonder Drug being selected as a "Featured Script."
---
NYWIFT member Eve Austin appears in a supporting role in the feature film Weight, which had its world premiere on June 19 at the Soho International Film Festival. Her other feature film, the multi-award winning American Fango, in which she has a supporting role and was an Associate Producer on, is now being distributed on Amazon Prime, and several other online platforms.
---
Written and produced by and starring NYWIFT member Cece King, The Broken Ones releases July 10 on multiple VOD platforms and DVD. Based on a true story, The Broken Ones is the story of one woman's struggle to cope with the loss of her father in the 9/11 attacks. This intense, romantic drama carefully delves into the struggles of depression as two troubled straners meet and help each other overcome personal fears and tragedies. There will be a special LA screening July 9 at the Regent Theater in Westwood. Tickets are available online prior to the event. A portion of ticket sales will be donated to a suicide prevention organization. There will be no tickets sold at the door. Watch the trailer and read more about the project here. 
---
 Central & Broadway, is a reimagining of the classic Broadway movie musical through a black queer lens. In 1930s Los Angeles, a butch lesbian dancer must face her fears and take a chance at an audition for a Broadway legend. Directed by Chelsea Woods and executive produced by Emmy & Golden Globe winner Jill Soloway & Andrea Sperling (Transparent, I Love Dick). The music is composed by NYWIFT member (award winning composer & producer) Ebony Tay. Ebony's work features 1930's traditional jazz big band ensemble of older Grammy musicians with women sax and trombone players. Ebony was inspired by works of forgotten black jazz women musicians. e.g. Melba Liston and Mary Lou Williams. The final sequence uses samples she created influenced by hip hop artists and modern sounds from Broadway to Lincoln Center. Watch Central & Broadway on them.us, distributed by Conde Nast.
---
NYWIFT board member Rachel Watanabe-Batton will be delivering the keynote speech at the Third Annual Women in Production summit in Atlanta, Georgia. The summit will focus on establishing the shift to inclusivity and respect for women in front of and behind the camera, as well as highlighting the changing landscape of film and television for women in production. Taking the spotlight on culture shift at the event are some of the most influential women in production today: Rachel Watanabe-Batton, Esther Pearl and Judiffier Pearson. Each will address the changing landscape from her own perspective, whether it's getting work financed, providing mentorship to teen girls through film, or leadership issues within the industry. The summit will take place at the Plaza Theatre (1049 Ponce de Leon NE) on June 16. Tickets are available for $25 on Eventbrite. Follow the Women in Production Summit on Facebook, Instagram, and Twitter!
---
NYWIFT members Paula Heredia (Producer, Editor) and Donna Zaccaro (Producer, Director) have released a new film titled To A More Perfect Union: US v. Windsor, a feature documentary civil and gay rights icon Edie Windsor and the case that made her so. The film will screen on June 13 at Regal Union Square and Landmark West 57th. Click here to find screening and ticketing information. Watch the trailer. Read the reviews in The LA Times and The Hollywood Reporter.
---
 NYWIFT Member Viviane Silvera's short film See Memory will screen in multiple cities in the next year. Her solo exhibition of paintings and film will take place at the Iron Gate East Gallery in Southampton, NY (the Spur, 280 Elm Street), starting Saturday, June 30 from 6-8 PM. See Memory launched a VR experience on AltspaceVR, a platform by Microsoft on Tuesday, June 5th. The film screened as part of the Scenes & Screens Festival via this link. Hand-painted animations from See Memory will be featured in The Cube Art Project in Lincoln, NE on May 18, 2019. But you don't need to wait to see the film then—watch See Memory on Amazon today!
---
 NYWIFT member Katie Irish is eligible for an Emmy Award for her work on the FX series The Americansin Area 22 – Outstanding Period Costumes. In addition to the Academy's online viewing platform, and the FX Streaming Platform (both of which require screener codes from the Academy), you can view photos of her work on her website. Katie was recently interviewed by Racked about her work on the disguises for the show. Nomination voting for the Emmys begins June 11 and ends on June 25 at 10 PM PDST. Keep Katie in mind for your nomination due to her amazing work on the show!
---
 NYWIFT member Katie Tibaldi is the producer of Street Fighting Men, a feature documentary that takes a deep, observational dive into the lives of three African American men: retired cop Jack Rabbit, who continues to patrol the mean streets as a citizen; Deris, who has made bad choices in the past but wants to further his education and serve as a role model for his baby daughter; and Luke, who labors mightily as he rehabs a dilapidated house while putting together a meager living. Shot over three years in the neighborhoods of Detroit, Street Fighting Men is a story of hard work, faith and manhood in a community left to fend for itself. Watch the trailer. The film will have its New York premiere at the Brooklyn Film Festival on June 5 at 6 PM and will show again on June 9 at 5 PM at the Wythe Hotel in Brooklyn. Buy your tickets and learn more about the film. 
---
NYWIFT member Jane Kotlyar has started her production company, JWalk Productions NYC, which is producing Family Drama: A Night of One Acts. Jane is producing and starring in the show. Family Drama consists of three short plays: "Bacon Clickbait," "DisCards," and "O Mother." The performance will take place on June 14 at 7:30 PM at the Dixon Place Lounge (161A Chrystie Street). The Dixon Place Lounge is open before, during, and after the show. Bar proceeds directly support DP's, artists, and the mission. Although admission is free, you must reserve your tickets through Eventbrite. Get your free tickets here. 
---
 NYWIFT member Romina Schwedler's short film The Visit, starring Oscar Nominee June Squibb (Nebraska, About Schmidt) and Sean Maher (Firefly, Serenity), is screening at the SOHO International Film Festival on June 16. NYWIFT members Macarena Carrizosa (photographer and videographer) and Nancy Ellen Shore (featured actress) worked on the film as well. The Visit follows Ben, who, devastated by the loss of his wife and son, responds to his mother's sudden request for a visit. But when she announces the alleged arrival of his departed family, what he strives to sustain as a gentle encounter soon spirals into torment, finally revealing a most unsettling truth. Watch the trailer. Purchase tickets to the screening here. 
---
 NYWIFT member Shevaun Mizrahi is the director of Distant Constellation, which is screening at BAMcinemaFest on June 24 at 2 PM. Shevaun received a NYWIFT scholarship for her graduate film studies. Distant Constellation screened at the Viennale (winning the FIPRESCI Critics Prize), Seville (winning the best non-fiction Award), Jeonju (winning Best Picture Prize), IDFA (screening in "Best of Fests"), and was also nominated for an Independent Spirit Award and included in Film Comment's list of Best Undistributed Films of 2017. Most recently, Shevaun was awarded a 2018 Guggenheim fellowship for her work on the film. Distant Constellation is a hushed, hypnotic documentary that floats ghost-like through the rooms and corridors of an Istanbul retirement home, an uncanny alternate reality where time seems to stand still as the world outside changes rapidly. Purchase tickets here.
---
 NYWIFT member Sandra Luckow will be honored at The New Haven Documentary Film Festival on June 4 as she celebrates 20 years teaching filmmaking at Yale University's School of Art. Sandra's senior thesis film Sharp Edges, which is the basis for I, Tonya (2017), will be shown as well as a micro short she did on the Diana Automata Clock at the Yale Art Gallery. Some of Sandra's students' work from the past semester will be shown as well. The day will finish with Sandra's 1996 documentary Belly Talkers (read Variety's coverage of the film), which premiered at the Sundance Film Festival. The event is free and open to the public and the screening information can be found here.
---
 NYWIFT member Sherry Amatenstein, along with Amy Ferris and Blair Glaser, are leading the workshop Women Writing to Change the World, taking place from June 8 – 10 in Rhinebeck, NY. This workshop will allow attendees to spend a weekend meditating, connecting, and writing. Through small group work, sharing, and creative writing prompts, attendees can develop their portfolio significantly. This retreat is open to all women who are ready to break their silence and manifest the spirit of unstoppable community and connection. Return home with reading lists, writing exercises, information, and specific tactics to stay super-charged and in the creative flow. Register online and learn more about the workshop.
---
 NYWIFT member Paula Landry with Stephen Greenwald's new edition of the book The Business of Film: A Practical Introduction is coming out this Summer! The book looks at current practices of the business, from financing through production to distribution. This new edition is updated to reflect the massive changes in the business, including the entrance of new players (Google, Netflix, Amazon), the enactment of new tax incentives, and the changing pre-sales landscape. Available in June! Pre-order on Amazon in Kindle or Paperback format.
---
 NYWIFT member Jill Salvino's Between the Shades is an LGBT documentary that shows the universality of love. The film will have its LA Premiere on June 11 at the TCL Chinese Theatre. Purchase tickets here. This documentary seeks to put faces to the letters that make up LGBTQI and how those letters have evolved and expanded over time. The film examines the immense power of labels and the transcendence of love. Watch the trailer. Support the film when it screens at Dances With Films as one of only 6 feature documentaries in the festival. Don't forget to follow Between the Shades on Facebook, Twitter, and Instagram!  
---
 Jean Criss, NYWIFT Communications Committee Member has two new announcements. Jean Criss' new intimate apparel brand CRISSCROSSIntimates.com has recently celebrated her one-year anniversary – servicing women and men with post-operative breast surgery, any stage or phase post-recovery with her undergarment collection.  Jean was thrilled to receive a call from Hollywood after they picked-up on one of her recent Intimate Apparel blogs and asked if she would be interested to be one of the exclusive sponsors of the "2018/2019 Celebrity Luxury Gift Bags and Red Carpet Style Lounge".  Jean was invited to the summer MTV Awards, fall Emmy Awards and winter Academy Awards & Golden Globes.  Starting with the fall events, she will provide a special CRISSCROSS Intimates gift to ALL nominees, and other celebs and media outreach attending. Jean has recently appeared on Modern Living TV with kathy ireland® on WeTV and Bloomberg International TV a few times in the past 6 months and co-produced this trendy video. Please shop and follow CRISSCROSSIntimates.com and contact  jean@crisscrossintimates.com for further media inquiries.
---
 On May 16, 2018 Jean Criss received the National Distinction for Successful Women in Business in All Sectors from WomenInBusiness.org for her innovation and leadership as a woman business owner.  WIB Founder, Toby Nadler and Presenting Host, Adria Gross, shared that "Jean is a creative entrepreneur and innovative dynamo with a single purpose – revolutionary design… with an eye on client-driven media and marketing strategies.  She sought to extend her brand into the world of women entrepreneurs and industry business owners by joining many organizations." For media, marketing or press inquiries, please contact jean@jeancrissmedia.com.
---
 NYWIFT member and first-time filmmaker Alexandra Dean and co-executive producer Susan Sarandon are the female creatives behind Hedy Lamarr telling her own story in her own words in the new documentary Bombshell: The Hedy Lamarr Story. The film premieres as part of the PBS series American Masters on May 18 at 9 PM on PBS (check local listings). Hollywood star Hedy Lamarr's looks overshadowed her true legacy as a technological trailblazer in communication systems. Lamarr never publicly talked about her life as an inventor but in 2016, debut director Alexandra Dean unearthed four never-before-heard audio tapes of Hedy speaking on the record about her incredible life. Combining this newly discovered interview with intimate reflections from her children, closest friends, family and admirers, Hedy's story is finally brought to life. Visit the PBS website to stream the film or check programming times.
---
 NYWIFT member Maria Soccor will screen her new short film Kicks at Cannes May 17 at 11 AM, Palais H. If you know anything about the sneaker culture or sneakerheads, this film will certainly entertain you whether you have a sneaker fetish or not. Four sneakerheads of varying Amerasian descent are brought together by their quest to be the first to buy the hottest new sneakers, the Yakisoto's. As an intense racial discussion ensues through their heated conversation, they eventually realize how they are different, yet alike at the same time. For more information about her film, go to: www.KicksTheShort.com
---
 NYWIFT member Robin Grey's Purple Dreams will be featured at the New York African Film Festival on May 20 at 4 PM at the Francesca Beale Theatre at Lincoln Center. Robin Grey serves as the executive producer and Joanne Hock serves as the cinematographer and director of the film. The film is produced through Grey and Hock's production company GreyHawk Films and Grey recently established Arts Empowers, an organization advocating for arts education. This inspirational documentary follows six high school students on an emotionally-powerful, three-year journey in racially-biased Charlotte, North Carolina. With access to the arts and academic mentors, the film's subjects have the potential to break the cycle of poverty, homelessness, and gang-related violence. Purple Dreams bears witness to the need for arts education, especially in underserved communities. Watch the trailer. Purchase tickets here and learn more about Purple Dreams on through the Film Society of Lincoln Center. 
---
 NYWIFT member Kate Phelan's Visit 57, which was featured at the 2016 Hamptons International Film Festival as part of the annual Women Calling the Shots NYWIFT Program, premiered on Vimeo on May 11. The film follows Kate's 57th visit to the fertility doctor, when she has a moment of clarity. Watch the film here.