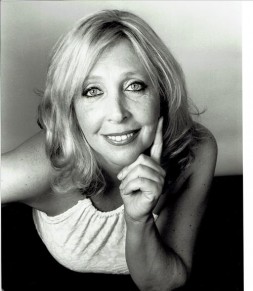 Phone

Office: 610 909-5613
Brigette ReDavid
Writer/Producer
Molly Productions LLC
---
Full Bio
Brigette ReDavid writes for the screen, television and theatre. She is a former managing editor of the NEWS of DELAWARE COUNTY and former columnist for the PHILADELPHIA INQUIRER.



Several of Brigette's feature screenplays have earned accolades up to the Nichol. She sold the for-hire feature screenplay Lightwalker. Her epic action feature Molly is in development.

.

Brigette has written, directed or produced several award-winning short films including Princess Dahlia, Royal Flush, Innocent Chat, All We Need and Love's First Bullet.



Theatrical works have included shows in NYC, MY and LA.



Brigette s TV pilot script AKA Mia is a Fusion Film Festival winner. She is currently writing a TV Pilot based on her life as a reporter outside Southwest Philadelphia.



Brigette holds an MFA in Dramatic Writing from NYU. She likes her yellow lab, writing on cocktail napkins, and traveling in cars, planes, boats or on horseback because getting there is half the fun.
---
Professional Credits

Writer/Producer - MOLLY, feature (preproduction, Nichol quarterfinalist, AFF)

Writer for hire - LIGHTWAlKER, feature

Writer/Director/Produce - Princess Dahlia (Award winning short film)

Writer/Producer - ROYAL FLUSH (Award winning short film)

Producer/Asst. Director - Innocent Chat (award-winning short film)

Producer - ALL WE NEED (post) short film

Writer, Director LOVE'S FIRST BULLET, preproduction

Writer - KEARON & KYLE theatre, shows in NYC, MY, LA

Writer - 3000 FROGS feature screenplay AFF, Writers Lab, Univ. of Penn Law Clinic

Nine additional feature screenplays
Industry Awards

Nicholl, AFF, Made in NY Writers Room (WGAE), the Writers Lab, Fusion Film Festival, Georgia Shorts Film Festival, Media Film Festival, theater selection in NY, MY and Chicago.
Crew Up Survey

Willing To Travel: Yes
Has Own Equipment: Yes
Has Insurance: Yes
Other Languages: Yes

Writer's Group works

The Doll House

Screenplay (Comedy, Teleplay (TV script), Drama, Web series, Buddy)

Log Line:
When Frank, a Mormon, opens a diva club, his traditional family struggles to accept his new, non-traditional, family. In the series premiere, Thou Shalt Not Judge, Frank learns his son feels rejected, and that everyone must practice understanding. Unfortunately, Frank's son makes a move that could tear apart both worlds .

Synopsis:
An award-winning television pilot I'd like to see turned into a web series. It's perfect for HBO or Netflix. In the series premiere, Thou Shalt Not Judge, Frank believes his son is narrow-minded when he won't play in the Utah Mormon Church father/son baseball game, calling him a deviant because Frank opened The Doll House. Frank learns that his son feels rejected because of his new diva family, and that everyone will need to practice understanding in these two families, one traditional and one non-traditional. Unfortunately, Frank's son makes a move that could tear apart both worlds . I wrote The Doll House because I wanted a format that was both fun and could tackle some social issues like gay marriage, the never-ending debate on religion and the idea of family. The one hour show explores those topics and opens a door for so much more, like entrepreneurship - for example. There's a wealth of wiggle room in a series about a secret cross-dressing Mormon who finally gives up his boring IRS job to open a Diva Club. The characters who surround him are his traditional Mormon family, his son studies theology at Bringham Young University, and his new Doll House family of a gay diva, a bi-sexual diva, and a straight diva just trying to break into show business. The broad spectrum of characters deal with many of the problems we all face making the show relatable in one way or another to everyone.

Molly

Screenplay (Action, Historical, Adventure, Drama, Suspense)

Log Line:
Molly is an epic war drama based on the true story of a woman who follows her husband into the Revolutionary War. When he is killed, Molly is sent home. Molly goes back to fight dressed as a teenage boy but is found out. This time, she takes drastic measures to stay and fight.

Synopsis:
Molly is an epic war drama based on a true story. Molly Pitcher is a fearless woman who wants to fight in the Revolutionary War. Unfortunately, she lives in a society where women are homemakers. But Molly's story doesn't start at home; it opens on a battlefield. When a cannon fires, Molly runs and pours, letting the water sizzle over the smoking barrel. A soldier calls her name, "Molly Pitcher!" Another calls. She opens her mouth to scream but no sound comes out. As the smoke clears, the screen reads "One Year Earlier." Molly wiggles uncomfortably in a wedding dress. Her father has arranged her marriage to William, whom she has never met. She's restless in her new life until she goes hunting with William and begs him to teach her to shoot. When the Revolutionary War breaks out, Molly is laughed at when she tries to sign up. With the help of the recruiter, Capt. McCauley, Molly convinces William to let her go to cool the cannons. The town prostitute Delilah also follows the small band of soldiers from Carlisle, Pennsylvania. When Molly meets Delilah they like each other but William forbids his wife to associate with the whore. Molly still wants to fight and argues with William. Sadly, William is killed. Without a husband, Molly must go home. When wounded Capt. McCauley returns from the Battle of Bunker Hill, he mistakenly believes Molly was killed along with William. Molly returns home to her parents farm to find her father dead. When Molly finds a Rebel hanging from a tree, she decides to cut her hair and dress as a teenage boy. Molly joins her former camp as William Hayes. When she meets with Capt. McCauley, the chemistry between the young soldier and Capt. McCauley is undeniable but Molly can't reveal her true identity. Capt. McCauley makes Molly the artilleryman. The other soldiers tease the new boy about the way he struts like he has something to prove. They pay Delilah to sneak into the boy's tent and crawl into bed with him. When she does, Delilah learns Molly's secret. Molly convinces Delilah to keep her secret. Delilah also tells Molly about her unique relationship with William. When they later ask, Delilah gestures to the soldiers that the new boy has a large cock. Still suspicious, Capt. McCauley cruelly forces Molly's secret from Delilah. When Molly returns to camp, the colonel orders her to leave. But she refuses and storms out. Capt. McCauley chases Molly who offers him a deal. If he marries her, she will take care of him after the war. Capt. McCauley, sick, tired and lonely, agrees. After they're married, Molly realizes Capt. McCauley is sick in his mind as well as his body. After a soldier in their scouting party disappears, Molly must act quickly before her husband kills again. She climbs a tree as they are out scouting and secretly shoots Capt. McCauley. At camp, Molly convinces the colonel to let her stay and shoot the cannon. She tells him she will find someone to cool the cannon. At the Battle of Monmouth on June 28, 1778, Molly Pitcher fired a cannon. Delilah was right beside her pouring the water to cool it.

Indigestible Companions

Stage play (Comedy, Drama, Romance)

Log Line:
When Carl and Celeste throw a surprise dinner party for their families to meet for the first time, the evening doesn't go as planned.

Synopsis:
Indigestible Companions is a 90-minute light-hearted musical written in real time that explores the nature of family and relationships. For better or worse, all of us inherit a family the day we're born. Along the way, we create another family through work, friends and lovers. Each family is very important to us and helps define who we are. Often, our families intersect and sometimes the result can be comedically grueling. Well, that's where we start Indigestible Companions. Carl and Celeste have prepared a dinner party, which they are putting the finishing touches on. It's the first time both of their families will meet. In fact, neither family knows that the two have even met. Carl and Celeste prepare themselves mentally reassuring each other the dinner party "is only an hour." They have something to tell their families and they're not sure how the news is going to be received. Carl's from a middle-class Brooklyn family. Celeste's family lives in North Jersey and owns properties in Manhattan. Both Carl's and Celeste's moms, one unpolished and one refined, are surprised and suspicious when they meet in Celeste's swanky Manhattan apartment. As the hour unfolds and they finally learn the secret, the members of both families are shocked, angry, disappointed and curious. As the hour passes, both Carl and Celeste learn things about each other they never knew. They both change subtly when they are around their biological families, trying to be exactly the person they are supposed to be. "What is it about families that can make us so crazy?" Celeste asks Carl after her family leaves. The core of Carl's and Celeste's relationship changes in the perfectly planned hour that takes on a life of its own, spilling into the next hour. "They expect us to always be the same." Carl answers regrettably. The comedy takes a dramatic turn as Carl and Celeste explore the nature of family. They must decide if they are going to be who their family wants them to be or become their own individuals. What they decide sets the course for their future and ends the play.

3000 Frogs

Screenplay (Action)

Log Line:
When a Berkeley biologist turns on the corporation who hired him to endorse their pesticide, the company uses scare tactics to silence him.

Synopsis:
3000 Frogs opens with Tyrone stopping his Jeep on a desolate California road to pick up a rattlesnake. It's nothing new for him. He grew up in the 1960s in segregated, rural Columbia, S.C. where there wasn't much more for a poor kid to do than play with snakes and frogs in the marshland behind his grandma's house. His erudite passion for frogs took Tyrone to Harvard and finally to USC Berkeley where he remains after graduation to teach. Everybody loves Tyrone's colorful style, his wit, and, oh yeah, the professor can rap. There's one problem though, his lab and new family costs money and his salary barely helps make ends meet. So when a prestigious corporation offers Tyrone a huge grant to endorse a popular herbicide, which is up for re-registration by the EPA, our unlikely hero considers it a lucky break. The herbicide Atrazine rakes in enormous profits because it is sprayed on crops worldwide, even on 75 percent of US corn crops. And let's not forget corn is also in products like potato chips, Twinkies and a gazillion other things we eat every day. Tyrone doesn't do much besides party on the company's dime. The corporation supplies the research for the reports so basically all Tyrone has to do is show up for the beach parties. But one day as Tyrone watches his daughter take a drink of water from a hose, he decides he should be running his own tests on the herbicide. He learns that the herbicide impedes the sexual development of frogs, and probably causes birth defects and cancer in humans since human hormones are chemically identical to frog hormones. He quickly notifies the company, who is grateful for the new information. They readily assure him they will quickly begin more testing. But Tyrone's jubilation turns into despair when he realizes the insidious corporation is stalling him. The race for EPA approval is on as Tyrone blows the whistle and the company works to discredit him. In fact, they hire a detective agency to intimidate him. Tyrone starts going a little crazy. He fires off ranting rap-style emails to company officials. The once-amiable Tyrone begins losing his temper in class and at home, and suspecting strangers of following him. But with unrelenting resilience, he continues his campaign, determined to prohibit re-registration of the herbicide. When the European Union votes not to re-register Atrazine in 2003, Tyrone celebrates an early victory. He's sure the US Environmental Protection Agency will deliver a similar vote against re-registration. Six months later, the EPA vote to keep using Atrazine shocks Tyrone. He spirals to a new low until he meets attorney Stephen Tillery. Tyrone's research is used in a class-action lawsuit. Although they don't openly admit Atrazine is harmful, the corporation agrees to pay $105 million to six states for water filtration systems. As we drink atrazine-laced water, as US farmers continue using 70 million pounds of it a year, the Berkeley professor continues his fight.

Art of Deceit

Screenplay (Action, Adventure, Suspense)

Log Line:
In the thriller, the Art of Deceit, as Abby tries to prove her mother's murder was set up instead of a random robbery, she lands in a psycho ward which leads to the answer she seeks.

Synopsis:
In the thriller, The Art of Deceit, Abby Mendez won't believe what everyone tells her - that her mother, Selina, was killed during a random convenience store robbery. Although she's consumed by her convictions, Abby can't get anyone to agree with her, not the police, not her roommate, no one. Despondent, Abby leaves the funeral luncheon to sit alone in a diner. It's there she sees Selina standing outside the window bleeding from her head wound. Abby, convinced her dead mother is trying to tell her something, starts digging into Selina's' death and learns her mother wasn't a secretary at the FBI, she was an active agent on the trail of a terrorist. Obsessed with the investigation, she gets fired from her bank-teller job. Her roommate, Sue, and her mother's best friend, Congresswoman Baldwin, worry about Abby's mental health. They try to convince overwrought Abby that she needs rest. But Abby is relentless. She's even desperate enough to visit Celeste, a psychic who turns over a tarot card. The devil's card marks deceit, the psychic tells her. Abby visits Selena's former FBI partner Anthony and learns they were tracking a deadly terrorist. Abby finds the picture of the man the FBI was after, Isaiah Mustafa. When Abby begins stalking Mustafa, he confronts her. She runs to Celeste for help but finds her hanging dead. When Abby goes home the police bust through the door and arrest Abby after they find 25 grams of heroin under her mattress. Frightened and frustrated, Abby calls Congresswoman Baldwin, her mother's best friend, for help. The Congresswoman convinces the judge to send Abby for a mental evaluation instead of giving her the hefty mandatory prison sentence for heroin distribution. At first, Abby is uncooperative at the mental institution so they decide to keep her longer than 30 days. After a while, Abby tells the doctor that the heroin was hers and becomes the ideal patient. At least that's what everyone thinks - except the one person who faces Abby's wrath.

Lightwalker

Screenplay (Action, Drama, Suspense)

Log Line:
David's Spirit Guides and God's Army aren't about to take no for an answer when he refuses to accept their existence

Synopsis:
In the adventure The Meaning Of Life In A Nutshell, David P. Calabro learns his purpose in life the hard way. In fact, it takes an army of Spirit Guides, Shamans, obedient aliens and more to help him realize it. As the story opens, David is serving a subpoena. You see, he's an investigator working in Philadelphia with lawyers and cops and just about anyone who wants help with research. That's what David lives for, his job and his family. He has a wife, three children, a dog, and a comfortable home in Philadelphia. His favorite watering hole is a local pub where he watches football with his Dad and his friends. What he doesn't see is the light that often shines around him. If he does, he chalks it up to sunshine or streetlights. Why let a little light interfere with your day? But when his Dad dies, David can't ignore the light any longer, although he tries. He dreams of three Native American women who try to push him onto a subway track. David resists. When a psychic sends him her card, David says no thanks and leaves it on the bar. But spirits, being spirits, don't usually take no for an answer. And when it's God's Army of Spirit Guides, obedient aliens, people who have lived before, Shaman and healers you better believe they are going to make the Philadelphia native listen. David gets hit by an SUV. Remember, you can't ignore God's Army. They have something to tell David and they are trying every way they can to get the message through. While he's in the hospital with two fractured hips, he dreams of the Native American women who are now joined by his Dad. They tell him to come into the light but David tells his Dad he needs to go back. The oldest Native American woman tells him that if he does, it is because he must help heal others. His wife, Arena, and the doctor are angry when David shuffles away from the hospital in a walker telling them he won't have an operation. In fact, the more he talks about God's Army who will heal him, the more people shy away from him. Finally, his wife, parish priest and neighbors have an intervention, which David leaves. He stands in the street begging to be "beamed up". When nothing happens, he kicks a little girl's bike. When her Dad confronts David, David apologizes. But the irate Dad continues yelling in the street. David, who is now using a cane, accidentally falls into the Dad, who falls down with David on top. And that's when the cop comes. So David goes to jail and the judge is about to release him until David goes on a rant about corrupt government officials, which lands him in a mental hospital for 30 days. He is almost convinced that he imagined everything when Arena witnesses a Spirit Guide enter his body. OK. Now they both get the message. And with the help of the Native American Chief Silverhark, David finally realizes what he is supposed to do as a part of God's Army.

Kearon & Kyle

Stage play (Comedy, Coming of age, Drama, Family, Buddy)

Log Line:
Kearon is a bored Leprechaun who believes Kyle's one wish will be the same narcissistic requests he has heard for hundreds of years. But Kyle's wish puts the twinkie back in Kearon's sardonic eyes.

Royal Flush

Screenplay (Action, Suspense)

Log Line:
One moment changes Mark's life as Lady Luck draws her hand.