Upcoming Events:

Two films by Barbara Hammer, preserved by the WFPF will screen in the retrospective: Barbara Hammer, Superdyke
Saturday, July 20th
Museum of the Moving Image – Bartos Screening Room, 36-01 35 Avenue, Astoria, Queens
2:00pm:
SISTERS!, 1973, Barbara Hammer, 16mm, color, sound, 8 minutes
Will screen in the program "Declarations of Identity," introduced by KJ Reith and Mark Toscano
4:00pm:
Bent Time 1984, Barbara Hammer, 16mm, color, sound, 20 minutes
Will screen in the program "Ecstatic Subjectivity,"  introduced by KJ Reith and Mark Toscano.  
(The original film-to-film preservation was funded by the WFPF, but the new 4K restoration made by the Academy Film Archives will be screened.)
Tickets:  $15 ($11 for seniors and students)
---
Recent Events:
2019:

SELECTED EXPERIMENTAL AND ANIMATED WORKS FROM THE WOMEN'S FILM PRESERVATION FUND
June 21-22, 2019
Anthology Film Archives, 32 Second Avenue at 2nd Street, New York City
Since 1996 the Women's Film Preservation Fund has preserved a number of significant experimental and animated works by American women, many of which reflect pioneering approaches and unique voices.  These include works by Storm de Hirsch, Barbara Hammer, Peggy Ahwesh, Bette Gordon, and Helen Hill among others. 
The filmmakers approach their films from many directions and a range of sub-genres within experimental film and animation that include structuralist cinema, surreal films, experimental documentaries, improvised comedies, feminist films, and unedited footage.  They utilize optical printing, stop action and hand-drawn animation, hand-altered negatives, as well as live action and documentary footage.  A selection of these works is featured in three programs, including films preserved in collaboration with Anthology Film Archives. 
The screening series was guest-curated for Anthology by Ann Deborah Levy, Co Chair of the Women's Film Preservation Fund.
June 21st at 7:30pm 
Program I:  Expanding Notions of Time, Space, and Reality
The makers of these films have manipulated time, space, and/or motion to give us a broader view of reality.  Their varied approaches include optical printing, animation, drawing and scratching on the film negative itself, editing choices, and moving camera.
Divinations, 1964, Storm de Hirsch, 16mm, color, sound, 6 minutes
Utilizing hand-altered film stock and live footage, negative and positive images of daily objects, a chant of Maori medicine man and music performed on Jews harp, the film takes the viewer to a psychic, ritualistic place. 
Bent Time, 1984, Barbara Hammer, 16mm, color, sound, 20 minutes
A film constantly in motion, it journeys across the US linking disparate historic and geographic places, past and present, and using optical printing single frame to slow down and speed up motion to "bend" time. 
Meditation on Violence, 1948, Maya Deren, 16mm, b/w, sound, 13 minutes
As a Chinese martial artist performs, time and space become fluid through moving camera, editing, and rearrangement of the sequence of movements. 
Homage to Magritte, 1974,  Anita Thacher, 16mm, color, sound, 10 minutes
A woman's interior monologue is evoked through optically printed juxtapositions of images of water and interiors, and of glimpses of a woman, the sky and the universe seen through a window and a mirror. 
Traveling Light, 1985, Jane Aaron, 16mm, color, sound, 2 minutes
Sunlight from a window moving through the interior of a house during the course of a day ends with an unexpected revelation in this animated film. 
An Algorithm, 1977, Bette Gordon, 16mm, color, sound, 10 minutes
In this structuralist film, the arc of a dive into a swimming pool is dissected and repeated through optical printing to examine the relationship between diver and space and time and the nature of motion itself. 
Program running time: 63 minute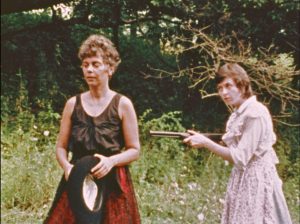 WOMAN'S HAPPY TIME COMMUNE
Sheila Paige, director 
June 22nd at 5:45pm
Program 2:  Reflections, Dreams, Experiments
These films represent changing ideas on the possibilities of womanhood from different viewpoints. 
Windy Day, 1967, Faith and Jon Hubley, 35mm, sound, color, 9 minutes
In this animated film, two young girls view love and marriage through fairy tale fantasies. 
Doppelganger, 1987, Peggy Ahwesh, 16mm, color, sound, 5 minutes 
An experimental portrait of a woman reflecting on her past and looking to the future. 
Women's Happy Time Commune, 1972, Sheila Paige, 16mm, color, sound, 42 minutes  In this "improv-Western" a group of women go to the Old West to start a commune where they will live without men.
SISTERS!, 1973, Barbara Hammer, 16mm, color, sound, 8 minutes 
A collage of documentary footage, poetry, and dreams envisions a new future for lesbians. 
Desire Pie, 1976, Lisa Crafts, 16mm, color, sound, 5 minutes
A woman and man are depicted in hand drawn animation in a humorous and joyous romp that shows what female desire can be.
Program running time 74 minutes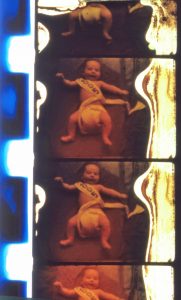 Strip of negative from HELEN HILL'S HOME MOVIES
June 22nd at 8:00pm
Program 3: Marie Menken and Helen Hill: Camera Rolls
Unedited footage of two distinctive filmmakers, provides insight into each maker's thought process and what informs her completed works.
The Grave Diggers from Gaudix, 1960's, Marie Menken, 16mm, b/w and color, silent, 45 minutes
In 1958 Marie Menken traveled to Spain in the company of Kenneth Anger. They visited the Alhambra in Granada where she shot her film Arrabesque for Kenneth Anger. The gorgeous Kodachrome footage in this compilation was shot at the same time for this Menken-titled yet unfinished project. In 2003, Martina Kudlácek discovered the original, unedited reels among Menken's belongings held by the family. Gravediggers is a remarkable example of Menken's fluid handheld movement as well as an instructive peek at how she intuitively conceived her work behind the camera.
Helen Hill's Home Movies, 2000-2005, original format super 8, preserved on 16mm, b/w and color, silent, 23 minutes
These unedited rolls of live-action footage shot by the animator capture images of New Orleans rituals and events and glimpses of several neighborhoods both before Hurricane Katrina and in its aftermath.  The footage, too, was a victim of the storm and despite preservation shows clear signs of water damage.
Program running time 68 minutes.
Tickets available at the Anthology Film Archives box office nights of the screenings:
$12 general admission, $9 for students, seniors & children, $7 for Anthology and NYWIFT members.
for more information please visit:  http://anthologyfilmarchives.org/film_screenings/series/51020
---
TWO WOMEN'S FILM PRESERVATION FUND PRESERVATIONS:
PRISON IMAGES: INCARCERATION AND THE CINEMA
Anthology Film Archives, 32 Second Avenue at 2nd Street, New York City
June 27, 2019 @ 6:30pm
Inside Women Inside, 1978, Christine Choy and Cynthia Maurizio, Color, 28 minutes
How does a woman cope with such common occurrences as illness, pregnancy and family conflicts when she is sent away to prison? At the North Carolina Correctional Center for Women and the Correctional Institute for Women at Rikers Island, a number of women answer these questions quite candidly. 
June 30, 2019 @ 6:30pm
July 8, 2019 @ 9:00pm
Attica, 1974, Cinda Firestone, Color, 1 hour 20 minutes
From September 9-13, 1971, prisoners at Attica Correctional Facility in New York took control of sections of the prison. Uniting across lines of race and ideology, they created a manifesto of practical demands for the improvement of prison conditions, and after four days of negotiations, Governor Nelson Rockefeller ordered state police and the National Guard to retake the prison by force. Forty-three men were killed in the government-sponsored massacre, including twenty-nine inmates shot by police bullets, and surviving prisoners were beaten and tortured. Cinda Firestone documented the events, and her film testifies to the need for opposition to the state violence that makes up the very fabric of the prison system.
For more information please visit Anthology Film Archives
---

QUARRY
Meredith Monk & Amram Nowak
1975/77, 82 min, 16mm-to-DCP
Screening Monday May 20 
7:30 PM at Anthology Film Archives, 32 Second Avenue at 2nd Street, NYC
WORLD PREMIERE OF NEW RESTORATION!
Composer, singer, director/choreographer, and filmmaker Meredith Monk created QUARRY: AN OPERA IN 3 MOVEMENTS as a live stage work between 1975-76 – with her company, The House – as a mosaic of music, images, movement, dialogue, film, sound, and light. A meditation on WWII and recurring cycles of intolerance, fascism, and cruelty in history, QUARRY centers on a sick American child (played by Monk herself) whose world darkens as her illness progresses. This film version, shot in the Lepercq Space at the Brooklyn Academy of Music in 1977, was directed by Amram Nowak and supervised by Monk, and includes her 1975 short silent film of the same name. Considered a masterwork of the 20th century, the piece is as prescient today as it was 40 years ago. It is at once a myth, a documentary, and a memorial.
Preserved with funds from the National Film Preservation Fund, the Women's Film Preservation Fund of New York Women in Film & Television, and individual donors.
Meredith Monk will attend for a Q&A following the screening!
Quarry received the WFPF Grant in 2001.
---
Bette Gordon's An Algorithm  screening in the program:
Bette Gordon's An Algorithm + JODI's All Wrongs Reversed ©1982
Monday, April 8, 2019 at 7pm
Light Industry, 155 Freeman Street, Brooklyn
Tickets – $8, available at door.
Please note: seating is limited. First-come, first-served. Box office opens at 6:30pm.
Before Bette Gordon made her 1983 feature Variety, she made several short experimental films influenced by feminist theory in the 1970s. One of these is An Algorithm, a structuralist film of a female diver making three dives, shows her on going fascination with women as desired object and eroticism.  The mathematical frame by frame printing and male and female voices reciting frame counts, frustrates the male gaze at this potentially sexual subject, never allowing the diver to complete her dive.
An Algorithm was preserved by Anthology Film Archives, with funding from the Women's Film Preservation Fund.
---
Sheila Paige Women's Happy Time Commune screening in:
Excavating Feminist Film Histories:
 Early Productions from Women Make Movies
Wednesday, April 24, 2019
6:00 PM
Free Admission
Michelson Theater, NYU Tisch School of the Arts, 721 Broadway, NYC
In the late 1960s and 1970s, numerous media organizations arose driven by the desire to give voice to those ordinarily marginalized by the mainstream media. Among this wave was Women Make Movies, a female-led, community-based media education center founded in New York in 1969 to empower women to tell their own stories by teaching them the technical production skills to pursue their own film and videos projects.
While Women Make Movies, Inc. has since become one of the most impactful and important distributors of independent film produced by women, its early origins as a production and community-based teaching group have been largely forgotten.
Films:
The Women's Happy Time Commune, Sheila Paige, Director, Ariel Dougherty, Producer; (1972), 47 minutes, digital projection, film preserved with help from Women's Film Preservation Fund of New York Women in Film & Television
Sweet Bananas (1974), Ariel Dougherty, Director, 30 minutes, digital projection, not yet preserved.
A Street Harassment Film (1975), Sheila Paige, Director, 12 minutes, digital projection
A roundtable discussion moderated by Tanya Goldman, Cinema Studies PHD candidate, will follow the screening. The panel will include Women Make Movies co-founders Ariel Dougherty and Sheila Paige, and Dr. Alexandra Juhasz, Chair of the Film Department, Brooklyn College, CUNY.
For additional information:  https://tisch.nyu.edu/cinema-studies/events/spring-2019/excavating-histories-women-make-movies?fbclid=IwAR2zFmrgYk7WtbtMO-HWL9aRehlW5APuGbCLZ8tnNjfWsxjGynrjOrm_et4
2017-2018
The most recent Women's Film Preservation Fund grant cycle closed June 15th, 2018.
https://www.nywift.org/womens-film-preservation-fund/wfpf-grant-application-guidelines/
---
ARTISTS AND ACTIVISTS:

Second Wave Feminist Filmmakers
June 2-3, 2018
The Women's Film Preservation Fund (WFPF) brings a series of six programs of Second Wave Feminist films, mostly WFPF preservations, to screen at the Barbican Centre, London,
on June 2nd and 3rd.
The Women's Movement of the 1970's in the United States spawned an incr
ease in women making films. Their focus, women's experience, had rarely been a topic for the screen before. Along the way, they reshaped filmmaking in ways that have impacted it even today.
Finding it difficult to attain creative positions in the film industry, women made films on the outside. Largely uncensored, they sought new means of expression, utilizing innovative approaches to storytelling and introducing dream imagery, diary excerpts, poetry, animation, and experimental techniques in films of all genres.
Artists and Activists features WFPF's roster of feminist preserved filmmakers: Julie Dash, Lourdes Portillo, Bette Gordon, Barbara Hammer, Lisa Crafts, Julia Reichert, Maxi Cohen, and the Newsreel and Kartemquin Films collectives. Other important feminist voices are included: Joyce Chopra, Su Friedrich, Amalie Rothschild, and Madeline Anderson whose works have not been preserved by the WFPF.
Curated by: Ann Deborah Levy and Kirsten Larvick, WFPF Co-Chairs,
with programming assistance from Susan Lazarus and Amy Aquilino.
To see the entire film schedule, please click here.
---
That Ice Ticket (1923), Angela Murray Gibson
April 11th – 14th, 2018
Orphan Film Symposium
Museum of Moving Image, Queens, New York
Professor and author, Marsha Gordon and independent researcher, Charles "Buckey" Grimm present Camerawoman Angela Murray Gibson Films Herself into History, 1921-1925 at Orphan Film Symposium.
Included in their study on silent era North Dakotan filmmaker, Angela Murray Gibson, the recent Women's Film Preservation Fund and Kino Lober preservation of THAT ICE TICKET (1923) will screen for symposium attendees.
https://wp.nyu.edu/orphanfilm/program/
---
The Women's Film Preservation Fund: Four Experimental Films
January 22, 7:15 p.m.
Museum of Modern Art, New York, New York
Newly restored films from Women's Film Preservation Fund and its preservation partners.
Sisters! 1974. USA. Directed by Barbara Hammer. 8 min.
Metroliner. 1975. USA. Directed by Victoria Hochberg. 35 min.
Doppelganger. 1987. USA. Directed by Peggy Ahwesh. 8 min.
The Women's Happy Time Commune. 1972. USA. Directed by Sheila Paige. 47 min.
https://www.moma.org/calendar/events/3951
---
Closing Panel for From The Vault: Women's Advocacy on Film:
Introduction to Archiving and Preservation for Film and Video
UnionDocs, Brooklyn, New York
Now that you've finished your documentary feature and it is a file on your hard drive, have you thought about how to make sure it will last? Do you have a movie, shot on film, that can no longer be shown because the print is in tatters and no one is screening 16mm anymore? Do you have a documentary master on an obsolescent videotape format? Have you ever wondered if storing your film, video or digital work in your home or studio is a good idea, and why placing it in an archive will ensure its longevity?
Join Women's Film Preservation Fund, UnionDocs and other archival and preservation collaborators to get answers to some of these questions in an introductory presentation on archiving and preserving film and video. This event offers a basic overview and first steps for the long-term safeguarding of motion pictures, making work accessible for exhibition and monetization over a lifetime.
https://www.nywift.org/event/from-the-vault-introduction-to-archiving-and-preservation-for-film-and-video/
---
FROM THE VAULT:  WOMEN'S ADVOCACY ON FILM 
Co-presented with UnionDocs Fall 2017 through Spring 2018.
To view the full program schedule please click here.
In celebration of NYWIFT's 40th Anniversary, the Women's Film Preservation Fund (WFPF) and UnionDocs present the film series From the Vault: Women's Advocacy on Film which features restored documentary films by women filmmakers. All films in the series were preserved by the WFPF.
Documentarians reveal the impact of events and contexts for changing attitudes that affect our communities, society, and the world. From the Vault: Women's Advocacy on Film presents nonfiction films that have shaped movements and provided perspectives on political, environmental, and human rights issues; and ideas around gender identity and roles, sexuality, health and family, all from a woman's perspective. These explorations of story and truth, their innovative approaches to documentary film-making, and their subjects continue to be relevant today to filmmakers, activists, and media consumers creatively effecting change.
UnionDocs and the WFPF invite filmmakers and cinephiles to consider what can learn from our past explorers of story and truth, and how the film's subjects and their filmmaker's methodologies remain important and therefore essential to preserve and keep watching.



To see the full program schedule please click here.
This series is curated by WFPF Co-Chair Kirsten Larvick, with programming assistance from Co-Chair Ann Deborah Levy and Raquel Salazar-Foster.
---
2016:
November 5th and 8th, 2016 — Celebrating filmmaker, animator, Jane Aaron at the 14th Annual To Save and Project Series at The Museum of Modern Art. Set In Motion (1980) and Interior Designs (1986) are short animation pieces preserved by NYWIFT's Women's Film Preservation Fund and will screen under the series' Animation and Experimental Cinema category. Both works exhibit Aaron's unique stop-motion animation and live-action footage collages that became her signature. (more info)




The five-Blu-ray box set titled, Pioneers: First Women Filmmakers, produced and distributed by Kino Lorber will include approximately twenty hours of material – showcasing the work o, under-appreciated filmmakers, while illuminating the gradual changes in how women directors were perceived (and treated) by the Hollywood establishment. The collection will include some of the Women's Film Preservation Fund's most significant silent era preservations. Check out the project's campaign, which ends on November 18th.
September 24th, 2016 — Visions: TV Dramas by Maya Angelou and Momoko Iko in the series Changing the Picture, presented by Museum of the Moving Image, in collaboration with the Women's Film Preservation Fund of New York Women in Film and Television. (more info)
June 1st, 2016 — WFPF Grant Application Deadline.
May 5th, 2016 — Ann Deborah Levy writes about the Women's Film Preservation Fund on NYWIFT's blog. Read "Protecting the Legacy for Over 20 Years"here.
April 14th & 27th, 2016 — Variety screened at MoMa in Modern Matinees: Six New York Independents. (more info)
March 11th, 2016 — Student Nurses screened at The Metrograph with director Stephanie Rothman. (more info)
March 27th, 2016 — You Are Not I, Underground USA: Indie Cinema of the 80's Cinefamily Showcase. Sara Driver's film was awarded the WFPF grant. (more info)
Janurary 30th, 2016 — Re-Visions: Bette Gordon, Program 1, Anthology Archives.This eclectic selection of films includes her masterful early feature Variety, alongside other works restored by Anthology. The programs also include WFPF brand new scans of recently uncovered early experiments .(more info)
January 21-31, 2016 — Committee Member Susan Lazarus screens Sophie and the Rising Sun at Sundance 2016, a film she co-produced.
---
2015:
Sadly, we lost our friend and grantee, Jane Aaron, on June 27th. A Jane Aaron Fund has been set up by the WFPF. Funds collected will be used to preserve a film by a woman filmmaker in Jane's memory. Jane Aaron was an internationally recognized award-winning animator and a best-selling children's book illustrator. Jane's independently produced experimental films have been shown around the world,including in the Whitney Biennial and the Museum of Modern Art, and are in the permanent collections of MoMA, the Metropolitan Museum of Art, the Hirshhorn Museum, and the Walker Art Center. The Women's Film Preservation Fund preserved five of Jane's films.
December 2015 — WFPF Co-Chair Kirsten Larvick announces first recipients of the Al Larvick North Dakota Grant . The fund's purpose is to promote the preservation of amateur and home movies. (more info)
November 4-25, 2015 — To Save and Project: The 13th MoMA International Festival of Film Preservation. These films join dozens of others in a three-week overview of the exciting work being done to reclaim endangered films and revive forgotten treasures. (more info)
Sept 2-4, 2015 — WFPF Co-Chair Kirsten Larvick screens films preserved by The Al Larvick Conservation Fund, which she founded in honor of her grandfather. This grant provides support to individuals and organizations for the conservation, digital transfer and exhibition of home and amateur movies which were recorded in North Dakota State.
April 21, 2015 — On Restoration Panel, Tribeca Film Festival WFPF Committee Member Susan Lazarus will join the preservation panel.
March 25, 2015 —  WFPF Committee Member Ann Deborah Levy screens her film "On the Train to Kutná Hora" at Another Experiment by Women Film Festival, at Anthology Film Archives.
March 24, 2015 — NYWIFT Preservation Fund Screening: The Last To Know
March 21, 2015 — Suzanne Pancrazi, NYWIFT WFPF Committee Member passes away.
February 2 -13, 2015 —  Carte Blanche: Women's Film Preservation Fund—Women Writing the Language of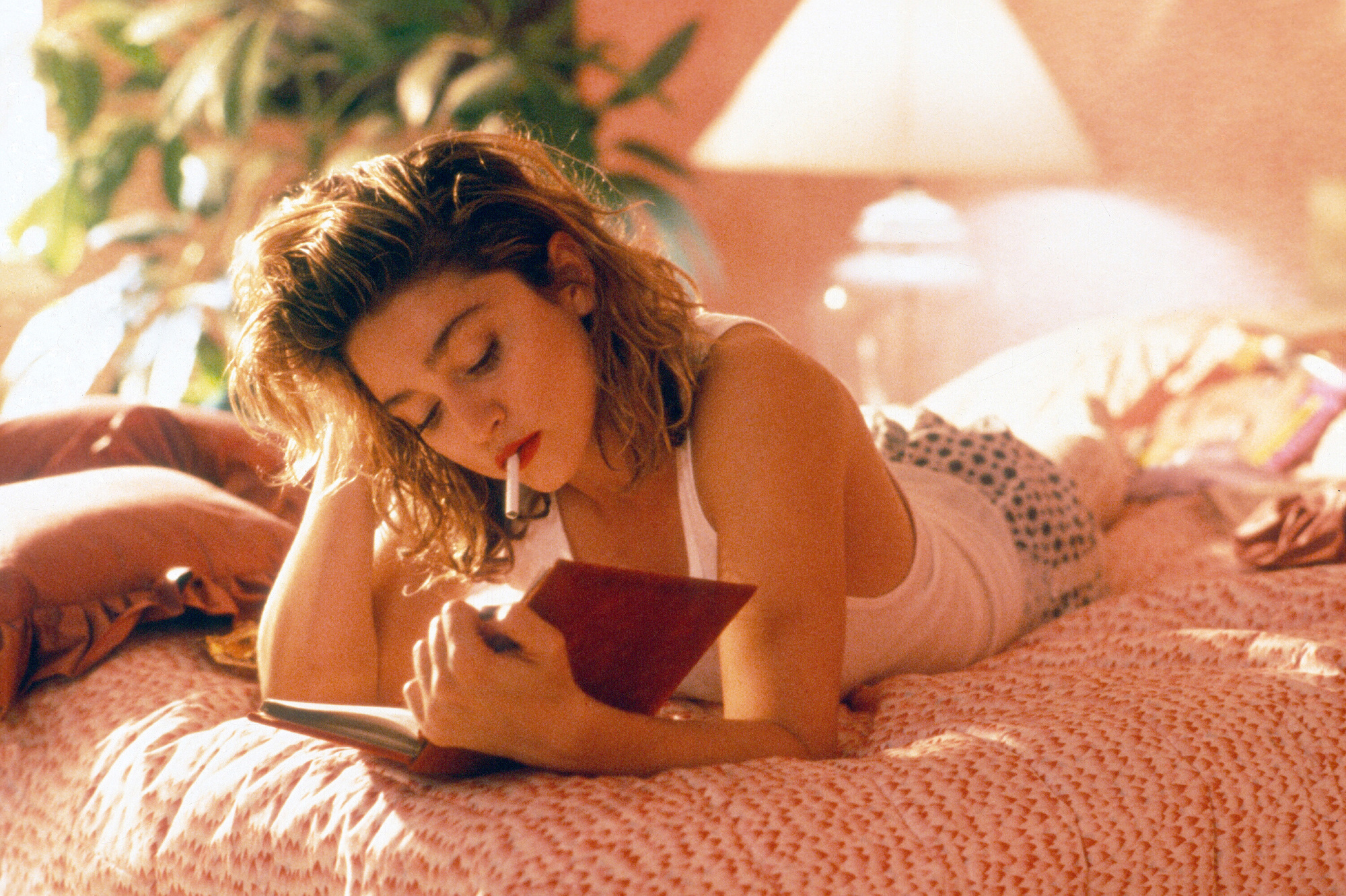 Cinema
The Museum of Modern Art, New York, NY
Established in 1995 by New York Women in Film and Television (NYWIFT) and The Museum of Modern Art, the Women's Film Preservation Fund (WFPF) is the only program in the world exclusively dedicated to the preservation of the cultural legacy of women in the film industry.
Since 1995 the WFPF has provided support for more than 100 American short and feature films. The fund's core mission is to identify and preserve works in which the role of women was fundamental to the production; to present the preserved films in a public forum; to encourage scholarship about women in film history; and to partner with organizations demonstrating similar goals. The WFPF is especially respected at MoMA as a former Chief Curator of the Department of Film, Mary Lea Bandy (1943–2014), was a founder.
In celebration of WFPF's 20th anniversary, MoMA has invited the WFPF programming committee to select films that reflect the essential role of women in the continuing development of cinema as an art form.
Organized by Anne Morra, Associate Curator, Department of Film, MoMA, with WFPF programming committee members Ina Archer, Kirsten Larvick, Susan Lazarus, Raquel Salazar-Foster, and Kim Tomadjoglu.
https://www.moma.org/calendar/film/1497
---
2014:
October 31, 2014 — The Real Indies – A Close Look at Orphan Films Academy of Motion Picture Arts and Sciences, at New York University and the Orphan Film Symposium.
---
2013:
October 1, 2013 — The WFPF received numerous applications for the 2013-2014 Grants Cycle.
Oct 13, 2013 — Committee Member Susan Lazarus presents screenings and introduces panelists at the 10th Anniversary Screening of NYU's Moving Image Archiving & Preservation(MIAP) program, at NYU Tisch Cinema Studies. (more info)
February 2013 — WFPF launched an Indiegogo campaign to raise money to preserve Seven Women Seven Sins (1986) directed by Maxi Cohen, Helke Sander, Bette Gordon, Chantal Akerman, Valie Export, Laurence Gavron, and Ulrike Ottinger. (more info)
---
2012:
August 2012 — WFPF unveiled a new video highlighting its preservation work. The video  included footage from Barbara Kopple's Oscar-winning documentary Harlan County U.S.A. (1976), That Man of Mine (1947) starring Ruby Dee, and You Are Not I (1981) by Sara Driver, among many others.
July 1, 2012 — Susan Lazarus represented the WFPF at the celebration of the birth of the first woman director, Alice Guy Blache, and the unveiling of a new grave marker from the Fort Lee Film Commission in NJ. (more info)
June 25, 2012 — WFPF was proud to be honored by Anthology Film Archives at its annual Film Preservation Honors.
---
2011:
November 2, 2011 — MoMA's Save & Project Series, at Museum of Modern Art. (more info)
October 6, 2011 — New York Film Festival '11 Masterworks: Sara Driver's You Are Not I, The Walter Reade Theatre at Lincoln Center. (more info)
October 24, , 2011 — Restoration Premiere Screening of Make Out, Growing Up Female, and Janie's Janie at The Film Society of Lincoln Center.
Tribeca Film Festival '11 — Independent Women: 15 Years of NYWIFT Funded Film Preservation. (more info)