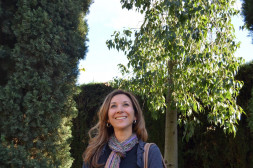 Address

248 Audubon Ave Apt 54,
New York, NY, 10033, United States of America

Web Links
Maria Gabriela Estrada
---
Devoted to the development of dance as art, tradition, and culture, promoting global multidisciplinary collaborations.
---
Full Bio
Gabriela Estrada (Community Arts Partnerships Education Manager) Bilingual dance educator, artist, and producer dedicated to promoting the development of art, tradition, and culture. Estrada holds a BA and MFA in Dance at the University of California, Irvine and a Ph.D. in flamenco interdisciplinary studies from the University of Seville. Her MFA thesis, The Choreographic Development of The Three-Cornered Hat through the 20th Century, and the case study of her Ph.D. dissertation on the contributions of flamenco to ballet led to producing the documentary ENI9MA: The Legend of F√Ωlix. As an educator, Estrada founded Dance Collage, affiliated to the Royal Academy of Dance, engaged in teaching dance lecture and technique courses at the University of Sonora and UC, Irvine, collaborating as choreographer and teaching artists in theatre and dance organizations internationally. Her creative work embraces theatrical western dance forms, flamenco, and musical theatre. Estrada supports Ballet Hisp√Ωnico s mission as Com
---
Professional Credits

BA and MFA in Dance, Ph.D. in Sociocultural Anthropology, Founding Director of Dance Collage, Producer of ENI9MA: The Legend of FÈlix
NYWIFT Committees

Membership
Content Types

Documentary, News
Occupations

Choreographer, Educator, Researcher
Business Types

Nonprofit
Countries Worked In

Mexico
Foreign Languages Spoken

French
You are not logged in and thus only viewing a small portion of this profile. Members can log in to view the entire profile.