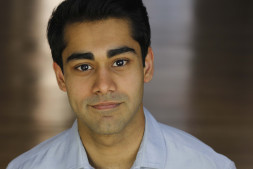 Phone

Office: 570 709-5272

Email

Web Links

IMDB Link
Ali Ahmed
Actor/Screenwriter/Filmmaker
---
Full Bio
Ali is a Pakistani-American actor/writer/filmmaker represented by Innovative Artists. He graduated from the Neighborhood Playhouse School of Theatre and from the University of Pennsylvania with a degree in Neuroscience and Film. He's worked at ICM and is fluent in Urdu. He just shot a short film.
---
NYWIFT Committees

Actors Alliance, Career Focus, Development, International, New Works Lab, Writers Group
Occupations

Actor
Foreign Languages Spoken

Urdu
Writer's Group works

The Mirage (Al Sarab)

Screenplay (Coming of age, Drama)

Log Line:
A slice of life coming of age drama about a 12-year old Syrian girl struggling with loss of innocence in a refugee camp and drifting apart from her complicated, grieving mother.
You are not logged in and thus only viewing a small portion of this profile. Members can log in to view the entire profile.