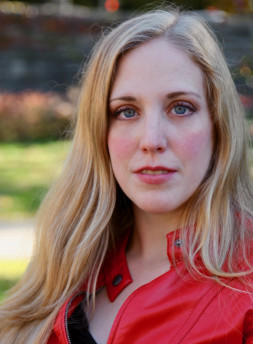 Phone

Office: 201 303-3204

Address

30-46 37th Street, Ground Floor,
Astoria, NY, 11103, United States of America

Web Links
Mara Lee Gilbert
Owner (Actor/Writer)
MaraLeeGilbert.com
---
Full Bio
Mara Lee Gilbert is an award-winning actor, filmmaker, and writer (including the Award of Artistic and Technical Merit-Best Shorts Competition Richard Henry Hommel Award for Outstanding Theatrical Contribution Audience Choice Award-Macabre Faire Film Festival). She explores the lines between beauty and the grotesque, seeking to unravel taboos.

Her latest article, The Monster's Monster, is published in Waif magazine, Issue 13 www.iswaif.com/magazine .

Her full-length play, PASSAGE, exploring pain, pleasure, and euthanasia, has been invited to showcase in both NYC and LA and is currently in discussion for an Off-Broadway run in NYC.

www.MaraLeeGilbert.com

@MaraLeeGilbert

www.imdb.me/MaraLeeGilbert
---
Professional Credits

FILM

Whats Left (2016) . Tara (Lead) . Writer Producer Credit . director - James Rees

Winner: Award of Merit for Artistic and Technical Achievement 2016 Best Shorts Competition

--------------

The Pleasure of Being Served (2016). Jenny (Supporting). director -Michael Manese

---------------

Isabelle (2015) . Isabelle (Lead Supporting) . director, Jennifer Valdez

Nominated: Best Supporting Actress in a Short Film Winter 2015 Macabre Faire Film Festival Winner: Audience Choice for Best Short Film Winter 2015 Macabre Faire Film Festival

--------------

Maxine (2014). Maxine (Lead) . director Michael Manese

Official Selection: 2014 Golden Door International Film Festival (and others)

--------------

Well Test It On Humans (2015) . Jadwiga (Deleted Scene) . writer director, Brian Gianci

From the writer of Hit 2014 Off-Broadway Play, Let s Kill Grandma This Christmas

---------------

Fists of Love (2014) . Mindy (Supporting) . director, Daryl Denner

Produced by Franky G Of Saw II and Mani
Industry Awards

Currently Nominated with the full cast and crew for Best US Comedy Feature at the 2019 Austin Revolution Film Festival, for Threeway.



Award of Artistic and Technical Merit as Writer and Producer of Whats Left (2016 Short) with the Best Shorts Competition, March 2016.



Nominated for Best Supporting Actress with the Macabre Faire Film Festival, Winter 2015.



Richard Henry Hommel Award for Excellence in Theater at John Jay College of Criminal Justice 2010.



Published writer with the Best Of for the 2009 collection of the Strawberry One-Act Festival One-Acts for Steel or Pretzels.