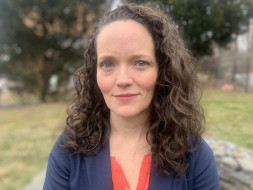 Leah Curney
(She/Her)
Owner
Blue Skies Media, LLC
---
No
---
Full Bio
Leah is the writer/director of the short film "Interview Requested" and writer/producer of "Dirty Laundry." Other directing credits include "Nice to Meet You Again" and the comedy shorts "Officer Grumpy" and "Marco Polo Finds His Pants". Her short film "6:18 to Omaha" won the CinemaStreet Women's Short Screenplay Competition and she was a semi-finalist for the 2019 Made In NY Writers Room Fellowship for her pilot "The Invisibles". She has several projects currently in development.

With nearly two decades of professional experience as an actress, Leah has appeared on and off-Broadway, in film, television, and commercials. Her work includes appearances on "New Amsterdam," "God Friended Me," "Blindspot," "The Deuce," "The Marvelous Mrs. Maisel," "Law & Order: Special Victims Unit," as well as numerous independent films including "When the Moon Was Twice as Big," "Top Floor," "All The Broken Pieces," and the viral web video "Postpartum: The Musical." Onstage, she has performed with Manhattan Theater Club, Mint
---
Professional Credits

Writer/Producer of short films, Interview Requested, and Dirty Laundry. Additional directing credits include Officer Grumpy and Marco Polo Finds His Pants. Nearly twenty years of professional acting credits include: New Amsterdam, The Deuce, Blindspot, The Marvelous Mrs. Maisel, Law & Order: Special Victims Unit, independent films When The Moon Was Twice as Big, Top Floor, All The Broken Pieces and the viral web video Postpartum: The Musical.
Industry Awards

Winner of the CinemaStreet Women's Short Screenplay Competition
Professional Groups

SAG-AFTRA, Other
Other Professional Groups

Actors Equity Association
NYWIFT Committees

Actors Alliance, Communications, Fund for Women Filmmakers, Moms Network
Content Types

Narrative Features, Episodic Comedy/Sitcom, Web series
Occupations

Director, Producer, Writer
Business Types

Production Company
Other Countries Worked In

No
Other Languages Spoken

No
You are not logged in and thus only viewing a small portion of this profile. Members can log in to view the entire profile.