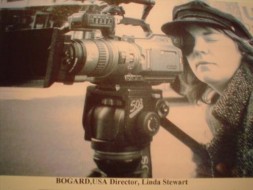 Phone

Home: 347 743-5924
Office: 212 780-3335

Email
Linda J. Stewart
(She/Her)
Writer/Producer/Camera Operator
Bogard Productions
---
Full Bio
Linda J. Stewart

BogardProds@hotmail.com / 212-780-3335

Ms. Stewart is a New York based freelance writer and independent producer. She was the Managing Editor and a Contributing Writer for "Movies on TV", a best-selling film
reference book published by Bantam Books. Stewart wrote and directed "Fine Tuning", a radio parody which aired on several NY radio stations, and co-produced a weekly classical music program-"The WNYE Concerthall". She also produced the satirical short, CHOCOLATE MADNESS: THE CANDY FROM HELL, which was a finalist in the Three Rivers Film Festival ("they love us in Pittsburgh!").

Stewart also has extensive experience in the theater as an Asst. Stage Manager, Property Master and Sound Operator for Intar, Theater for the New City, and New Federal Theater. Some of the productions include the Obie award-winning Transients Welcome by Roslyn Drexler and Luis Santeiro's Our Lady of the Tortilla. During her many years
---
Professional Credits

Assoc Prod/D.P.: Bird's Eye View (Prism Pictures). Prod/Actor: Chocolate Madness (short). Add'l Photog: CBS Market Watch. Director of Photography (P/M Productions).

Producer/Director/Writer: Bogard,USA,

broadcast debut on PBS 8.29.2010.
Industry Awards

Finalist: Three Rivers Film Festival: Chocolate Madness



UFO Digest: Best Film (2009): Bird's Eye View
Professional Groups

Other
Other Professional Groups

National Writers Union
NYWIFT Committees

Women's Film Preservation Fund, Writers Group
Content Types

Documentary, Narrative Features, Reality/Unscripted
Occupations

Camera Operator, Producer, Writer
Business Types

Production Company
Countries Worked In

Canada
Other Countries Worked In

France, Russia, Finland
Writer's Group works

Split Pea: The Real Story

Screenplay (Comedy)

Log Line:
An avant-garde filmmaker from Texas hits the big time in NYC.

Synopsis:
A shy, young artist from Texas, Tyrone Pittdigger, moves to NYC with his odd collection of avant-garde films. With a bit of luck, some odd twists of fate, and a lot of good P.R., the awkward Southerner becomes the toast of the New York art world. SPLIT PEA, a "mocumentary" along the lines of SPINAL TAP, cuts back and forth from flashbacks of Pittdigger's childhood in Waco and college days at Nostradamus University to his weird films and present day life. At the story's conclusion, Tyrone, at the center of a notorious press conference, has a life-altering experience.
You are not logged in and thus only viewing a small portion of this profile. Members can log in to view the entire profile.