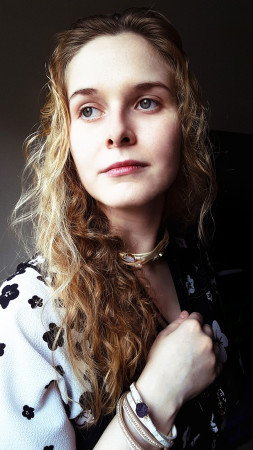 Phone

Office: 301 892-6426

Email
Natalie A Palumbo
Motion Graphics Designer
---
Natalie Palumbo is a Ringling College of Art and Design Graduate 2017, a Motion Graphics Designer and Animator, and Sibling Autism Adovcate based in NYC.
---
Full Bio
Natalie A Palumbo is an artist trained in Motion Graphics Design and Visual Effects Compositing. She is an honors graduate of Ringling College of Art Design as a Motion Design Major. She is an Adobe Certified Professional in Visual & Video Design, and has contributed to film and media projects as well as Motion Graphics Animation.



Natalie has done broadcast graphics for Yahoo/AOL Studios in NYC following her internship at Marvel Entertainment as a digital compositor. Natalie was featured in a written interview for the Disney Professional Intern Spotlight in 2017.



Natalie placed as Top Talent in the Adobe Design Achievement Awards 2019 in the category of Motion Graphics Animation for her Live Synesthesia project. Her student audio interpretation project The Jet received a Semifinalist Adobe Design Achievement Award in 2017 for Fine Art - Animation / Motion Graphics.



Many of the film projects Natalie has contributed to have gone on to receive a variety of film festival awards in their categories. Her
---
Professional Credits

Digital Comics Intern, Marvel Enterainment. Motion Graphics Designer for Moon Hill Pictures, Form & Pressure Films, Boat Ashore Productions, General Motors NY/NJ Metro, Fountain Avenue Productions, Meraki Society, Dose of Dania, Blac Rabbit, Yahoo/AOL Studios NYC.
Industry Awards

Are We Here (Are We In Color) Screening at Sarasota Film Festival in the youthFEST Shorts Category as Animator and Director, April 2019, Sarasota Film Festival.



Logo Animation, Boat Ashore Productions screening for Montana at The Brooklyn Film Festival in Brooklyn, New York, June 2018, Boat Ashore Productions.



Cosmix 2018 Screening Of Are We Here (Are We In Color) Planetarium Projection Edition, April 2018, Ringling College of Art and Design, Alumni.



Season Of Passage Screening at The Manhattan Film Festival as Title Animator, Best Dramatic Short Recipient in Manhattan, New York, April 2018, Moon Hill Pictures.



Season Of Passage Screening at The Irish Repertory Theatre as Title Animator, Manhattan, New York, Feb 2018, Moon Hill Pictures.



Disney Professional Intern Spotlight for Digital Comics Internship, Aug 2017, Disney Programs Blog.



Semifinalist for The Jet, Fine Art - Animation / Motion Graphics, June 2017, Adobe Design Achievement Awards.



Graduate With Honors, May 2017, Ringling C
Other Professional Groups

Post New York Alliance, Blue Collar Post Collective, Association for Computing Machinery, SIGGRAPH, PromaxBDA
Content Types

Media/Art Installation
Occupations

Animator, Video Graphics, Visual Effects
Business Types

Graphic Design, Post-Production
You are not logged in and thus only viewing a small portion of this profile. Members can log in to view the entire profile.