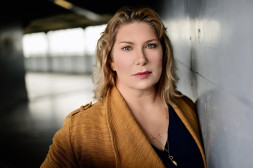 Phone

Office: 646 705-3314
Heidi Elizabeth Philipsen-Meissner
(She/Her)
Writer/Producer/Director/Actress
Personae Entertainment Pictures Ltd.
---
Full Bio
Heidi Philipsen-Meissner is a dynamic producer, writer, actress and director with 20 years of professional experience in international film, television and communications.



She is a member of the Producers Guild of America, the Screen Actors Guild-American Federation of Television and Radio Artists, Actors Equity Association, the University of Michigan Entertainment Coalition, Columbia Universitys School of International and Public Affairs Alumni Association, New York Women in Film and Television, Chicago Women in Film and Television, as well as Found & President of Upstate Women in Film and TV.



Formerly, she served three years both with Upstate Independents (Programming Chair) and the Schenectady Electric City Arts & Entertainment Coalition (Communications Chair).



Heidi holds a B.A. in Film, Theatre and German Literature from the University of Michigans Residential College, a Certificate in German Fluency from the Goethe Institute, a Masters in International Media & Communications with a
---
Professional Credits

please see my website: www.heidielizabethphilipsenmeissner.com.

Please also check out my imdb page under Heidi Philipsen
Industry Awards

multiple awards for multiple films
Professional Groups

SAG-AFTRA, Other, PGA
Other Professional Groups

Alliance of Women Directors, Pro Quote Film, The Director List, UPWIFT
NYWIFT Committees

Actors Alliance, Communications, Fund for Women Filmmakers, International, Moms Network, New Works Lab, Programming
Content Types

Narrative Features
Occupations

Actor, Director, Writer
Business Types

Production Company
Countries Worked In

Germany
Foreign Languages Spoken

German
Other Languages Spoken

beginning Danish, Spanish, French, Ukrainian, Dutch
Crew Up Survey

Willing To Travel: Yes
Has Own Equipment: No
Has Insurance: No
Other Languages: Yes

Writer's Group works

Her Telling Heart

Screenplay (Drama, Suspense)

Log Line:
Edgar Allan Poe's timeless chiller The Tell-Tale Heart gets a feminist perspective and a suspenseful new twist in this short film.

Synopsis:
Edgar Allan Poe's timeless chiller The Tell-Tale Heart gets a feminist perspective and a suspenseful new twist in this short film from award-winning director Eli Meissner. Adding a socially conscious commentary to the famous story, this short film explores the possible psychological roots of the narrator's "madness." The visually stunning tale unfolds layer by layer, through three dimensions of narrative. When a young woman's secret past resurfaces in the form of realistic nightmares, she begins to fear the evil vulture-eye of her watchful uncle. Our narrator is caught in a collision of reality and delusion. Shot on location in upstate New York on the state-of-the-art RED ONE digital camera by award-winning Director of Photography Patrick Elliot (Love Orchard). The film co-stars acclaimed Michigan actor Grant Krause (Machine Gun Preacher).
You are not logged in and thus only viewing a small portion of this profile. Members can log in to view the entire profile.