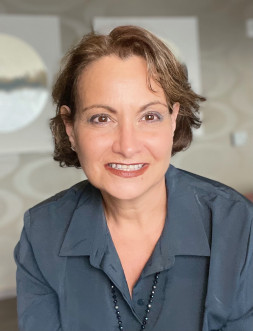 Phone

Office: 646 387-0800

Email

IMDB Link
Melissa Ann Skirboll
(She/Her)
LifeDream Productions
---
Melissa Skirboll is an award winning director, producer, writer and actor.
---
Full Bio
Melissa Skirboll is an award-winning director, writer, actor and producer – for both screen and stage. In 2019, she was awarded the FILMMAKER OF THE YEAR AWARD at the Västerås Film Festival in Sweden.
She is currently in postproduction with the short film "Overdue" and starting preproduction for her next short "Be Careful!"
Her short "Greetings From Sarajevo" is currently on the festival circuit; it recently was awarded BEST PSYCHOLOGICAL THRILLER at Manhattan Film Festival, BEST MEDIUM SHORT at the Brightside Short Film Festival in Jersey City and BEST SHORT at the NYC TV Festival.

"My Dinner With Schwartzey" which premiered at the Bermuda International Film Fest in March 2019, has since won BEST DRAMEDY at the Manhattan Film Fest, BEST DRAMEDY and BEST DIRECTOR at the NYC TV Fest, BEST DIRECTOR at the Brightside Film Fest, BEST FILM at DMOFF, BEST COMEDY at CFIFF as well as a number of other awards.

Her work in theater has also been recognized with a number of nominations and awards including wins
---
Professional Credits

Producer/Director/Writer

Show & Tell Tango



Actor

Show & Tell Tango (short)

A Magpie in the Mirror (short)

Celebrity Ghost Stories: Cindy Williams (Biography)

Mysteries at the Museum (Travel)

Coma (short)

Amazing Stories (Japanese web-TV)

Dis-Orientation (short)

Intern Nation (Web pilot)

Pushing Twilight (Web ep. 2) IFC

Passions NBC Studios

G2 (Pilot/Trailer)

Death on the Kalahari (Pilot/Trailer)

The Definition of Insanity (Feature Film)

Kite Hill (short)
Industry Awards

NYC Indie Film Awards June 2014

Silver Award - Short Film

Award of Merit - Actor



Planet Connections Theatre Festivity

Outstanding Director

Outstanding Playwright



Estrogenius Festival

Audience Favorite
Professional Groups

SAG-AFTRA
NYWIFT Committees

Actors Alliance, Career Focus, Development, Fund for Women Filmmakers, New Works Lab, Writers Group
Content Types

Narrative Features, Episodic Comedy/Sitcom, Episodic Drama
Occupations

Actor, Director, Writer
Business Types

Production Company
Crew Up Survey

Willing To Travel: Yes
Has Own Equipment: No
Has Insurance: No
Other Languages: No

You are not logged in and thus only viewing a small portion of this profile. Members can log in to view the entire profile.