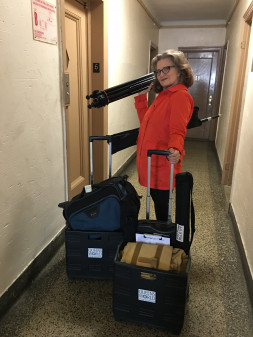 Katha Cato
Executive Director
Queens World Film Festival
---
Over 40 years of bringing people together through theatre, activism, education and film.
---
Full Bio
Katha earned a BA from California Polytechnic University in Pomona, an MFA from the University of Oregon and is a graduate of the Columbia University Graduate School of Business Executive Education Program. In the 80 s, she moved to New York with her theatre company Forplay Improvised Theatre and pioneered the Improvisational Herald format (the long form) into the NY Improv Comedy scene. Katha won a MAC Award (Manhattan Association of Cabarets) for Best Comedy, and two Backstage Magazine Bistro Awards for Best Director and Best Comedy and the NY Post s Bill Ervolino named her one of the year s Most Exciting Improvisers. For many years Katha served as the Director of After-School and Camp Services at the historic Henry Street Settlement. During her tenure she was recognized by NY State Education for exemplary After-School Programming and she received the 2015 PASEsetter Award for her years of leadership in the field. Katha has spent over thirty years developing youth and bringing people together via theatre
---
Professional Credits

Executive Director of QWFF for 10 years, short film producer in educational settinngs for 20 years.
Industry Awards

2015 PASEsetter Award, 1 MAC award, 2 BACKSTAGE BISTRO AWARDS
Professional Groups

SAG-AFTRA
Other Professional Groups

Film Festival Alliance
Content Types

Children's Media, Media/Art Installation
Occupations

Curator, Educator, Programming
Business Types

Nonprofit
You are not logged in and thus only viewing a small portion of this profile. Members can log in to view the entire profile.