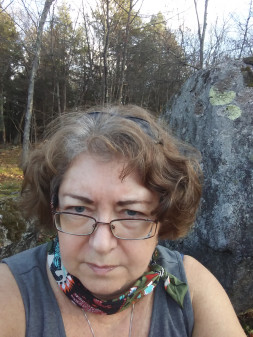 Phone

Home: 315 518-6685
Office: 315 528-6685

Address

PO Box 43,
Morristown, NY, 13664, United States of America

Email
Kathleen M Connor
writer
Woven Words Writing
---
Emerging screenwriter, with interest in television series and short features.
---
Full Bio
American by birth, Canadian by choice (dual citizen) I reside in the beautiful Thousand Islands area of Northern New York. Background as archaeologist (field crew and main investigator), anthropologist (of everything), educator K-12 and postsecondary posts.
---
Professional Credits

Alberta Playwrights Network Discovery Category Award for One Act Play The Woman Who Turned into a Bear.

SUNY Oswego Short Story Contest First Place Award for Love in this Digital Age (English Department).

SUNY Potsdam Non-fiction story Canada Dry in Cairoand poetry publication, various poems (English Department)

Doctoral dissertation on cinematic effects of children's nature author Thornton W. Burgess, The University of Ottawa, Canada
Industry Awards

Honorable Mention for Short Feature Screenplay at Snowtown Film Festival 2021, Watertown, NY
NYWIFT Committees

Writers Group
Content Types

Episodic Comedy/Sitcom, Episodic Drama
Occupations

Educator, Nonprofit Administrator, Researcher
Countries Worked In

Canada
Foreign Languages Spoken

Spanish
You are not logged in and thus only viewing a small portion of this profile. Members can log in to view the entire profile.