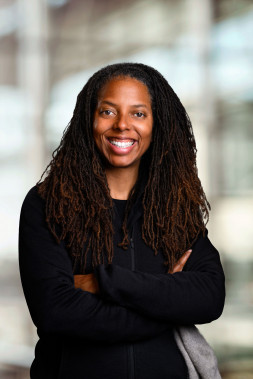 Rehema Imani Trimiew
24 frame video playback technician, VTR, VTR Assistant, Video Utility, video assist
Agile Images
---
Full Bio
Rehema Imani Trimiew, 40, graduated from Bryn Mawr College in 2000 with a BA in Psychology. She began working as a freelance web designer but after some years began her MFA at Rochester Institute of Technology to pursue filmmaking. After winning numerous awards with her short Sticks Stones , a narrative on racial discrimination in the public education system, Rehema directed a documentary on teenage girls in her documentary classes. After filming and shooting her thesis Learning to Fly in Zambia, she graduated from RIT with her MFA, and began working in NYC. She currently works as a videographer and photographer for MTA Capital Construction but continues to freelance. As a camera operator, she recently completed a 2 year oral history documentary with the Montclair Historical Society. Rehema strives to make films that will raise cultural awareness.
---
Professional Credits

Camera Operator, Co-Editor, Sound: A Place to Become : Montclair Historical Society: 2014

Director, Camera Operator, Producer, Editor, Sound: Learning to Fly : 2010

Director, Camera Operator, Editor, Sound: Why Don't They Vote : Current TV 2008

Writer, Director, Producer, Co-Editor : Sticks and Stones : 2006

Director, Camera Operator, Co-Producer, Editor, Sound: Identity Through Art- 6 Rochester Asian American Artists : APA-Hip 2005

Office PA: Paper Man : 2009

Key Production Assistant: No The Rape Documentary : 2006
Industry Awards

For my photography I won the 2014 Image of the Year cover of ENR magazine:

https://www.flickr.com/photos/rehema/galleries/72157648403723857/



For my student film Sticks and Stones I won:

Martha s Vineyard African American Film Festival 06 Audience Choice: Best Short

Calgary Fringe Fest 06 Best International Student Short

Urban Mediamakers Film Festival 06 Best Student Short

Poppy Jasper Film Festival 06 Best Social Commentary

Eureka Springs Digital Film Festival 06 Best Social Commentary

High Falls Film Festival Women of SOFA 06 Audience Choice, Best Short

Reel Sisters of the Diaspora 07 Best Narrative Short
Professional Groups

IA Local 52
NYWIFT Committees

Archive, Career Focus, Communications, Fund for Women Filmmakers, Special Events
Content Types

Commercial Production, Documentary, Narrative Features
Occupations

Camera Assistant, Editor: Film/Video, Video Engineer
Business Types

Digital, Internet
Countries Worked In

Zambia
Other Countries Worked In

Ghana, Zambia
Foreign Languages Spoken

Spanish
Crew Up Survey

Willing To Travel: Yes
Has Own Equipment: Yes
Has Insurance: No
Other Languages: Yes

You are not logged in and thus only viewing a small portion of this profile. Members can log in to view the entire profile.