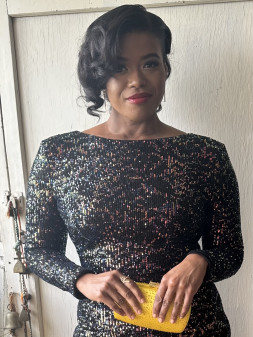 Phone

Office: 347 217-7460

Web Links
June Marie Davis
(She/Her)
Owner
June Marie Productions
---
June Marie Davis is a talented creative, Brooklyn College and the creator of The GO TO web series.
---
Full Bio
June Marie Davis is a highly talented creative, born and raised in Brooklyn, NY. She graduated from Brooklyn College with a BA in Film Studies and has been making waves in the film industry ever since. She is the creator of the highly popular web series, The GO TO, which has gained a huge following.
Davis is also the producer of the multi-festival winning independent feature film, Before They Vanish. This film has been highly praised for its unique and thought-provoking story, as well as its exceptional direction and production value. Davis's current projects include the second season of The GO TO, a highly anticipated follow-up to the first season, as well as writing a stage play with hopes to produce on Broadway.
---
Professional Credits

Creator
The GO TO web series
2022-

Producer
Before They Vanish
2022

Actor
The GO TO
Jules
2022-

Actor
Trapped
Detective Cole
2023

Actor
Beauty's Keeper
Jackie
2022
Industry Awards

2023 B Hilarious Award (B Free Awards) for The GO TO - Intervention Ep. 6