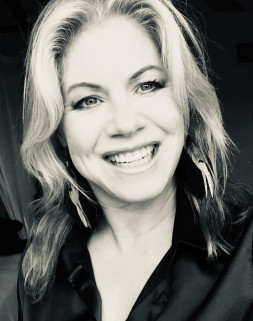 Phone

Office: 410 900-0266
Cell: 410 900-0266

Address

4829 Hillock Lane,
Hampstead, MD, 21074, United States of America

Resume
Heather Perrine Shreve
(She/Her)
President/Owner
SHREVE Interactive, Inc.
---
Heather Shreve is an award-winning screenwriter, historical advisor, content creator, and author of six books who has a passion for telling stories as well as illustrating them.
---
Full Bio
Ms. Shreve is a Marylander with a rich ancestral history in America with several strong areas of historical knowledge―the US Army Interwar years, jazz and the 1920's, and WWII/1940's―and has created three well-researched original film projects enhanced with her artwork.

Through her company, Shreve Interactive, Inc., Ms. Shreve creates and produces content including books, tv series, film and custom artwork. She is member of NYWIFT and can be found at www.heather-p-shreve.com and IMDb Pro.
---
Industry Awards

Nominee: Best Unproduced Script, ONCE A COLONEL, Beyond Hollywood Festival (2022)
Finalist: Best Pilot/The Colonel's Wife, Wiki Screenplay Awards (2020)
Nominee: Best Pilot of the Year/Bamboo Wife, L.A. Film Awards, TBD (2021)
Winner: Best Drama Screenplay/ Bamboo Wife, L.A. Film Awards (2021)
Finalist: Best Feature Film/Once A Colonel, Coverfly Launchpad Contest (2021)
Quarter-finalist: Best Feature Film/Once A Colonel, Blue Cat Screenplay Contest (2021)
Finalist: Best TV Pilot, Bamboo Wife, 4th Dimension Films, Bali (2021)
Finalist: Best 10 pages: River Man Mini-Series pilot, Wiki Screenplay Contest (2022)
Winner: Best Query Letter, Screenwriter Staffing (2022)
Quarterfinalist: TV Pilot: Bamboo Wife, New York International Screen Awards (2022)
Semi-finalist: TV pilot: Bamboo Wife, INROADS Fellowship Awards (2022)
Quarterfinalist: TV Pilot, Bamboo Wife, PITCH NOW Screenwriting Awards (2022)