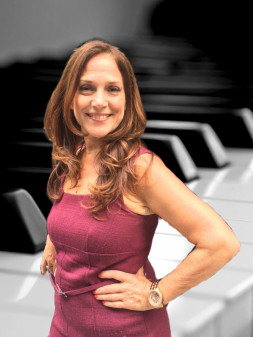 Phone

Home: 203 918-5911
Office: 212 273-3456

Address

405 E. 54th Street, Studio 1B,
New York, NY, 10022, United States of America

Web Links
Irene Diamond
Talent Development, Piano & Voice Teacher, Singer, Host
Irene Diamond Studios
---
Spanning decades of teaching private music lessons and having longevity now in the lives of particularly millennials, the rapport that I have developed with many of this impressively large group is formidable. HOPE THROUGH MY LENSES is a talk show interviewing millennials.
---
Full Bio
Energized about accessing your true sense of purpose, Irene Diamond models skilled determination with†love and†perception.† Actor, pop singer and songwriter, Irene Diamond trains aspiring artists and actors to find their own voice and song repertoire.† Founder of†Diamond Pop Music LLC, her productions include several song recordings and commissions to create a music videos.† She has four adult children of her own, Millennials who are all actively pursuing their creative goals and collaborations.†



Mentored by a piano professor from the†School Sisters of Saint Francis of Assisi†at Alverno College, a competence-based college for professional women in Milwaukee Wisconsin, spirituality and respect for all humankind and creation are embedded in her work ethic.† Irene Diamond has taught individuals and groups her early career beginning in Brooklyn Heights and Cobble Hill, New York while concurrently teaching at the†Saint Ann s School†and the†Park Slope Conservatory of Music.† As Founder of the†Ridgefield Conserv
---
Professional Credits

He Gets Me, Diamond Pop Music LLC

9-11 Remembrance, Host, Diamond Pop Music LLC

The Feast of Jovi Bono Supporting/Zara Manhattan Rep Theatre
Other Professional Groups

Steinway Educational Partner
NYWIFT Committees

Archive, International, New Works Lab
You are not logged in and thus only viewing a small portion of this profile. Members can log in to view the entire profile.