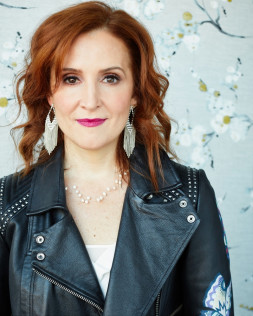 Phone

Home: 646 526-5251
Office: 646 526-5651

Email

Web Links

IMDB Link
Tricia Brouk
Owner
The Big Talk
---
Full Bio
Tricia recently wrote, directed and choreographed 50 Shades of F D Up, A Musical Parody, for the stage and has now adapted it for the screen. She has produced several documentary shorts including Right Livelihood a Journey To Here about the Chaplain on Riker's Island who teaches meditation to the correction officers. Tricia choreographed Black Box for ABC, starring Kelly Reilly, directed by Simon Curtis. Her work has been recently seen at Joe s Pub, BC Beat and Stage 72 in New York City. She wrote, directed and choreographed Committed, which is being adapted for the screen currently. Tricia also choreographed John Turturro s feature film Romance and Cigarettes where she received a Golden Thumb award from Roger Ebert for her choreography in the film. She also wrote, directed, choreographed and dances in Rolling in The Ring of Fire, a short film. Her choreography can also be seen in Dennis Leary s Rescue Me starring Steve Pascuale and in Lasse Hallstrom s The Hoax, starring Richard Gere. Her choreography is al
---
Professional Credits

Producer/Director The Big Talk Over Dinner Currently

Producer/Director This Dinner is Full

Producer/Director Right Livelihood A Journey to Here

Producer/Director The Culture of Leadership

Choreographer on Black Box ABC April 2014

Choreographer on Rescue Me FX September 2010

Choreographer on The Hoax October 2009

Choreographer on Romance and Cigarettes 2007
Industry Awards

Golden Thumb from Roger Ebert for Romance and Cigarettes. Top Director of 2019 by the Association of International Top Professionals.
Professional Groups

SAG-AFTRA, SSDC
NYWIFT Committees

Career Focus, Development, Fund for Women Filmmakers
Content Types

Music Video
Occupations

Choreographer, Director, Writer
Countries Worked In

Portugal
You are not logged in and thus only viewing a small portion of this profile. Members can log in to view the entire profile.