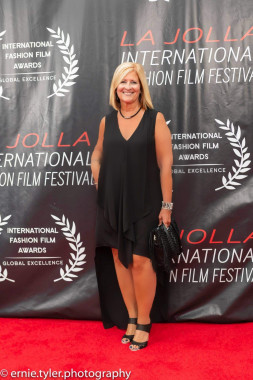 Address

100 Wilson Road, 48,
Springfield, NJ, 07081, United States of America
Jean Criss
(She/Her)
Founder & CEO
Jean Criss Media, LLC
---
Jean Criss, NYWIFT Communications Contributing Writer, Author, Digital Media and Festival Producer, Fashion Designer. At NYWIFT, Jean thrives on bringing conversation to communities with LIVE coverage via blogs posts, articles, social media, podcasts and at signature events.
---
Full Bio
At Jean Criss Media, as Founder of a creative media services business, I found my passion with writing and content creation. I have accomplished a lot throughout my career from the corporate workplace, on the agency side, and now as a leading entrepreneur. I have crossed many industries and networked at the highest levels finding my niche and passion which lies in media, innovation and fashion design.
I welcome new business opportunities and encourage you to take a peek at my prior work and client success stories. I am seeking contract and full-time work in media while my fashion business obtains funding to elevate to the next level.

Free consult with first call. So let's chat!
---
Professional Credits

About Jean: https://www.nywift.org/members/view/n7dwx
https://www.nywift.org/?s=jean+criss
https://linktr.ee/jeancriss

Published Articles: https://www.nywift.org/author/jeancriss2/

LinkedIN: www.linkedin.com/in/jean-criss

NYWIFT Bio: https://www.nywift.org/membersfirst_namejean&last_namecriss

Women Crush Wednesdays Podcast featuring @Jean_Criss NYWIFT Member Spotlight https://t.co/5BLLfBxW6o (twitter post)
https://cutt.ly/ljHrsF4 (podcast post)


Jan 20, 2021



What_x0019_s in Your Toolkit: Lisa Reznik (May 2020)



What_x0019_s in Your Toolkit: Jean Criss by January Green (Apr 2020)



NYWIFT Member in the News - Golden Globes Pre-Red Carpet Luxe Event (Jan 8, 2020)



Costume, Couture, Conversing with with Emmy Award-Winning Costume Designer, Donna Zakowska, The Marvelous Mrs. Maisel, FIT SUNY, NYC (Dec 10, 2019)



Made in NY: Comedy Makers Brings Laughs and Insight to Carolines (Nov 17, 2016)
Industry Awards

Awards and testimonials found here www.linkedin.com/in/jean-criss
https://jeancrissmedia.com/press
https://crisscrossintimates.com/press
Professional Groups

Casting Society of America, SAG-AFTRA, WGAE
Other Professional Groups

Find some here jeancrissmedia.com/affiliations and many others on LinkedIN
NYWIFT Committees

Communications, Membership, Programming, Special Events, Writers Group, Advocacy
Content Types

Commercial Production, Media/Art Installation, Web series
Occupations

Ad Agency
Business Types

Advertising, Marketing Agency, Post-Production
Other Countries Worked In

none
Other Languages Spoken

need brush up on French
Writer's Group works

My Pain Woke Me Up - Trilogy Series

Book (Action, Comedy, Non-Fiction, Drama, Autobiography, Family)

Log Line:
https://jeancrissmedia.com/author-trilogyseries

Synopsis:
"My Pain Woke Me Up - BLISS, Legal Injustice and LIVE Your Dreams" - three candid stories about Jean's life through widowhood, divorce, breast cancer, and the pursuit of happiness to becoming an entrepreneur. As a single mother of 2 most her life, Jean was laid off from corporate workplace, became an entrepreneur while recovering from breast cancer and battling a contentious divorce - the hardship days. She sought out to start a small business and started a creative media services agency, expanded her franchise into innovation with fashion, digital media, writing, blogging, and more. Today, she is a contributing writer and columnist in fashion and media and loves to travel and design. She is a producer of all forms of media as well.
You are not logged in and thus only viewing a small portion of this profile. Members can log in to view the entire profile.