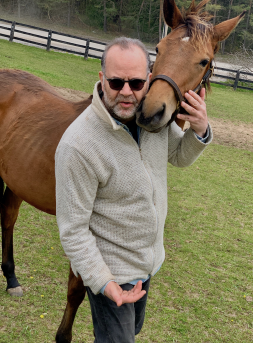 Phone

Home: 917-209-42425
Office: 917 209-4242
Cell: 212 505-5268

Address

277 Ave. C,
NY, NY, 10009, United States of America

Email

Web Links
Matt A. Handal
Editor, Producer, Writer
handaLm with Care Productions
---
Matthew Handal is a writer, producer, director and editor of motion pictures.
---
Full Bio
A native New Yorker, originally from Bklyn, Matthew has worked in the film/tv industry for over 30 years, starting as an assistant to director Jim Jarmusch before transitioning to post-production. He worked as an Assistant on the films Scent of a Woman and The Mambo Kings, among others. As an Editor, he_x0019_s worked in Feature Film, Documentary and News including work with the director Milos Forman and Steven Speilberg. A recent project he edited is a feature called GRIZZLY II: Preditor starring a young George Clooney.



In addition, Matthew has developed. _x001C_Nowhere Man_x001D_ a screenplay he wrote was optioned in 2000. He_x0019_s produced a documentary on children in a therapeutic horse program called _x001C_Riding with thisABILITIES._x001D_ Recently he finished a screenplay set in New York city during the sixties called _x001C_Nothing Will Ever Be the Same,_x001D_ an urban _x001C_Stand By Me,_x001D_ and he_x0019_s developing a documentary on the Palestinian diaspora called AmericanPAL: Conversations
---
Industry Awards

Best Documentary
Other Professional Groups

IFP, IDA, NYWIFT, MPE, NABET, IATSE
Occupations

Editor: Film/Video
You are not logged in and thus only viewing a small portion of this profile. Members can log in to view the entire profile.