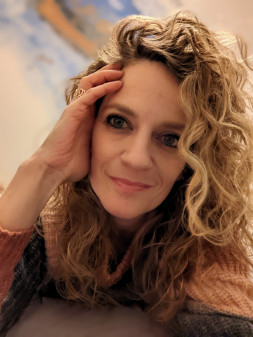 Phone

Office: 212 242-0015

Email

Web Links
Robin Epstein
(She/Her)
Area Head of Episodic Television, Department of Dramatic Writing
NYU
---
Robin Epstein is a screenwriter and novelist who began her career as a stand-up comic. Currently the Area Head for Episodic Television in the Department of Dramatic Writing at NYU, Robin is excited to be directing her own film projects in the summer of 2022.
---
Full Bio
Robin Epstein is a screenwriter and novelist who began her career as a stand-up comic. In addition to her work as a television and video game writer, "God Is In the Pancakes" (Dial), Epstein's award-winning YA novel, is currently being adapted for the screen. She also wrote H.E.A.R. (Soho Teen), and the 8 book "Groovy Girls" series for Scholastic, co-authored several of the best-selling "Worst Case Scenario Survival Handbooks" for Chronicle, the nonfiction legal guidebook, "So Sue Me, Jackass!: Avoiding the Legal Pitfalls That Can Come Back to Bite You at Work, at Home, and at Play" (Plume) and the novel, "Shaking Her Assets" (Berkley). A contributor to "This American Life" on NPR, Epstein has freelanced for the "New York Times," "Quartz," "Medium," and other publications.
---
Professional Credits

WHAT ABOUT JOAN, ABC, Story Editor/Staff Writer;
CLUED IN, Oxygen Network, Head Writer;
LATELINE, NBC
SOULMAN, ABC
VIDEO GAMES - Lead Writer on the following titles:
"Tycoon City: New York," "Snoops," "Barbie Diaries High School Mystery," and the gamification of the Fox TV show, "The O.C."
Professional Groups

WGAE
Other Professional Groups

CFU-UAW
NYWIFT Committees

New Works Lab, Writers Group
Content Types

Children's Media, Narrative Features, Episodic Comedy/Sitcom
Occupations

Director, Writer
Business Types

Publishing
Countries Worked In

United States
Other Countries Worked In

None
Foreign Languages Spoken

French
Other Languages Spoken

None
You are not logged in and thus only viewing a small portion of this profile. Members can log in to view the entire profile.