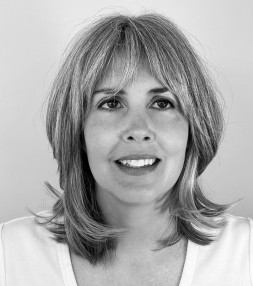 Phone

Office: 917 836-3517

Email

Web Links

IMDB Link
Kathryn O'Kane
(She/Her)
Director Producer
Busy K Productions, Inc
---
Kathryn O'Kane is an award-winning director and producer with over 20 years of experience in television and advertising. She is proud to have served 2 terms on the NYWIFT Board of Directors.
---
Full Bio
Kathryn O'Kane is a director and producer with over 20 years of experience in television and advertising. Recently, she directed season 2 of the Emmy-nominated series "The World According to Jeff Goldblum" for Disney+.

O'Kane was the showrunner of the James Beard award-winning Netflix series "Salt, Fat, Acid, Heat," and she produced "Iconoclasts" for Sundance and "Oprah Presents Masterclass" for OWN, both of which won NAACP Imagine awards. O'Kane has crafted narratives as diverse as "Mission Juno," documenting NASA's probe to Jupiter, segments of AMC's "Talking Dead," and commercial assignments for Apple, United Airlines, and SAP.

Having started her career supporting democratic initiatives in Latin America, O'Kane learned the power of messaging while organizing election observations in the Dominican Republic with former President Jimmy Carter. She seeks to celebrate different cultures through art and storytelling.

O'Kane is proud to have serve two terms on the Board of Directors of New York Wome
---
Professional Credits

HIGHLIGHTS INCLUDE:

SHOWRUNNER:
Salt, Fat, Acid, Heat (Jigsaw Productions, Netflix 2018) . Based on the book of the same name, this James Beard award-winning four-part series followed author and chef Samin Nosrat around the world as she highlighted the four elements of good cooking. Filmed on location in Italy, Japan & Mexico.

Iconoclasts (Radical Media, Sundance Channel, 2008) Each episode of season 4 brought together two visionaries to discuss their lives and influences featuring high-level celebrity talent including: Cameron Diaz, Venus Williams, Tony Hawk, Bill Maher, Jon Favreau, Desmond Tutu, Richard Branson, Stella McCartney, Ed Ruscha & Wyclef Jean.

DIRECTOR (Long Form):
The World According to Jeff Goldblum (Nutopia, Disney+, 2021) Season 2 of the Emmy-nominated documentary series explores the fascinating truths behind familiar topics. Hosted and executive produced by Jeff Goldblum. Filmed on-location around the United States.

Death Row Stories (Jigsaw Productions, Seasons 4 & 5, 2019
Industry Awards

AWARDS:
2022 Nominated: Emmy, Hosted Nonfiction Series: "The World According to Jeff Goldblum," Nat Geo, Disney+

2019 Winner: James Beard Media Award for Best Television Program on Location: "Salt Fat Acid Heat," Netflix

2017 Nominated: Emmy, Outstanding Serialized Sports Documentary: "Friday Night Tykes Steel Country," Esquire Network

2012 Winner: 43rd NAACP Image Award, Outstanding Variety Series or Special: "Oprah Presents: Master Class," OWN

2009 Nominated: IDA International Documentary Association: Season 4 "Iconoclasts," The Sundance Channel

2008 Nominated: 40th NAACP award, TV talk show: "Iconoclasts: Venus Williams and Wyclef Jean," The Sundance Channel

2006 Clio Gold Award for Content: "Ford Bold Moves," JWT Ford Motor Company, web-based documentary
Professional Groups

DGA
Other Professional Groups

Television Academy
NYWIFT Committees

Communications, Programming, Advocacy
Content Types

Commercial Production, Documentary, Web series
Occupations

Director, Producer, Showrunner
Countries Worked In

United Kingdom
Other Countries Worked In

UK, Mexico, Italy, Poland, Dominican Republic, Japan, Argentina
Foreign Languages Spoken

Spanish
You are not logged in and thus only viewing a small portion of this profile. Members can log in to view the entire profile.