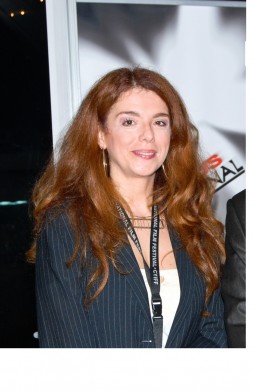 Phone

Home: 718 795-6601
Office: 697 208-0441
Cell: +30 6972080441

Address

3 Nikolopoulou street,
Agii Theodori, 20003, Greece

IMDB Link
PETRA TERZI
(She/Her)
Director, Producer, Festival Organizer, Writer
Cultural Company Cine@Art
---
Award winning Filmmaker,Producer,Writer and Festivals' Organizer in Greece and Cyprus.
Founder of WIFT Cyprus.
Her first feature film 'Kanela', her script and direction, a Greek-Spanish-French coproduction is under development.
---
Full Bio
Petra Terzi studied Business and Tourism Administration, Classical studies, Life Coaching, Writing and Film Direction in Theodoros Maragos Film Laboratory and AKMH Film School in Athens, Greece. She has a Master of Arts in Digital Video Production from Neapolis University in Cyprus.

She is co-writer of the script of the feature film '49 Years After'.

Petra's films (2016-2019) have been selected in over 60 Festivals. She received awards and been a finalist in over 15 Film Festivals.

"The Studio - To Belong to Yourself" - proof of concept for a feature film- is Petra's first student short film and has been officially selected in the 69th Cannes Film Festival Short Corner in May 2016.

Petra's second student short film, "Dirty Roses" (2017), is a documentary dealing with the power of the soul of the disabled persons and the war refugees in Greece and got several awards in international film festivals in Serbia, Spain, India, USA, Greece etc. It received an honorary mention in NYWIFT online festiva
---
Professional Credits

WIFT Cyprus
Greek Directors Guild
Directors Guild of Cyprus
WIFT Greece
Association of European Journalists
Industry Awards

"Dirty Roses" awards:
-NYWIFT Online film Festival 2018 - Honorary mention
-Barcelona Planet Film Festival (2017)- Best Documentary Award Winner
-Film festival -Seize the film- films about disability (2016) - Best Actress Award Winner
-Chalkida Greek Documentary Festival (2017) - Honorary Mention
-Emerging Lens Cultural Film Festival (2017) -Finalist
-IndustryBOOST Competition (2016) - Finalist

"The Studio - To Belong to Yourself" - distictions:
-Cannes Film Festival - Short Film Corner (2016) -IndustryBOOST Competition (2016) - Finalist
-TiSFF, THESS INTERNATIONAL SHORT FILM FESTIVAL (2017) - Semi-Finalist

"She Should Run - Cyprus" awards:
-Artisan Festival International World Peace Initiative. May 2019, Cannes : "Merit Spotlight on Women"
-World Film Fair, Los Angeles 2019: "Best Cultural Film Award"
-Balkan New Film Festival, Stockholm 2019: "Special Jury Prize"
-WRPN Women International Film Festival, USA - "Award of Merit"
-L'HIFF Barcelona Film Festival (2021) - Award "Merit on Spot
Professional Groups

Other
Other Professional Groups

WIFT Greece, WIFT Cyprus, Greek Directors Guild, Directors Guild of Cyprus
NYWIFT Committees

Actors Alliance, Career Focus, Communications, Development, Fund for Women Filmmakers, International, Membership, Moms Network, New Works Lab, Programming, Special Events, Women's Film Preservation Fund, Writers Group
Content Types

Documentary, Narrative Features, Live Events or Theatre
Occupations

Director, Festival Administrator, Producer
Business Types

Nonprofit, Post-Production, Production Company
Countries Worked In

Cyprus
Other Countries Worked In

USA, Greece, Egypt
Foreign Languages Spoken

Greek
Other Languages Spoken

English, French
You are not logged in and thus only viewing a small portion of this profile. Members can log in to view the entire profile.