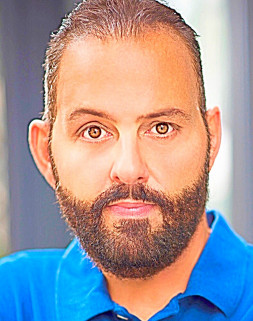 George Zouvelos
Executive producer, writer, actor and filmmaker
Fiat Lux Pictures and Film Studios, Inc. dba Fiat Lux Studios
---
Full Bio
George Zouvelos, is an award winning actor, producer and filmmaker. George is American born, a native New Yorker of Hellenic-Greek decent. In addition to his multiple accent capabilities, varying looks, and acting studies, he offers realistic and genuine performances for each role. His real-life experiences on the New York City streets, in law enforcement and public service, have proven to make him a truly idiosyncratic, and a versatile talent that maintains a unique understanding of human nature and human interaction as he successfully reflects same on the stage and screen.



George, operated undercover for nearly a decade as part of a federal public corruption sting, whereas unbeknownst to all, he was depicted in the most unique real-life acting role of a lifetime. He portrayed a controversial (armed with unflattering stories planted in the press) bondsman and bounty hunter. In that dangerous role, George successfully led teams to search, and apprehend dangerous absconders, and other fugitives fleeing just
---
Professional Credits

https://www.imdb.com/name/nm7990437/
Industry Awards

Best Short Film 'Definitely Soy' Rome Film Festival, Best Actor 'Definitely Soy' Calcutta Bollywood, Best Director 'Definitely Soy' Los Angeles Marina Del Rey Film Festival, Best Screenplay 'Definitely Soy' London Film Festival. Among numerous other selections and placements.
NYWIFT Committees

Actors Alliance, Fund for Women Filmmakers, Writers Group
Content Types

Narrative Features, Episodic Comedy/Sitcom, Episodic Drama
Occupations

Actor, Director, Executive Producer
Business Types

Production Company
Countries Worked In

Cyprus
Other Countries Worked In

United States
Foreign Languages Spoken

Greek
Other Languages Spoken

english, Greek, and all New York accents etc.
You are not logged in and thus only viewing a small portion of this profile. Members can log in to view the entire profile.