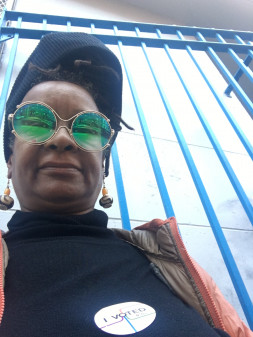 Phone

Office: 917 291-7445

Email

IMDB Link
Veronique N. Doumbe
(She/Her)
Editor-Director-Line Producer
Ndolo Films,llc
---
Editor, director and producer who works in fiction and documentaryand enjoys collaborating with filmmakers from across the globe.
---
Full Bio
Born in France, Véronique N. Doumbé was raised in Cameroon, France and Ivory
Coast. She wears multiple hats as editor, director and producer. She works in fiction
and documentary. She enjoys collaborating with filmmakers from across the globe.
She is a co-founder of the Paris based Collectif des Cinéastes Non Alignées (CCNA), a
member of the Barcelona Documentary Club (BncDoclub), the Documentary
Association of Europe (DAE). She serves on the Steering Committee of The Anti-
Racism TaskForce for European Film (ARTEF). She also a member of Film Fatales,
The D-word, Brown Girls Doc Mafia (BGDM), and the Black Documentary Collective
(BDC).
Véronique N. Doumbé served on the Board of Directors of New York Women in Film
and Television (NYWIFT-Membership, 2009-2012).
Movies she recently worked on
As an Editor:
- The Inner Wound Real directed by Carrie Hawks (documentary – US 2022)
- Maya and her lover directed by Nicole Sylvester (feature-US-2021)
- There All Along-Women of Trinidad and Tobago directed
---
Professional Credits

Woman to Woman co-directed by Veronique N. Doumbe and Malika Franklin, (Doc 2013) Imbabazi by Joel Karekezi, Feature 2013. The Falling Guy by Johnny Pik, Short 2011. Hostage by Marquis Smalls, Short 2010. Una calle Sin Salida by Robert Fernandez-Ferreira, Short. Won Best Adapted short story Hamptons Black International Film Festival 2010. The Birthday Party by Veronique N. Doumbe, Short. Won Best Film/Video depicting the Black Experience at Berlin Black International Cinema Festival 2010. She's a Blur by Gandja Monteiro, Short 2009. Midnight Passion by Peter Spanos, Short 2009. Wonder/Love by Peggy Chane Short 2009. Papichulo by Marquis Smalls, Short 2008. Siri Oko Fo Heather Murphy, Short 2008. Love's in the Air by Veronique N. Doumbe, TV Show 2007. Call Me On It by Shari Carpenter, Short 2007. Luggage by Veronique N. Doumbe, Short. Won Deffie Award Best HD Short (Runner Up) HD Fest 2007. The Eyes of Van Gogh by Alexander Barnett, Feature. Won Bronze Award / Best Period Film WorldFest Houston 2005
Industry Awards

Imbabazi:The Pardon (2013) won best director at International Images Film Festival of Women IIFF2014 in Harare Zimbabwe and Grand Jury Prize at the African Film Festival in Luxor -Egypt (AFF2014) The Birthday Party (7 minutes)

Dikalo Award for best short fiction at the Pan African Film Festival 2009-Cannes (France)

Merit Award at the 2009 Accolade Competition

Best Micro Mini Award at the Reel Sisters in the Diaspora Film Festiva 2009

Luggage (5 minutes)

Runner Up/Deffie Award for Best Short at HDFest 2007

Forever (short directed by Anabela Zigova)

Best Editing Award/Chicks with Flicks 2004 (New York City)

Denis A Charles: An Interrupted Conversation: (75 minutes)

Best video documentary Production/ XVII Black international Cinema (Berlin, Germany) - 2002

2002 Audience award-Best Feature/Detroit Docs (Detroit, Michigan)

Ciny Award 2002-Outstanding documentary/ CinewomenNY (New York City)
Content Types

Documentary, Narrative Features, Music Video
Occupations

Director, Editor: Film/Video, Producer
Business Types

Post-Production, Production Company, Production Facility
Countries Worked In

India
Other Countries Worked In

Martinique (French West Indies) , Spain, Jamaica
Foreign Languages Spoken

French
Other Languages Spoken

Spanish - basic
Crew Up Survey

Willing To Travel: Yes
Has Own Equipment: Yes
Other Languages: Yes

You are not logged in and thus only viewing a small portion of this profile. Members can log in to view the entire profile.