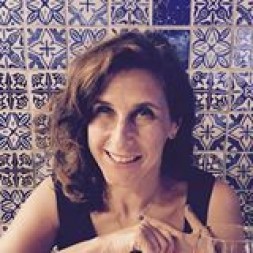 Phone

Home: 917 586-6744
Office: 917 513-9009

Email

Web Links

IMDB Link
Brooke Berman
(She/Her)
Filmmaker & Playwright
---
Full Bio
Brooke Berman wrote and directed the short film, UGGS FOR GAZA which premiered at the Aspen International ShortsFest where it won Audience Special Recognition award. UGGS also screened at Toronto Shorts Fest and Santa Fe Film Festival. ALL SAINTS DAY, a short film Brooke wrote, directed by Will Frears, won Best Narrative Short at the Savannah Film Festival and played at the Tribeca Film Festival. She adapted her play SMASHING for Natalie Portman and has written features for The Mark Gordon Company, Vox Films, Red Crown, and Fugitive Films. She is currently in pre-production for her directorial debut feature POLLY FREED. PF was chosen to be part of New York Stage and Film_x0019_s Screenwriters Lab in 2018 where it was mentored by Kyra Sedgewick, Zach Helm and Billy Goldbert. PF was also selected as part the MOME (Mayor_x0019_s Office of NYC) inaugural finance lab for female filmmakers and NYWIFT From Script to Preproduction lab. PF has made it to _x001C_second round_x001D_ for Sundance Screenwriting Labs two
---
Professional Credits

Brooke Berman is a playwright, filmmaker and memoirist. She has written films for Natalie Portman, The Mark Gordon Company, Vox Films, Fugitive Films and Red Crown. Brooke adapted and directed the short UGGS FOR GAZA which premiered at the Aspen International ShortsFest where it won Audience Special Recognition award. ALL SAINTS DAY, a short film Brooke wrote, directed by Will Frears, won Best Narrative Short at the Savannah Film Festival and played at the Tribeca Film Festival. Brooke's feature POLLY FREED was chosen to be part of New York Stage and Film's Screenwriters Lab where it was mentored by Kyra Sedgewick, Zach Helm and Billy Goldberg and selected as part the MOME (Mayor's Office of NYC) inaugural finance lab for female filmmakers and NYWIFT From Script to Preproduction lab. PF has made it to "second round" for Sundance Screenwriting Labs two years in a row and won Best Screenplay at the Toronto Independent Film Festival in 2020. Brooke is currently developing RAMONA AT MIDLIFE, her directorial deb
Industry Awards

Helen Merrill Award, Berilla Kerr Award, Le Compte Du Nuoy Award -- all for playwriting. Best Narrative Short: Savannah Film Festival, Audience Special Recognition, Aspen International Shorts Festival.
Professional Groups

WGAE
Other Professional Groups

PEN, Dramatists Guild, WGAE
NYWIFT Committees

Career Focus, Development, Fund for Women Filmmakers, New Works Lab
Content Types

Narrative Features, Episodic Comedy/Sitcom, Episodic Drama
Occupations

Educator, Writer
Countries Worked In

Australia
You are not logged in and thus only viewing a small portion of this profile. Members can log in to view the entire profile.