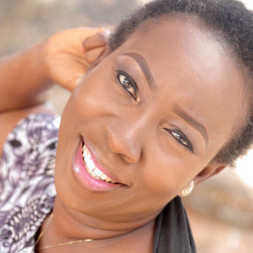 Phone

Office: 201 658-0489

Email

Web Links
Patience 'Ovo Okhuofu
Director / Producer / Cinematographer
Patovo LLC
---
Full Bio
Patience Ovo Okhuofu is a Nigerian American. She studied Theatre Arts with an emphasis on Directing at the University of Benin, Nigeria and transferred to Montclair State University in New Jersey, where she graduated with a BFA in Theatre Arts with a concentration in Production Design. Upon graduation, she enlisted in the U.S. Army and was honorably discharged from the Army after eight years of service. Patience went back to school to study Fashion Design at the Arts Institute of New York as well as Filmmaking and Cinematography at the New York Film Academy. Patience has several short films under her belt and she is the Founder / CEO of Patovo LLC. Patience is married to Daniel Okhuofu and they are blessed with two adorable children, Emike and Oshioke.
---
Professional Credits

Cinematographer, 49 Years After - The Gifted
NYWIFT Committees

Communications, Fund for Women Filmmakers, International, Membership, Moms Network, New Works Lab, Programming, Special Events, Women's Film Preservation Fund
Content Types

Narrative Features, Episodic Drama
Occupations

Director, Director of Photography, Producer
Business Types

Graphic Design, Production Company
Countries Worked In

Nigeria
Other Countries Worked In

USA
Other Languages Spoken

Urhobo, Edo, English
Crew Up Survey

Willing To Travel: Yes
Has Own Equipment: No
Has Insurance: Yes
Other Languages: Yes

You are not logged in and thus only viewing a small portion of this profile. Members can log in to view the entire profile.