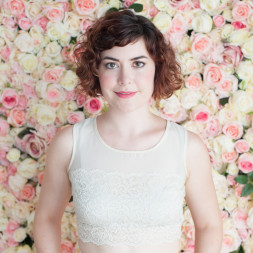 Phone

Office: 608 213-3839

Email

IMDB Link
Cait Cortelyou
(She/Her)
Actor, Producer
http://www.caitcortelyou.com
---
Actor/Producer with a passion for period pieces and smart comedy. Star of award-winning feature film ASK FOR JANE. Currently in development on a workplace comedy among other projects.
---
Full Bio
I'm an Actor/Producer newly based in Atlanta after a long stint in NYC. I started acting at the age of 8 when I joined a Shakespeare troupe that was run by a pair of psychologists in my hometown of Madison, Wisconsin. I kept acting through high school, and moved to NYC to pursue my career and study acting at Columbia University, where I trained with Juilliard professors and earned my BA in Theatre with a Minor in Dance in three years.

My acting type is the sunshiny flirt who always understands the assignment. Think of me as a brunette Reese Witherspoon, or a Type-A cross between Amelie and Fleabag.

I have modern sensibilities combined with vintage looks, so as you can imagine I've done a lot of period pieces, including the upcoming season of THE MARVELOUS MRS MAISEL set in the early 1960s, Steven Soderbergh's THE KNICK set in 1900, the Off-Broadway hit SLEEP NO MORE set in 1939, the 1940s pilot O.S.S. directed by Jonathan Frakes of STAR TREK fame, and an indie feature called ASK FOR JANE.
---
Professional Credits

Acting credits include feature film ASK FOR JANE, THE MARVELOUS MRS. MAISEL, BULL, Steven Soderbergh's THE KNICK, feature film RIPPED, and more.
Industry Awards

ASK FOR JANE (creator/producer/star): Nominated for Best Actress, Napa Valley Film Festival; Winner Best Feature Film, Big Apple Film Festival; Winner Narrative Feature Gold Prize, Social Justice Film Festival; Winner Audience Favorite, Omaha Film Festival; Official Selection Hamptons Film Festival, China Women's Film Festival, Woodstock Film Festival, LA Femme Int'l Film Festival, Napa Valley Film Festival, St. Louis Film Festival, Lone Star Film Festival, and many more.

A LADIES' GUIDE TO MAKING CONVERSATION MORE INTERESTING (writer/producer/star): Grand Prize Winner TAC Film Festival
Professional Groups

SAG-AFTRA
Other Professional Groups

AEA
NYWIFT Committees

Actors Alliance, Communications, New Works Lab
Content Types

Narrative Features, Episodic Comedy/Sitcom, Episodic Drama
Occupations

Actor
Countries Worked In

England
Other Countries Worked In

China
Foreign Languages Spoken

Spanish
You are not logged in and thus only viewing a small portion of this profile. Members can log in to view the entire profile.