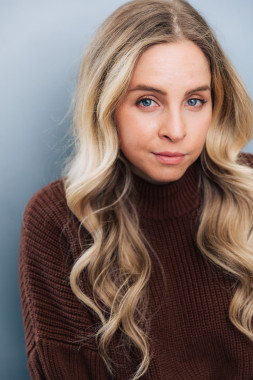 Phone

Office: 516 260-2218

Email

Web Links

IMDB Link
Samantha Bowen
---
Full Bio
I graduated from Adelphi University with a Bachelors in Fine Arts, Worked with a manager for two years getting student films and a few small roles, then went on a year hiatus working full time in marketing until last year. I am currently working with a new manager and with a production company. I love working on both sides of camera and will continue to do so. I belong to a theater company, Theatre 68 where we perform two / three shows a year, we just closed our One Act Festival in which the company gets to write, direct and act in. I wrote and acted in two separate ones. Prior to the one act festival we did String of Pearls, in which I played Dora a woman who's story took place right after WW2 and how her family was killed by a French Nazi. I recently filmed a pilot to be pitched to networks called Sisters, which a cross between the Heathers and American Psycho. When I am on the other side of the camera I am usually working in production, whether it be office production, 1st Team PA, or Wardrobe and HMU. Cur
---
Professional Credits

Jane Doe: Mysteries at the Museum, Love Connections Contestant, String of Pearls Produced by Theatre 68, One Act Festival: Private Moments Produced by Theatre 68, Production Associate with Shake The Tree Productions, Production Assistant on Faraway Eyes (Independent Film in Post Production). Producer of Theatre 68 NY Productions.
NYWIFT Committees

Development, New Works Lab, Special Events
Content Types

Episodic Comedy/Sitcom, Reality/Unscripted, Web series
Occupations

Actor, Make Up Artist, Production Coordinator
Business Types

Advertising, Graphic Design, Production Company
Foreign Languages Spoken

Russian
Writer's Group works

The Bad Millennials

Screenplay (Comedy, Web series)

Log Line:
For the one's who can't quite get a grasp on what being a millennial really is.

Synopsis:
Three young women "the bad millennial's" trying to go through their life, personal and professional, in the only way they know how, the old fashioned way. Learning the in's and out's of what it is like being a millennial.

Not Sure-ogate

Screenplay, Stage play (Comedy, Family)

Log Line:
A family who aren't sure about their surrogate.

Synopsis:
A couple is looking for a surrogate, they go to an agency and find a agent who is more than excited to help them find their surrogate.
You are not logged in and thus only viewing a small portion of this profile. Members can log in to view the entire profile.