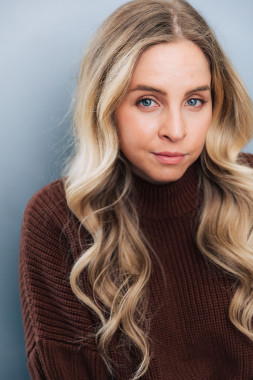 Phone

Office: 516 260-2218
Cell: 516 260-2218

IMDB Link
Samantha Bowen
(She/Her)
Owner
Unheard of Productions, LLC
---
Actor, Producer, Writer, Dancer and an avid book reader.
---
Full Bio
I graduated from Adelphi University with a Bachelors in Fine Arts, and an MBA. I am currently working with Shake The Tree Productions as an Associate Producer. I love working on both sides of camera and will continue to do so. I recently created my own production company, Unheard of Productions which aims to give a voice to the voiceless. When I am not behind the scenes, I am acting in NYC, whether that be on stage with Theatre 68, or in a pilot called "Sisters", or along side Jason Mewes for a pilot or directed by Richard Kline for a pandemic episode of a series Called Mooch.
---
Professional Credits

TV/FILM/PRODUCTION: A Brooklyn Christmas, The Undesirables, Sisters, Selfish Son, Here After, An Angry Boy, Mooch, Fairport, Next Move.
Industry Awards

Best Web Series/TV Pilot "Sisters": Toronto Indie Shorts, Toronto Film and Script Awards, and Berlin Movie Award
Writer's Group works

The Bad Millennials

Screenplay (Comedy, Web series)

Log Line:
For the one's who can't quite get a grasp on what being a millennial really is.

Synopsis:
Three young women "the bad millennial's" trying to go through their life, personal and professional, in the only way they know how, the old fashioned way. Learning the in's and out's of what it is like being a millennial.

Not Sure-ogate

Screenplay, Stage play (Comedy, Family)

Log Line:
A family who aren't sure about their surrogate.

Synopsis:
A couple is looking for a surrogate, they go to an agency and find a agent who is more than excited to help them find their surrogate.