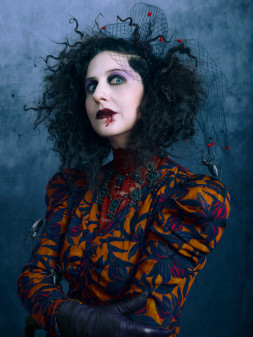 Katherine Allen
(She/Her)
Director / Writer
KatFarm
---
Katherine Allen is a Brooklyn-based filmmaker and conjuror of stories that hide deep in our subconscious. Her work blends surrealism, magikal horror and dark humor to create a distinctly unique voice of which she hopes even Lydia Deetz would approve.
---
Full Bio
Katherine Allen is a writer/director/producer of surreal independent works and a senior post producer of design-driven commercials. Her experience working in the VFX / animation industry as a commercial producer has afforded her imagination to remain wild, but with the practical knowledge of knowing how to make those ideas possible.
Katherine's short films and music videos have screened at film festivals, art shows, and the stage. Her feature film script, "The Mardorom" was a 2023 semi-finalist with Stowe Story Labs / NYX Horror Collective. She is also currently working on an abecedarian series entitled "L'alphabête Noire," 26 short films exploring our shadow selves. As a recipient of the 2023 NYC Women's Fund for this project (through NYFA and MOME), she is eagerly working towards a premiere date of the first few episodes later this year.
---
Industry Awards

2023:
Recipient - NYC Women's Fund (NYFA & MOME) - L'alphabête Noire

Semi-finalist - Stowe Story Labs / NYX Horror Collective fellowship - The Mardorom

2022:
2nd / Final Round - Sundance Development Track - The Mardorom

2019-2018:
Official Selection - "HYSTERIA" - Medusa Underground Film Festival, Psychedelic Film & Music Festival, Ax Wound Film Festival, Videodrunk Film Festival, Denver Underground Film Festival

2006-2005:
Best Short - "The Enchanting Box" - Newport Horror Film Festival

Official Selection - "The Enchanting Box" - New Jersey International Film Festival, San Diego Women's Festival, Anchorage International Film Festival, Gotham Film Festival - NYC (opened for Tim Burton's "Corpse Bride")