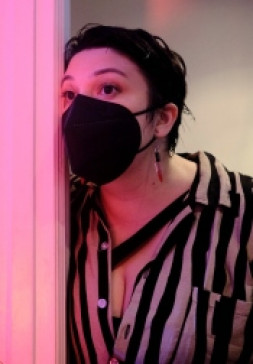 Phone

Office: 803 622-5932

Email

IMDB Link
Katherine Filaseta
(She/Her)
Assistant Director / Director
---
Non-Union Assistant Director in NYC! I also have directed music videos, and am in post-production on a documentary I directed/produced. Available as a 1st AD for indie and commercial projects. Available as an AD PA on DGA projects.
---
Full Bio
katherine filaseta is a queer female filmmaker based in NYC. While most of her work has been as an assistant director, when she is in the director's chair herself, katherine enjoys exploring the way every different type of art combines via film to tell stories - especially stories from marginalized points of view.

She is currently working with singer/songwriter Megn Buckley to direct music videos to accompany her latest Trump-era album about community struggles and women's empowerment. katherine is also in post-production on a documentary, Carol and I, about the way the loss of control brought about by dementia transformed her grandmother's relationship with both her family and herself.

In the past, katherine has directed three episodes of Black Panties, a web series celebrating the beauty and intuition of Black women in all their forms, as well as a PSA about street harassment reappropriating Gnarls Barkley's Crazy from the point of view of a woman walking down the street. Outside of film, katherine sp
---
NYWIFT Committees

International, New Works Lab, Writers Group
Content Types

Narrative Features, Episodic Comedy/Sitcom, Music Video
Occupations

Assistant Director, Director, Production Assistant
Business Types

Digital, Production Company
Countries Worked In

India
Foreign Languages Spoken

Hindi
Crew Up Survey

Willing To Travel: Yes
Has Own Equipment: Yes
Has Insurance: No
Other Languages: Yes

You are not logged in and thus only viewing a small portion of this profile. Members can log in to view the entire profile.