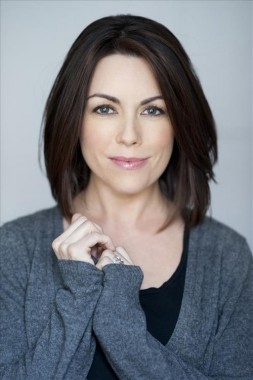 Phone

Office: 212 253-8489
Anne Richardson
Screenwriter & Actor
Little Violet Pictures
---
Full Bio
I will send this. Having trouble with the system.
---
Professional Credits

TV CREDITS:

The Blind Spot

The Black List

Person of Interest

True Blue (Pilot)

Law & Order: Trial by Jury

As The World Turns

One Life to Live

All My Children

The Guiding Light

Old Friends



FILM CREDITS:

Viral (Screen Gems)

Forget My Name

The Collective

Maltese Murder Mystery

Blindness
Industry Awards

Best Actress Nomination: Tenerife Film Festival
Writer's Group works

THRIFT LADIES

TV Movie (Comedy, Teleplay (TV script))

Log Line:
A rag tag group of fashion obsessed ladies treat their Thrift Store like it's Barneys, whilst helping their youthful clientele with champagne taste on a beer budget dress for success in cut throat Manhattan.

Synopsis:
INTRO: Fashion is to New York what movies are to Hollywood. Synonymous. And from Carrie's endless shoe closet to Serena and Blair's Barneys shopping sprees, we've seen shows highlight, celebrate, and sell all the fashion that New York has to offer. But let's be real. Could Carrie Bradshaw really afford all those Manolo's? I don't think so. And who of us can really step into Barneys and buy a $34,000 crocodile backpack by The Row? Not me. Still, I want to find a way to be in the mix. And here is where our Thrift Ladies step in. SETTING: Thrift Ladies is a show that gives us a grittier New York than we've seen in a while. It's about four incredibly different women from ages 20 to 80 who work at a Church Thrift Shop on Gramercy Park, one of the most exclusive neighborhoods in Manhattan. And it's that push and pull between the wealth and the Thrift that makes this show click. The neighborhood may reek of privilege, but inside the store, we find a refuge for all the hip young ladies with champagne taste on a beer budget, plus a few meth heads, some homeless regulars, and a slew of quirky characters we bring in and out of episodes. The possibilities for story lines are endless. TONE: Think of the tone of our show as a mix of the New York + fashion of "The Devil Wears Prada" and the racial and social inequality of "All in the Family." We cover everything from racism and patriarchy, to lip gloss and Celine. It's blunt.  And funny.  But not in that traditional punch-line, laugh track kind of funny. More in that episodic, situational, single camera kind of funny. And in terms of fashion – our ladies live in reality. Yes, there are high end aspirational brands that our Characters revere, and we will have a lot of fun informing our audience about them, but our ladies are real women who aren't above buying a knock off from Top Shop or Zara. Every woman finds her brand. We don't isolate an audience who can't afford the latest "it" bag. And most importantly, it's because these women are so different – in age, economics, and race - that we have a space to talk about serious issues all the while making our audience laugh. THEMES: More than anything, this show is about finding your way in a really tough, expensive city. It's about finding out who you are deep down, not what others tell you to be. It's about sex, love, relationships, career, spirituality, and what to wear while you're doing it all. And most importantly it's about family, because in New York, no matter what your age, your friends are your family. Because in a city that's cut throat as hell, you want to go "where everyone knows your name," has your back, and who knows, you may even find a killer pair of used Manolo's.

THE BIG D

TV Movie (Comedy, Drama)

Log Line:
Tammy Jo Banner has finally made it to the top of the Dallas social scene, only to discover that all the sacrifices made to get there may not have been worth it.

Synopsis:
The Big D is a weekly one-hour dramedy about Dallas Socialite TAMMY JO (TJ) Banner (39). After years of social climbing, Tammy Jo has finally become the Queen Bee of Dallas Society, only to find that life on top isn't exactly what she dreamed it would be. Her husband BILL (40) is a serial-philanderer, her daughter VICTORIA (15) suffers from depression, and her football star of a son BILLY JR. (17) is most definitely in the closet. Not to mention the fact that her arch nemesis since their SMU days, DEBORAH ANN WELLS (39), is determined to take her down. And she's starting to think that maybe she chose the wrong Banner brother. Bill's brother BOBBY (36) is his right hand and the most eligible bachelor in Dallas. So, reality has hit for TJ Banner, and now it's time for her to rescue herself and her family from this crazy world. The only problem is, she's not sure that her family knows they need to be rescued.

MY TRUE LOVES WEDDING

TV Movie (Comedy, Romance)

Log Line:
College sweethearts Charlie and Jenna always promised if they were meant to be they'd find each other again, 15 years later Jenna is planning her wedding and guess who owns the ranch she's getting married at?

Synopsis:
Movie in development with the Hallmark Channel: College sweethearts Jenna and Charlie found true love… too soon. After graduation, their dreams drove them apart. Jenna went off to be a fashion designer in New York City, and Charlie went off to see the world. Years later, they still think about each other and wonder. Jenna even tried to find Charlie once, but to no avail. So she moved on and met her seemingly perfect match in Dave, a successful investor who's about to launch Jenna's new fashion line. When Jenna travels to Hawaii to finish up planning their wedding, she gets the shock of her life… Charlie is the rancher who owns the estate where she's getting married. Can Charlie stop Jenna from marrying the wrong person?

BABY OBSESSION

TV Movie (Drama, Suspense)

Log Line:
Anna is starting a family with her loving husband Jon, but little does she know that Rachel, the mother of the baby who died under Anna's watch years ago, has been waiting for this day, determined to take back what Anna took from her.

Synopsis:
This is a made for TV movie I am writing for LIFETIME.

INTERIORS

TV Movie (Teleplay (TV script), Drama)

Log Line:
A rising star of interior design with unorthodox methods awakens the deepest truth in others, while living as authentically as he can in a double life.

Synopsis:
Introduction February 1981. Victor Allan is on the verge, fast becoming the most dominant, disruptive and alluring force in the interior decorating world. He has a gorgeous wife, two beautiful teenaged children, and a thriving interior design firm on the Upper East Side. Oh, and one more thing. Victor always has a "boy on the side." Most decorators back then did. Many of them died of AIDS. Story Interiors is a weekly one-hour drama. Set in the early 80's, this show captures a unique time and place in interior design like none before or since. We will dig in and explore the lives of our characters both at work and home to move our audience through a pivotal time in American history, both in New York City and our country. What drives the show week to week are the interior decorating projects and clients. The real crux of our story, however, is what's on the interior. We will come to see that all the characters on our show, gay, straight or a little of both, have something "in the closet," some secret. Engine Beyond the décor, the 80's, the city, the wealth, or even the AIDS crisis, Interiors is the story of a man whose giftedness awakens things in people that they didn't know were there. In other words, this closeted man helps his clients "come out." The irony is that Victor chooses to not do the same for himself. He will pay a huge price for it, and so will those who love him. World The 1980's were the glory days of interior decorating in America, when there was still a clear distinction between decorating and architecture. Decorators were trained professionals in everything from art to color to fabrics to furniture, and in how to skillfully put it all together. And from society wives to the nouveau riche on Wall Street, decorators were making money hand over fist. It was an incredible time to be working in interior decorating, and they had no idea that it would all be over in a flash. From "do it yourself" magazines like Domino to television channels devoted entirely to home improvement, the 1990's made people feel like they could be their own designer, that they didn't need an expert. On Interiors Victor will be the one ushering in this new era, by empowering his clients, and by melding architecture and décor. His rivals will not be happy. Tone Think American Beauty meets Behind the Candelabra. Like we've experienced with American Beauty, Interiors creates a complicated web of relationships that keeps us engaged from the very beginning, and with the AIDS crisis, tragedy is inevitable. To this we add in the lush, beautiful opulence of Candelabra. The interior spaces themselves will become characters that help us tell our story. And as with Candelabra we will watch the pain of a man who chooses to live his life in the closet in order to be a success in his world. Our Hero Victor Allan is a force of nature, a disruptor. Beyond his talent as a decorator, Victor disarms people. He sees people on a much deeper level, and drives them to become more themselves. And while others decorated with a "my way or the highway" attitude, Victor rejects how his peers are decorating. Victor favors developing what is unique and what reflects the client and her/his family as a whole. He helps people connect with themselves by creating an environment that stimulates their passions.