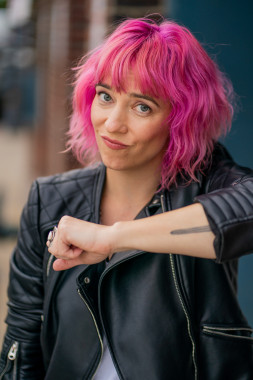 Phone

Office: 917 676-1004

Address

2390 Palisade Avenue 4G,
Bronx, NY, 10463, United States of America

Web Links
Mel House
(She/Her)
Actress, Comedian, Writer, & Filmmaker
Staircase Productionz
---
Actress, comedian and filmmaker, Mel House, is focused on channeling our collective rage into impactful social change. She is currently developing HOT ANGRY MOM--a digital series about motherhood, female rage and the joys and struggles of a multiracial American family.
---
Full Bio
Mel House works as an actress, comedian and is the creator of HOT ANGRY MOM.

She wishes all people understood how deeply interconnected we are--it would literally save the planet. So she tell stories, makes jokes and takes on projects to inspire empathy and build bridges. Right now she is obsessed with women's anger and figuring out how to channel it for good. She is in the certification process as a Fitzmaurice Voice coach with the goal of supporting women in accessing their full voices.

Most recently Mel played a recurring role in the series TRACE ME, and toured internationally with The Baby Monitor--a new play about same-sex parenting. As a classically trained award-winning actress, Mel has shared the stage with Richard Easton, Michael Cerveris, Ally Sheedy, Kathryn Erbe, and was seen opposite Chad Coleman in Birdie at 2020's Berlin International Film Festival and SXSW. She is a proud member of the Actors Center Company.
---
Professional Credits

imdb.me/melhouse
Industry Awards

NYIT Award