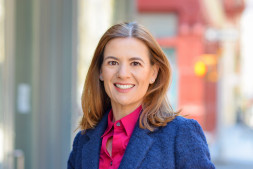 Phone

Office: 646 673-3015

Address

135 Van Buren Street,
Brooklyn, NY, 11221, United States of America

IMDB Link
Manuela Senatore
CEO
Skilla Productions
---
Full Bio
My early fascination with visuals began in my native Italy while studying the great masters of painting and sculpture of the Renaissance. I later had a calling for the adventurous life of a journalist or a diplomat, which led to a Political Science degree and a career in communications for a wide array of non-profit organizations. Finally, I fully embraced the filmmaker's life because I found out I give my absolute best as a visual storyteller. An idealist at heart, I enjoy advocating for positive change while telling stories that stir people's imagination and grow support for a good cause.
---
Professional Credits

FRIZZI 2 FULCI North American Tour, Philadelphia Concert, Videographer/editor

Video interviews of the CEO (Media Development Investment Fund), DP/director

Macha Me, music video by dancer/choreographer Mark Schmidt DP/director, MinoPro flipcam dir: Manuela Senatore

The Wailing, narrative short film, production manager, dir: Leo Rod

PANNA video cooking magazine for iPhone and iPod, editor, Noka Productions

eXfiles, educational video series, editor, Noka Productions

Bushwick Open Studios 2011, art video, director/DP/editor Canon 7D dir: Manuela Senatore

G20 and Women Leaders Summit, documentary on gender equality screenplay, Won Buddhism Manhattan

A Journey to Homeland, narrative short film director /screenplay/producer/editor first draft/artistic director dir: Manuela Senatore

Listen: Japan 2011 Earthquake Tsunami, PSA, PA/audio recorder, Noka Productions

A Happy New Year, narrative short film, AC/swing , Canon 5D, dir: Hazuki Aikawa

Gata de Rua, narrative short film, first AC, RED One, dir: Mathe
Industry Awards

Short Script Soft Wood

Winner 2015, The West Field Screenwriting Awards

Short Film A Journey to Homeland

Official Selection Loisaida Cortos Film Festival 2011, NYC

Official Selection Offshoot Film Festival 2011, Fayetteville (AR)

NewLatino Filmmakers Screening Series 2012, NYC

Official Selection Green Bay Film Festival 2012 (WI)

Official Selection River bend Film Festival 2012, South Bend (IN)

Official Selection East Harlem International Film Festival, New York (NY)

Official Selection DaVinci Film Festival, Corvallis, Ore.

Official Selection 2012 HBO International Latino Film Festival, New York (NY)

Short Film Two Days Out

Winner Best Acting 2009 48 Hours Film Competition
Writer's Group works

Soft Wood

Screenplay (Drama)

Log Line:
A kind-hearted real estate agent fails to reconcile with his past when he confronts a homeless man who must do what is necessary to survive.

The Fussball

Screenplay (Comedy, Romance, Family)

Log Line:
A young Italian man can finally visit the country of his dreams thanks to his pretty Italian-American girlfriend, but the first meeting with her family turns into an unexpected surprise. (working logline)

Synopsis:
We are inside a cab on the way to New Jersey. GIORGIO and LUISA, a man and a woman in their late twenties, sit on the back of an SUV holding each other's hands. With brown, wavy hair Giorgio is elegantly dressed. Looks outside with admiration, takes pictures, holds his girl hand, looks excited with expectations. We are in a New Jersey home during day time. In the living room we see FRANK, helping his wife prepare the living room table for lunch. MIRELLA, a woman of similar age and friendly demeanor, enters the room. She informs her husband that their daughter is on her way. Frank says he is curious about her boyfriend. Mirella nods and adds that they need to move the Fussball table from the living room. Frank looks annoyed but accepts to help his wife regardless. They lift the table and put it in a spare room with some covered furniture. They seem in a rush to finish. We are now outside the New Jersey home. Giorgio notices two conspicuous American and Italian flags hanging from the second-floor windows. After ringing the bell, the couple waits outside. Inside, Mirella is busy with a boiling saucepan and calls on her husband to go open the door. Frank looks at the mirror: he is dressed like the main character of an Italian movie from the Seventies. The bell rings for a second time. Frank proceeds to open the door. After hugging his daughter for a while, Frank turns to study Giorgio, who's dressed in a preppy cardigan, skinny pants, a lavander shirt, and expensive brown shoes. Frank welcomes the young man with a broken Southern Italian dialect while Giorgio struggles not to laugh. Mirella finally rushes to the door to greet her daughter and the handsome guest, adding that they are also an Italian family. ¬ We are now inside the New Jersey home. Giorgio glances at the red checkered table cloth, the gaudy silverware, embroidered chairs, crowded walls, and the credenza filled with knick-knacks. They all sit at the dinner table. NANDO, a young, beefy and energetic man, suddenly appears. Wearing a flashy jersey of Roma football team, he walks behind his mother and pats her on the shoulder with affection. Nando sits in front of the couple on the other side of the table. Another round of greetings and introductions follows. Before Nando can pour himself a glass of wine from the carafe in the middle of the table, Frank starts a mealtime prayer. He stumbles on the words, making numerous mistakes. Mirella ends up helping her husband with the prayer. While Frank apologizes for butchering the prayer, Giorgio retorts that he hasn't been praying before a meal for 15 years since his grandfather passed away. Standing up, Mirella walks to the kitchen and brings back a massive tray of spaghetti with meat balls to the table. A discomforted Giorgio watches the conspicuous and messy platter conquer the center spot on the table. He is given the first, enormous portion. Mirella invites him to eat, suggesting that he looks too thin. Striking a conversation, Nando asks the couple the story of how they met. Luisa explains that Giorgio was an assistant teacher at the university where she took her summer course. In the meantime, Mirella brings over a platter of Chicken Parmigiana. She comments how Giorgio's mother probably makes better chicken parmigiana. But his mother, a busy attorney, doesn't like to cook. More discomfort emerges at the table when Giorgio adds that his parents are divorced. Luisa shifts the subject to work. Frank explains being a contractor for over 30 years. Giorgio wonders if he has worked on some prominent skyscrapers' projects but that's not the case. Frank continues the conversation about the Italian roots saying that his parents were also Italian and came from Sicily. Giorgio says that Sicily is a common vacation destination for his family in the summer. Mirella observes the two men's plates; while her husband's is almost empty, the young man's plate is relatively intact. Mirella adds that more dishes are coming up. Giorgio protests that he can't eat anymore, while Frank complains that his wife will take offense. Giorgio turns to his girlfriend for help looking to find a respite in the bathroom. The couple walks out of the living room; both parents resume eating. Frank observes that the lad doesn't seem too friendly. But Mirella insists that he might be just shy. Luisa returns to the table. We hear a sudden thump. Turning his attention to the noise Frank decides to go check on him. Luisa seems concerned. Opening the storage room, Frank realizes what's happening and challenges Giorgio to play a quick game. They start playing with competitive determination. They both scream when they score a goal. Giorgio prevails first, but Frank quickly catches up. Nando and Luisa join them in the room. Nando invites his sister to team up. They all have a great time. Mirella brings over a tray with five shots of limoncello liquer.