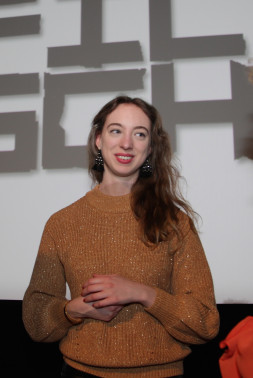 Phone

Office: 914 420-0748

Email

Web Links
Victoria DeMartin
(She/Her)
Director/Screenwriter
---
Victoria is a writer/director from New York who has written and directed 5 short films. Professionally she has worked in various departments on TV and feature films productions. She has written two original pilot scripts which have received various accolades over the years.
---
Full Bio
Victoria deMartin is a writer/director from New York with a BFA in film from the Film Conservatory at SUNY Purchase College. She has written and directed five short films and recently directed her sixth. Each of her short films have screened at festivals nationwide, most recently screening at Austin Film Festival in 2021. Her historical short film, "Winter Rye" aired on PBS-KCVR and won best short period piece at The Garden State Film Festival. Her pilot script "En Tournant" has garnered attention from the Sundance Episodic Lab, The New York TV Festival, BluCat Screenplay Competition, Launch Pad Pilot Competition, Script Pipeline, JHRTS Script Competition (winner, pilot category), and recently one of four High Scribe finalists at the Sun Valley Film Festival in 2021. Victoria is also a pre-professionally trained ballerina and has been dancing for 25 years now.
---
Professional Credits

Loserville 2016 feature film (set decorator), Billions seasons 1 & 2 (post production assistant), The Blacklist season 5 (property master assistant), The Red Sea Diving Resort 2019 feature film (director's assistant), Skindiving 2019 short film (writer, director, and executive producer), The Spy 2019 Netflix limited series (assistant to showrunner/creator/writer/director), "The Chaperone" 2020 short film (director), "Now & Then" AppleTV+ series (director's assistant), and "The Empire of Mali" Netflix series (writers assistant)
Industry Awards

Winter Rye (short film, writer/director/editor), Grand Prize Winner, Centrally Isolated Film Festival @ Cornell University, 2013.
"Pitch Please" Grand Prize Winner, Ghetto Film School + The Roster
"JHRTS Screenplay Competition" Winner in the pilot category 2020
Sun Valley High Scribe Award 2021 Finalist, (selected among top 4)

Winter Rye (short film, writer/director/editor) Best Short Period Piece Garden State Film Festival, 2014

En Tournant (pilot, writer) Winner, Pitch Please, IFP Week/Ghetto Film School, 2016

En Tournant (pilot, writer) Quarter Finalist, Screencraft Pilot Launch, 2016

En Tournant (pilot, writer) Finalist, The A-List (Assistant List) Screenplay Competition by Industry Executive Assistants, 2018
Professional Groups

NYPA, WGAE
Other Professional Groups

The Roster, Hollywood Radio & Television Society (HRTS)
NYWIFT Committees

New Works Lab, Writers Group
Content Types

Narrative Features, Episodic Comedy/Sitcom, Episodic Drama
Occupations

Director, Producer, Writer
Business Types

Networks, Post-Production, Production Company
Countries Worked In

Morocco
Other Countries Worked In

Hungary
Foreign Languages Spoken

French
You are not logged in and thus only viewing a small portion of this profile. Members can log in to view the entire profile.