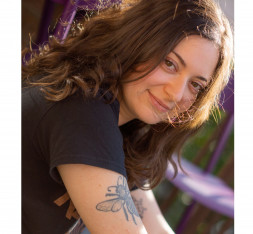 Charlie Tetiyevsky
(They/Them)
Owner, Writer, Producer
Potato Chip, LLC
---
Charline (Charlie) Tetiyevsky is a former child actor working as a writer and producer.
---
Full Bio
Charlie Tetiyevsky is a producer, writer, and occasional actor living in New York City. A first-generation Ukrainian-American, they have degrees from Columbia University in art history and creative writing. They worked as a journalist in NYC, LA, and Sydney covering beats ranging from politics and psychedelic drug research to porn sets and interviews with Grammy-winning musicians. They recently published the book "Saturn Returns."

They are represented by Frankfurt Kurnit Klein & Selz PC.
---
Professional Credits

Birds? What Are They Good For? (2023); Mr. & Mrs. Smith (2023); And Just Like That (2022-2023); City on Fire (2023); Hello Tomorrow! (2023); Stuart Little 2 (2002)
Other Professional Groups

Manhattan News Network; Trans Journalists Association
NYWIFT Committees

Actors Alliance, Career Focus, Communications, Development, Fund for Women Filmmakers, Membership, New Works Lab, Programming, Special Events, Women's Film Preservation Fund, Writers Group, Advocacy
Content Types

Narrative Features, Episodic Comedy/Sitcom, Episodic Drama
Occupations

Actor, Producer, Writer
Business Types

Marketing Agency, Production Company, Publishing
Countries Worked In

Australia
Foreign Languages Spoken

Russian
Other Languages Spoken

Italian
Writer's Group works

Demon of Kings

Screenplay (Teen, Adventure, Coming of age, Teleplay (TV script), Suspense, Horror)

Log Line:
A college student struggling to find direction in life fulfills an old family prophecy when disembodied voices lead her to an immortal warlock and a familiar, ancient evil intent on ending the world—with her help.
You are not logged in and thus only viewing a small portion of this profile. Members can log in to view the entire profile.