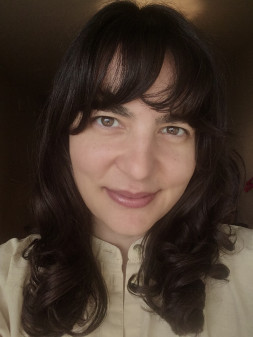 Margaret Sclafani
(She/Her)
Cinematographer/Director/Producer
Ladybug Release LLC
---
Margaret has established herself professionally as a cinematographer and camera operator while also directing and producing some of her own projects, most recently the feature film, Greetings From Arizona, through her production company, Ladybug Release.
---
Full Bio
Margaret is a Brooklyn, New York based cinematographer and director. She has worked in the film industry for over fourteen years.
​
Following her studies in anthropology and film at Bryn Mawr College, Margaret began her career as post-production coordinator and researcher on Yoo-Hoo, Mrs. Goldberg. Following her work in production, she went into the camera department, working with award-winning Gage & Gage Productions and Firelight Media on a number of documentary films for PBS.

Starting in 2010, Margaret worked as director of photography, producer, and editor for Parent Earth, a non-profit company that produced over 100 videos for families about healthy eating, presenting at the Kellogg Foundation conference and educating students and parents with advertising partnerships.
​
She has continued to work as director of photography and camera operator on documentary and creative content for MTV News, the Whitney Museum, the Irish Arts Center, SyFy, Snapple, Red Nose Day, Room 5 Films, the International
---
Professional Credits

Director of Photography, Greetings From Arizona, feature film, 2023
Director of Photography, Square Breathing, short film, 2022
Director of Photography, Bar Therapy, short film, 2022
Director, We Are Here, short film, 2020
Director of Photography, Inconclusive, short film, 2019
Director of Photography & Post Technical Director, The Gift, feature film, 2017
... see IMDB
1st AC, If You Lived Here, short film, 2013
1st AC, Glance, short film, 2013
1st AC, Eye What You Eat 2, Food Network, 2013
2nd AC, Astraea, feature film, 2013
Media Tech, Freedom Summer Documentary, 2013
Media Tech, Black Panther Party Documentary, 2012
1st AC, Diving Normal, 2012
Camera Operator, Need to Know, 2012
Associate Producer, Need to Know, Saving Carla, 2012
Casting Assistant, Glance, 2012
Director of Photography, Petite Music Video, 2012
Assistant Editor, CARE, 2012
Director of Photography, First Grade Camera Workshop, 2012
1st AC BCam, Dark Was The Night, 2012
Editor, Melora Hardin, Good to Feel High music vide
Industry Awards

Russo Brothers Film Forum, finalist and grant recipient
Other Professional Groups

Gotham
Content Types

Documentary, Narrative Features, Web series
Occupations

Cinematographer, Director, Director of Photography
Business Types

Digital, Production Company
Countries Worked In

Ireland
Other Countries Worked In

England
Foreign Languages Spoken

French
Crew Up Survey

Willing To Travel: Yes
Has Own Equipment: Yes
Has Insurance: Yes
Other Languages: Yes

You are not logged in and thus only viewing a small portion of this profile. Members can log in to view the entire profile.