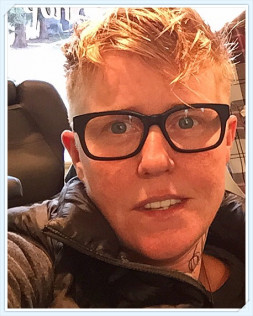 Phone

Office: 917 331-5808

Address

10 St Nicholas Terrace, 3,
New York, NY, 10027, United States of America

Email
Sini Anderson
Director
opening band films, LLC
---
Sini Anderson is a NYC based feminist filmmaker working in Documentary and Experimental Film
---
Full Bio
Sini Anderson is an award winning film director, producer, video art maker, and feminist art activist who lives in New York City. Her first feature length film, The Punk Singer -a documentary about Kathleen Hanna, premiered at SXSW in 2013 and was acquired by IFC Films. The Punk Singer received a theatrical release in 118 American cities and in 25 countries around the world. Sini is in the final phase of her second feature length film, So Sick (2014-2020) . The documentary is an exhaustive look at women who are suffering so called _x001C_mystery illnesses_x001D_ like Late-stage Lyme disease, Fibromyalgia, ME/Chronic Fatigue. 50 Million Americans been diagnosed with Autoimmune Illnesses, 80-90per cent of them are Women. So Sick uncovers infuriating truths behind women_x0019_s health care and calls bullshit on American Medicine, who_x0019_s non-compliance with federal law demanding Equality within government funded research, has only stoked the myth of _x001C_hysterical women_x001D_ who making themselves sick.
---
Professional Credits

The Punk Singer, a documentary film about Kathleen Hanna - IFC Films 2013

Catherine Opie b. 1961, a documentary short produced by LACMA Productions 2018

So Sick, a feature documentary currently in production
Industry Awards

Anderson has won several directing awards including Seattle International Film Festival_x0019_s Lena Sharpe Award For Persistence Of Vision, Mexico Cities_x0019_ Distrital International Film Festival_x0019_ ARCA Best Director Award, First Feature, Barcelona_x0019_s IN-EDIT Film Festival, awarded Cine Documental_x0019_s Best International Music Documentary Director and in 2014 POV_x0019_s Humanitarian Award in Media.
Professional Groups

Other
Other Professional Groups

Women Make Movies , NOW - National Organization for Women, The Queer Cultural Center
NYWIFT Committees

Career Focus
Content Types

Documentary, Media/Art Installation, Music Video
Occupations

Director, Producer, Writer
Business Types

Digital, Museum, Nonprofit
You are not logged in and thus only viewing a small portion of this profile. Members can log in to view the entire profile.