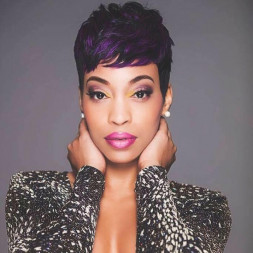 Phone

Office: 315 761-1120

Web Links
Lakisa Terrell
(She/Her)
Media Journalist
LaKisa Renee Entertainment
---
Welcome Journalist, Multimedia Content Creator, Actress & Makeup Artist LaKisa Renee
---
Full Bio
LaKisa Renee is a multitalented Journalist, Actress, Media Content Creator, Host, Voice Artist, Makeup Artist, Event Coordinator & Entrepreneur.
She is the Owner of LaKisa Renee Entertainment & Lè Du Jour Beauty & Wellness. She is a contributing journalist for Cultured Focus Magazine, The Franchise Magazine & In Black Magazine. She's covered prestigious events such as the Sundance Film Festival, Tribeca Film Festival, Emmy Awards, NYFW: The Shows & more. She's interviewed and covered notable celebrities including: Robert De Niro, Al Pacino, Gayle King, Tyler Perry, Levar Burton, Laurence Fishburne, Lynn Whitfield, Antonio Banderas, Penelope Cruz, Dave Chappelle.
LaKisa has over 20 years in the entertainment industry and has been featured in publications such as The Los Angeles Tribune, New York Today, Sheen Magazine & Essence Magazine.
She has acted in, produced and cast films & commercials worked with celebrities Margaret Cho, Paris Jackson, Robin Givens.
---
Professional Credits

-Sundance Film Festival
-Tribeca Film Festival
-Emmy Awards
-The Soul Train Awards
-The BET Awards Weekend
-The Culture Creators Innovators & Leaders Brunch
-Dave Chappelle & Friends/Untitled -Documentary Screening Coverage
-Triller Verzuz Battles Coverage
-The Harriet Tubman Freedom Music Festival
-New York City Horror Festival
-New Jersey Horror Con & Film Festival
-Hollywood Homicides Premiere
-AMC Network Summit 2022
-Lifetime, Tyler Perry & BET Press Junkets
-Black Media Honors
-Cultured Focus Magazine
-The Franchise Magazine
-In Black Magazine
-New York Fashion Week: The Shows,
-Miami Swim Week: The Shows
-Hamptons Fashion Week
-Black Fashion Week MN at Paisley Park
-Met Gala Events
-The Ultimate Playlist of Noise (Hulu)
-Sex Appeal (Hulu)
Industry Awards

-2013 Upper State Independent Award Best Entertainment Promoter
-2018 ACR Hair Blowout Best Makeup Artist
-2018 The Y.A.R.D. Kids Asset Award
-2019 National Women of Strength Award