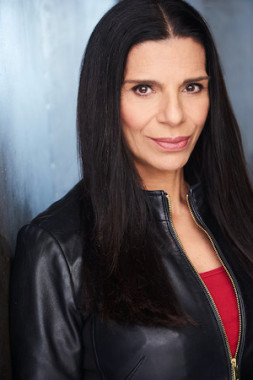 Phone

Office: 201 600-4082
Fax: 973 661-1030

Email
Lydia Fiore
Actor/Writer/Producer
Bella Fiore Productions
---
Full Bio
Lydia Fiore, an award-winning actor/writer and founder of Bella Fiore Productions, owes her filmmaking career to a ridiculously funny Tinder Date that ended prematurely. Who knew that wanting to get laid would expand her storytelling from actor to screenwriter and filmmaker. This event inspired Lydia to write her first feature screenplay LOVE BIG and to write and star in her first comedic shorts HIGH DENY, about pills, prosecco and politics, and SWIPED RIGHT, a middle-aged romantic comedy.

Lydia continues to create stories about women, particularly women over 40 that center around love, sex, aging and partying. Did we mention sex†Her first feature length screenplay LOVE BIG a Gen-Xer RomCom with a touch of raunch has received several screenwriting honors.

Lydia s love for acting started in LA of the East Lackawanna, NY, a steel town outside of Buffalo best known for snow, steel, and softball. These blue-collar roots cultivated her dynamic work hard, play harder, laugh hardest personality. She mo
---
Professional Credits

LydiaFiore.com

Owner Bella Fiore Productions LLC

- Produced 3 films - Swiped Right, High Deny and Kinda Sorta Wrong

Acting

- Over 15 films

- 5 TV credits

- Over 15 Theater credits

- extensive training including Susan Batson, Larry Moss and Anthony Grasso

Fashion Career

-Former Senior Vice President of a Fashion Catalog and Website.
Industry Awards

LOVE BIG

2020 Finalist - New Works Lab Virtual Showcase

2020 Finalist - Creative World Awards

2020 Finalist - Austin Virtual Pitch Competition

2020 Finalist - Catalina Film Festival

2020 Semi-Finalist - Big Break Screenwriting Contest by Final Draft

2020 Semi-Finalist La Femme International Film Festival

2020 Quarter-Finalist Page International Screenwriting Awards

2020 Top 100- Comedy - Table Read My Script



Swiped Right

2018 Best Actress Comedy Hang Onto Your Shorts Film Festival

2018 Best Home Grown Short -The Garden State Film Festival

2017 The Audience Choice Award - The Williamsburg Independent Film Festival

2017 Best Actress in a Short - The Buffalo Niagara Film Festival

2017 Award of Merit - The Best Shorts Competition - Film Short & Women Filmmakers, Lead Actress

2017 Best NJ Comedy - The Brightside Tavern Film Festival

2017 Honorable Mention - The New Jersey Film Festival

2017 Nominee Audience Choice Award - Hoboken International Film Festival
NYWIFT Committees

New Works Lab, Writers Group
Writer's Group works

LOVE BIG

Screenplay (Comedy)

Log Line:
On the verge of turning 55, a bawdy but charming New York fashion executive still searching for love meets a warmhearted widower and is struck by colpo di fulmine ("the thunderbolt"), only to learn that love has a timeline of its own.

Synopsis:
LOVE BIG is a Gen-Xer RomCom with a touch of raunch, set in New York/New Jersey about a 50-something Italian-American fashion executive, Gina, who meets Joe, a music teacher and grieving widower. When sparks fly on their first encounter, they sleep together only to discover that a romantic relationship is not possible because Joe is still grieving. While Gina tries on-line dating, Joe writes a song for Gina, and a friendship grows between them. When they unwittingly come face-to-face as a result of a sex site match, Gina swears off love just as Joe comes to terms with his grief. Joe, at a community concert, plays his song for Gina. They have an impassioned argument, finally realizing that they are both ready for love.
You are not logged in and thus only viewing a small portion of this profile. Members can log in to view the entire profile.