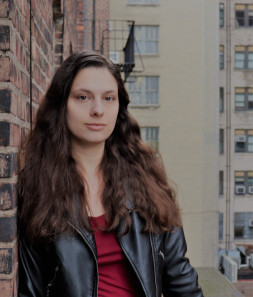 Phoebe Zimmerer
(She/Her)
---
Phoebe Zimmerer is an award-winning screenwriter living in NYC.
---
Full Bio
Phoebe Zimmerer was supposed to be a scientist. After leaving behind her family's remote, country homestead to start college at age 16, with the intention of earning at least a Master's degree in Genetics, she made a rather sudden (or depending on who you asked, incredibly delayed) U-turn two years later by abandoning said career trajectory for film school.
During her time at Western Kentucky University, Phoebe wrote, produced, and starred in dozens of short films and was also awarded Honors w/ Distinction for her senior thesis project of a full-length fantasy novel. In 2019, she came away with a dual degree in Film & Criminology, but her background in academia and the hard sciences persists as a steady theme through much of her work.
When she's not writing bawdy and eccentric comedies with her writing partner, Ken Viteri-Lynn, she can typically be found crafting evocative and meticulously-researched science fiction and fantasy worlds from within her NYC apartment. In the last year, Phoebe has become an a
---
Industry Awards

Winner, Austin Film Festival 2021, Scripted Digital Series - "PLASMADROME"
Winner, Script Summit 2022, Best Plot - "PLASMADROME"
Finalist, Filmmatic - Inroads Fellowship Season 5
- "PLASMADROME"
Semifinalist, Filmmatic Comedy Screenplay Awards Season 7 - "PLASMADROME"
Quarterfinalist, Filmmatic Comedy Screenplay Awards Season 7 - "Ethel & Sylvia"
Quarterfinalist, Scriptation Showcase - Teleplay Category 2020-2021 - "Ethel & Sylvia"
Honorable Mention, Bolt - BOLT 2022 - "Ethel & Sylvia"