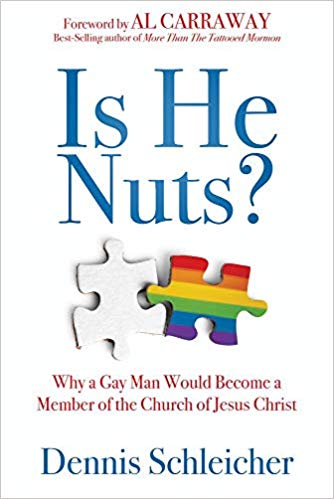 LATTER-DAY DENNIS: A Pilgrimage of Love and Acceptance by Lauren C. Cragg.
Dennis Schleicher as an openly gay man, (since the age of 17) is now championing his cause of spreading love and understanding as a member of the Church of Jesus Christ of Latter-day Saints. (LDS) Heis a writer, lifestyle reporter, crisis counselor, network marketer, and motivational speaker. Dennis is vice president and publicity director of the Connecticut Authors & Publishers Association.
On August 13, 2019, his new book, "Is He Nuts?" Why a gay man would become a member of the Church of Jesus Christ of the Latter-day Saints will released.
At age seventeen, Dennis appeared on seven talk shows, including Larry King Live, and Sally Jessy Raphael, after being a victim of a brutal hate crime that occurred in his high school. It is because of this that he now volunteers as a crisis counselor. Dennis now serves as a ward mission leader, assisting sisters and elders throughout New England to better understand how to work and deal with the LGBTQ community, creating a better understanding amongst all people. 
STATUS/VISION OF FILM
In fall of 2018 Dennis received a book publishing contract from Cedar Fort, a LDS owned publisher, for his book, "Is He Nuts?" Why a gay man would become a member of the Church of Jesus Christ of the Latter-day saints.  The reality and controversial frenzy leading up to the book's launch, in conjunction with Dennis' motivation, story and love and courage have launched many questions.
In addition, the LDS has not only escalated Dennis to a high level of ordination, but also amended some of its practices, (e.g., allowing gay couples to have their children baptized by the Church).
Over the days leading up to and immediately following the book's publication and subsequent media events, the intent of the movie is to not only document Dennis' journey, but the changes in the LDS' leaders' acceptance of gays, and reactions from lifelong LDS members to his book and message. Additionally, excerpts of the book will trigger particularly controversial topics, as Dennis believed before converting to the LDS that he was, "destined to burn in hell" for his sexual orientation.
Dennis is planning a road trip to Salt Lake City, in the weeks leading up to the book launch. Prior to the trip, producers plan to film in an around his hometown, Glastonbury Connecticut, with family, and friends and new LDS friends as to his life experiences, and his new experiences in the church and their reactions to his life changing conversation.  The producers are also planning to document that journey, with a diverse group of "road trip pals," some LDS members, some not, as he moves into the reality of the book's message.
Additionally, Al Carraway, who wrote the bestselling book, More than a Tattooed Mormon, also provided her pithy prose as the forward to Dennis' book, will be interviewed and join Dennis for part of the road trip.
Selected stops along the way, will add to the drama. For example, a stop at The Sacred Grove, Palmyra, New York, the childhood home for the Mormon Church's Founder Joseph Smith. Carthage Jail, Carthage, Illinois where Joseph Smith was shot.  
While Dennis' journey in the church seems well planned and highly anticipated, what is not planned is the reactions from LDs, non-LDs, and the LGBTQ community at large. Producers plan to document the journey with the same love and compassion rests at the core of Dennis' message.  
In addition, the pre -during and post road trip experiences will capture the realities and needs of the ever-evolving acceptance of the LGBTQ into traditional conservative religions.
Executive producers, Cragg and Lee, are currently meeting with documentary film supporters, foundations and major corporate sponsors to identify and secure funding to complete this project prior to the end of 2019.
LATTER-DAY DENNIS plans to distribute the film in domestic and international markets, across a full spectrum of media, including television broadcast, DVD, online and other viewing devices. The producers are also open to showing the film as LDS sponsored and /or facilitated events.
Providing they can complete a "work in progress" and no loss of a national airing agreement, the producers are planning to submit the film to film festivals national and internationally.