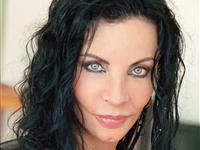 Through the generosity of Loreen Arbus, New York Women in Film and Television has established the Loreen Arbus Disability Awareness Grant. The film completion grant for $7,500 will be awarded to a woman filmmaker for a film on physical or developmental disability issues. Directors and producers are eligible to apply.
Films may be of any length or genre. The Grant will be awarded to help complete a work-in-progress. Films must have completed principle photography to be eligible. Finished films are not eligible. Filmmakers must be US-based.
Woman of Her Word Grant
Recipients of the Grant will also receive production support and voicing of the audio description for their film courtesy of Michele Spitz, Woman of Her Word. Her generous donation will allow for the film to be accessible for blind or visually impaired audiences. Learn more.
Reel Abilities Film Festival Grant
ReelAbilities Film Festival, the largest disabilities film festival in North America, will provide captioning service for the selected film as well as support of the film's outreach and distribution, through the ReelAbilities North American network of festivals and beyond.
How to Apply
Please fill out the application available on this page, and send that with the following supplemental information as separate PDFs to grants@nywift.org, Subject line: Loreen Arbus Grant 2019:
1. Click here for the application form
2. 2 – 4 page description of the project
3. Project budget, indicating amount raised to date
4. List of key creative personnel with one-paragraph bios
5. Online link of the work-in-progress (please make sure links remain live through 12/19)
Applications must be received by June 14, 2019 at 11:59pm EST. There will be no exceptions.
Questions?
Contact Rashiek Smart at 212-679-0870, ext. 10, or grants@nywift.org