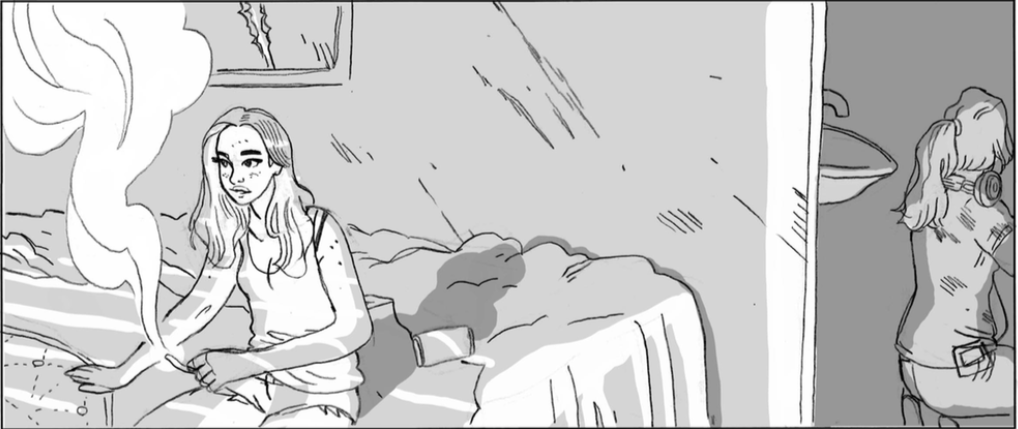 After an economic collapse has devastated the country, the American West is a mere shadow of what it once was. Roadside motels and gas stations are now sun-bleached buildings that men use to hide. Here, money no longer holds its value and fuel is scarce. Women's bodies are quietly becoming a means of exchange, leaving most interactions between men and women to be purely sexual.
At one of these motels is Brooke, a quiet maid who buries her frustration in work. Her best friend is Weasel, a wild-child drifter, who is always searching for a way out of town. After Brooke has an uncomfortable sexual encounter with an older male motel guest, Weasel finds the keys to a weathered car that's sitting out front, and they take the opportunity to escape.
Desperate to keep moving forward in this empty west, Brooke and Weasel make pit stops for resources. Big Earl's Gas Station no longer has fuel, but it has guns. The highway is nearly deserted, so when a truck comes into view Brooke and Weasel hold it at gunpoint. Escaping from this world means accepting the limitations of what it is, and redefining the rules for themselves.
---
Crew Biographies
CHRISTA HALEY (Director/Writer/Producer)
Christa began her career as an assistant to director Derek Cianfrance on the independent feature The Place Beyond the Pines ('12). She has gone on to work in the editorial department on major feature films including Mary Poppins Returns ('18), The Girl on the Train ('16), Oliver Stone's Snowden ('16), and Todd Haynes' Wonderstruck ('17). Christa has directed videos for Vogue Germany featuring Kendall Jenner and world-renowned fashion photographer Patrick Demarchelier. She has edited for brands including Coach, Banana Republic, and Interview Magazine.
C. MARIE O'CONNELL (Executive Producer)
Marie, a native of Ireland, began her career in commercial production. After moving to New York, she began working in post production and has worked on several feature films and television series. Her credits include the upcoming The Red Sea Diving Resort ('19), Barry Levinson's Emmy-Nominated Paterno ('18), Laurie Simmons' My Art ('16), HBO's The Deuce, and STARZ's The Girlfriend Experience. By working on side projects throughout the years, she developed her passion for producing, and building projects from the ground up.
KELSEY SMITH (Director of Photography)
Kelsey graduated from Champlain College and began her career working with prominent experimental director Jason Rodi in Montreal, QC. Since moving to New York, Kelsey has DP'd numerous short films, documentaries, music videos, and branded content spots. Her client list includes Spotify, Bang & Olufsen, Madewell, and Mass Appeal. She is driven by a passion for authenticity and strives to tell stories with a sense of veracious emotion.