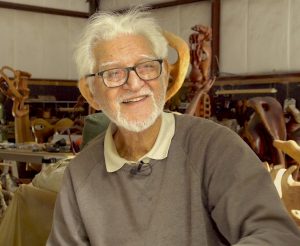 Nader Vakili, an Iranian-American plant pathologist searching for disease-resistant bananas in the early 1960's, discovered old trees being cut down in the tropical territories where he was stationed for field research. He began to collect the wood.
His mind's eye told his hands what to do. His fingers took over, feeling the form that the tree offered. With no formal training, Nader started carving. Inspired by the beauty of nature, Persian poetry, literature and song, the sculptures took on lyrical curves and abstract forms. Sometimes he reacted to beauty and sometimes to the injustices and contradictions he encountered throughout his travels. But it was the love of his life — his wife — who provided him with the deepest desire to create sculptural sensuality through the intersection of nature and art.
The woodpile grew and so did his family of six children. Statues filled their home and the family befriended the structures by playing on them, dressing them up and ultimately appreciating their inherent aesthetic beauty. His wife, Mary Jane, arranged for the entire family and the woodpile to accompany him to the next field research destination: Honduras, Thailand, Puerto Rico, Iowa and northern Florida.
After the children grew up, Mary Jane's health declined as she suffered from the onset of Alzheimer's. Nader eventually stopped carving to care for her.
Now, they are separated for the first time in 58 years. We meet Nader at this cathartic time in his life when he describes driving three hundred miles, round-trip, three times a week to visit his wife in an assisted living center. He comes home again; back to nature, back to his towering woodpile of nearly six tons, surrounded by a warehouse of masterpieces — some twenty years in the making.
Erin Harper (Project Manager, Co-Director, Editor)
Erin is writer/director/producer who has worked in both documentary and narrative forms. Erin's first short, Passion received NYSCA funding for development into a live performance of improvised film and jazz. Erin worked as a cinematographer with Barbara Hammer on her two latest films, Maya Deren's Sink (Teddy Award for Best Short Film at the 2011 Berlinale) and Welcome To This House about Elizabeth Bishop (2013 Guggenheim Fellowship). Erin, with the sponsorship of Padcaster, introduced a storytelling workshop, using smart phones cinematically, to an immigrant group of high school women called Las Estrellas. She is currently creating a one-woman-band observational documentary series following different farm practices across the country. Her current writing/directing projects include a narrative short, Veral and narrative feature, East of Denver, in option and adapted from the award winning of novelist Greg Hill. Erin produced the Sundance select film, My Best Day directed by Erin Greenwell in 2012.
Lily Vakili (Executive Producer, Co-Director)
Lily Vakili is producer and co-director of  My Wild Heart: The Art of Nader Gholi Vakili and the youngest daughter of its subject, Nader Vakili. A peripatetic background – born in Honduras and raised in Florida, Thailand, Puerto Rico and Iowa – contributed to an early interest in the nature of performance as both a form of identity and a necessity of assimilation. A first career in theatre and dance was followed by a second career as a Harvard Law School-educated lawyer. A third act as front woman for the eponymous Lily Vakili Band has brought Lily back to the world of performance art. She has released 2 albums and produced several music videos and documentary shorts.
Dennis Connors (Cinematographer):
Born in Buenos Aires, Argentina in 1952, and raised south of Boston, Massachusetts, USA, Connors has spent the past thirty years in northern New Jersey, raising a family and enjoying a career in still photography. His work includes editorial, corporate and advertising assignments, as well as personal projects. He received an Associates Degree in photography from the Rochester Institute of Technology in 1972, and then returned to Buenos Aires for a two year apprenticeship in the studio of Annemarie Heinrich. After a long hiatus from formal education, he enrolled in the filmmaking program at Montclair State University in Montclair, New Jersey in 2007. The recent addition of filmmaking to his toolbox allows him to explore his subjects more deeply. Curiosity about what makes people create art fuels his recent explorations in both mediums.